Updated for 2023
It's back! Every Halloween, Los Angeles parents flock to Mr. Bones Pumpkin Patch. The Westside pumpkin patch offers more than just pumpkins; families will find a petting zoo, pony rides, Mr. Bones Super Slide, face painting, pumpkin decorating and more!
2023 Dates: October 5-29!
Founded in 1987, Mr. Bones Pumpkin Patch offers Los Angeles–area families a spooky, fun environment complete with pumpkin carving, straw mazes, face painting and more. With a wide variety of pumpkins sourced from the family's farm in Oregon, Mr. Bones has become a highly anticipated family tradition.
And you may even catch a glimpse of celebrity families getting their pumpkins, too – because this is Los Angeles, after all! Enjoy Mr. Bones!
If you're looking for other Pumpkin Patches around SoCal, simply do a Google Search for "Pumpkin Patches Near Me" and several should pop up!
COVID-19 Protocols: Mr. Bones Pumpkin Patch will be following all CDC and LA County guidelines (Refer to FAQ and Know Before You Go on the Mr. Bones website for further information)
2023 Dates: October 5th – October 29th
Hours may vary by day; Please check their website for any last-minute closures for private events.
What you'll find at Mr. Bones Pumpkin Patch
Oregon Farmers Becky and David Campbell started Mr. Bones in Westwood in 1987 so city kids could experience the fun of a traditional pumpkin patch. It's moved around from Beverly Hills to West Hollywood to its now-permanent home in Culver City.
Pumpkins are prices by weight and "start at $1 and go all the way up to $600 (you'll need a forklift, though)." Mr. Bones offers any kind of pumpkin you can imagine from traditional bright orange to beautiful green pumpkins to organic pumpkins. All of the Pumpkins are priced by weight so might think twice about buying a 50 pound pumpkin.
Shopping for pumpkins is just part of the fun. Mr. Bones is also known for being a popular spot for celebrities and their kids and includes a VIP area for them. (My first celebrity sighting after moving to LA was Harrison Ford at Mr. Bones!).
There's also a boo-tique filled with Halloween favorites, the tipi village, pumpkin decorating, a VIP area, and incredible activities for all ages. On weekends, visitors will find food trucks and live entertainment to create magical memories for the whole family.
Families are encouraged to dress up in costume, bring their leashed dog and get their faces painted. Kids can roll around in the hay, check out the animals in the petting zoo and slide down Mr. Bones Super Slide. Kids can also explore Mr. Bones' neighborhood, the Pumpkin Village, and stroll though pumpkin made houses, or enjoy the petting Zoo and pony rides.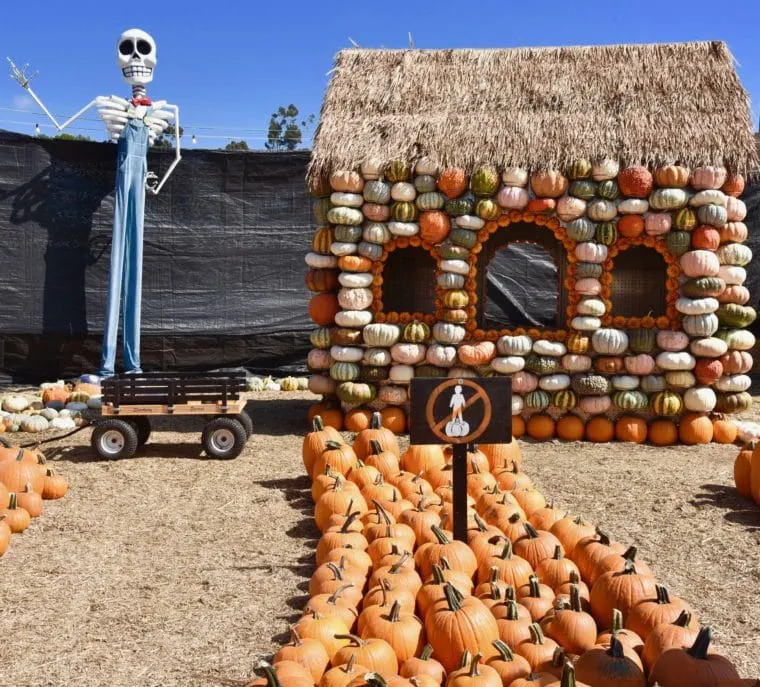 Parking at Mr Bones Pumpkin Patch:
There is street parking around Mr. Bones, but make sure and check street signs before you park. Parking in their lot is $5 on weekdays, $10 on weekends and $15 for valet.
Food at Mr. Bones Pumpkin Patch:
Mr. Bones has a snack bar that offers hot dogs, tacos, muffins and drinks. Families can bring in their own food, but no alcohol is allowed. Check out the website for a schedule of food trucks or go to nearby downtown Culver City to get a bite to eat.
Nearby Attractions in Culver City:
Mr. Bones is close to the Baldwin Hills Scenic Overlook, with a hiking trail or stairs for families who are looking for a beautiful walk after the pumpkin patch. It's also close to downtown Culver City, which has great restaurants, the ArcLight movie theatre, Sony Studios and more. For more information, visit our post – Things to do in Culver City with Kids.
Disclaimer: MomsLA has made every effort to confirm the information in this article; however, things can often change. Therefore, MomsLA makes no representations or warranties about the accuracy of the information published here. MomsLA strongly urges you to confirm any event details, like date, time, location, and admission, with the third party hosting the event. You assume the sole risk of relying on any of the information in our list. MomsLA is in no way responsible for any injuries or damages you sustain while attending any third-party event posted on our website. Please read our Terms of Use which you have agreed to based on your continued use of this website. Some events have paid to be listed on MomsLA.