Updated September 16, 2020:
Mr. Bones will not be open this year.
Every Halloween, Los Angeles parents flock to Mr. Bones Pumpkin Patch. The Westside pumpkin patch offers more than just pumpkins; families will find a petting zoo, pony rides, Mr. Bones Super Slide, face painting, pumpkin decorating and more!
And you may even catch a glimpse of celebrity families getting their pumpkins, too – because this is Los Angeles, after all! Enjoy Mr. Bones!
Mr. Bones Pumpkin Patch
10100 Jefferson Blvd, Culver City, CA 90232
Dates:
October 5th – October 30th, 2019
Closed for private events October 7th & 8th
Please check their website for any other last-minute closures.
Hours:
October 5th – 17th
Monday – Thursday 9 AM – 8 PM
Friday – Sunday 9 AM – 9 PM
October 21st – 30th
Every Day 9am – 9pm
What you'll find at Mr. Bones Pumpkin Patch 2019:
Oregon Farmers Becky and David Campbell started Mr. Bones in Westwood in 1987 so city kids could experience the fun of a traditional pumpkin patch. It's moved around from Beverly Hills to West Hollywood to its now-permanent home in Culver City.
Mr. Bones offers any kind of pumpkin you can imagine from traditional bright orange to beautiful green pumpkins to organic pumpkins. All of the Pumpkins are priced by weight so might think twice about buying a 50 pound pumpkin.
Shopping for pumpkins is just part of the fun. Mr. Bones is also known for being a popular spot for celebrities and their kids and includes a VIP area for them. (My first celebrity sighting after moving to LA was Harrison Ford at Mr. Bones!).
Families are encouraged to dress up in costume, bring their leashed dog and get their faces painted.
Kids can roll around in the hay, check out the animals in the petting zoo and slide down Mr. Bones Super Slide.
Kids can also explore Mr. Bones' neighborhood, the Pumpkin Village, and stroll though pumpkin made houses.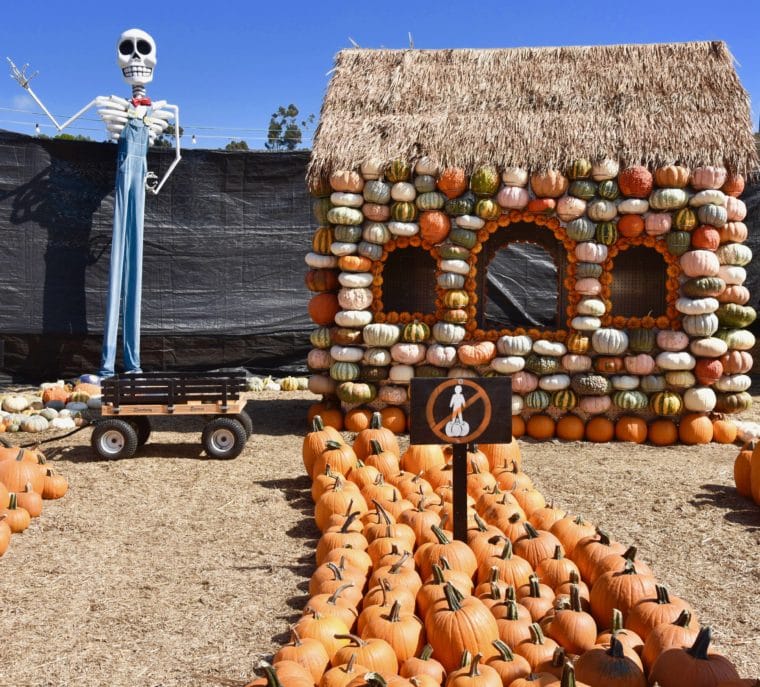 The Petting Zoo includes baby goats, sheep and ducks.
Mr. Bones Special Events:
Mr. Bones is fun on a regular day, but there are always special events, so check their website for details.
Admission and Activity prices vary by day of the week. Please see their website for details.
Pumpkins:
Pumpkins are prices by weight and "start at $1 and go all the way up to $600 (you'll need a forklift, though)."
Parking at Mr Bones Pumpkin Patch:
There is street parking around Mr. Bones, but make sure and check street signs before you park. Parking in their lot is $5 on weekdays, $10 on weekends and $15 for valet.
Food at Mr. Bones Pumpkin Patch:
Mr. Bones has a snack bar that offers hot dogs, tacos, muffins and drinks. Families can bring in their own food, but no alcohol is allowed. Check out the website for a schedule of food trucks or go to nearby downtown Culver City to get a bite to eat.
Nearby Attractions in Culver City:
Mr. Bones is close to the Baldwin Hills Scenic Overlook, with a hiking trail or stairs for families who are looking for a beautiful walk after the pumpkin patch. It's also close to downtown Culver City, which has great restaurants, the ArcLight movie theatre, Sony Studios and more. For more information, visit our post – Things to do in Culver City with Kids.
MOMSLA IS YOUR SOURCE FOR THINGS TO DO IN LOS ANGELES WITH KIDS.