Updated for 2021
Take a break from holiday shopping and participate in one of the holiday races being held in Los Angeles and all over Southern California. Whether you're up for a Marathon, a Half-Marathon, or just one of the many 5K Runs or Los Angeles Fun Runs, we've got your list here.
Many of these Races and Fun Runs are family-friendly, with short distances for even the youngest kids, plus most of these runs have a charity component, meaning you're doing a good deed while you stay fit.
At Thanksgiving time you can find plenty of Turkey Trot Races in SoCal, and of course there are also Christmas Runs you can enter. From Pomona to Santa Monica, check out all the Los Angeles Holiday Races.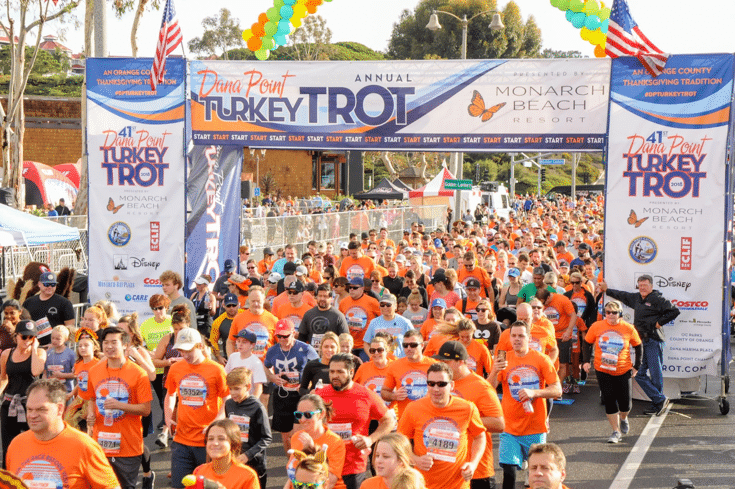 Christmas Runs in Los Angeles and SoCal
Come be part of the Annual Holiday Half Marathon & 5K happening on Saturday and Sunday December 11th-12th! "From snow falling at the start line, to huge holiday character inflatables, holiday carolers, and festive participant shirts – this event has everything you need to start the season off right!" It's something the whole family can participate in – the Penguin Waddle is a one-mile long course taking kids (12 and younger) through Bonelli Park. Registration information is available online.
Help raise money for arthritis research by joining this virtual run. Participants are encouraged to get into the holiday spirit by attaching jingle bells to your shoelaces or wearing a holiday-themed costume. Get more info online.
Homeless for the Holidays – 5K Run/2.5K Walk
Griffith Park – Crystal Springs Equestrian Trail
4730 Crystal Springs Dr., Los Angeles, CA 90027
The Pennies From Kevan Foundation is hosting their Homeless for the Holidays – 5K Run/2.5K Walk on Saturday, December 11th. A virtual option is happening now through Sunday, January 2nd, 2022. Find registration information online.
The City of Ontario presents its Annual 5K Reindeer Run and Rudolph's Dash on Saturday, December 11th. Proceeds from the race will be donated to the "City's Empowerment Scholarship, which gives Ontario community members from low-income backgrounds the opportunity to participate in recreation activities, classes, and programs that will enrich their lives." Rudolph's Dash is a shorter course designed for children and/or families and children to participate with together. There will also be exercise activities and craft booths in Rudolph's Roundup area. Registration information is available online
The 14th Annual Santa to the Sea is happening on Saturday, December 11th and Sunday, December 12th. There are opportunities for the whole family to participate including a half marathon, a two-person half marathon relay, 1K Kids Fun Run, 5K Run/Walk, Costume Contest, Toy Drive, Finish Line Festival and Holiday Marketplace, and more.
Mark your calendars for the Holly Jolly Half Marathon 5K 10K happening on Sunday, December 19th. This is a walker-friendly course happening over mostly flat terrain. And don't forget – prizes will be awarded for the best holiday costumes so get creative! Participants are also encouraged to bring a new, unwrapped toy for the Toys for Tots Toy Drive. Details are available online.
The 2021 Run for a Claus is happening on Saturday, December 11th. "When you run for a Claus, you run for a Cause." This event will benefit The Salvation Army and Kids Run The OC. There is a one mile Kids Run, and for families who prefer, there is also a virtual option available. Don't forget to bring a toy to participate in the toy drive. Registration information is available online.

Anytime during the month of December families can participate in the Charlie Brown Christmas Virtual Run. This is a great way to get moving while doing it on your schedule. Sign-up information is available online. This is a popular event, with participants joining in from all around the world.
The City of Loma Linda and The Lopers present the 32nd Annual Holiday Classic Half Marathon 5K and Elves Trot on Sunday, December 12th. "The Holiday Classic is the Inland Empire's largest annual holiday running event and a local tradition for runners and walkers of all ages and abilities." The Elves Trot is designed for children ages 3-6. There is a pancake breakfast at the completion of the event. A virtual race option is also available. Details can be found online.
"Runners and walkers from all over the country" are invited to complete a virtual 5K or 10K during the month of December. In the holiday spirit, this virtual run takes inspiration from Buddy-the-Elf. And, the Elf Virtual Run has partnered with St. Jude Children's Research Hospital. Registration information is available online.
Start the New Year off by participating in the Run in the New Year 5K/10K/Half Marathon happening in Huntington Beach on Saturday, January 1st, 2022. "Write a New Year resolution on the back of your bib and run, jog, or walk it into the New Year. It's a beach party, New Year's Themed run on paved path watching and listening to the surf." And if you prefer, there is also a virtual run option. Details can found on the website.
Disclaimer: MomsLA has made every effort to confirm the information in this article; however, things can often change. Therefore, MomsLA makes no representations or warranties about the accuracy of the information published here. MomsLA strongly urges you to confirm any event details, like date, time, location, and admission, with the third party hosting the event. You assume the sole risk of relying on any of the information in our list. MomsLA is in no way responsible for any injuries or damages you sustain while attending any third-party event posted on our website. Please read our Terms of Use which you have agreed to based on your continued use of this website. Some events have paid to be listed on MomsLA.