Updated for 2022
There are so many reasons to be in Los Angeles in the summer; one of them is the number of fun events for families. We've compiled a list of the best outdoor summer concerts for families in and around Los Angeles. Most of them are free and all of them are a really fun way to be together as a family and hear great music by DJs as well as local and national musicians.
Sit outdoors, enjoy our amazing weather, and maybe even bring a picnic! You can also listen to beautiful music with your family and friends. Whether you're a fan of classical music or contemporary, you'll find plenty of options all over SoCal.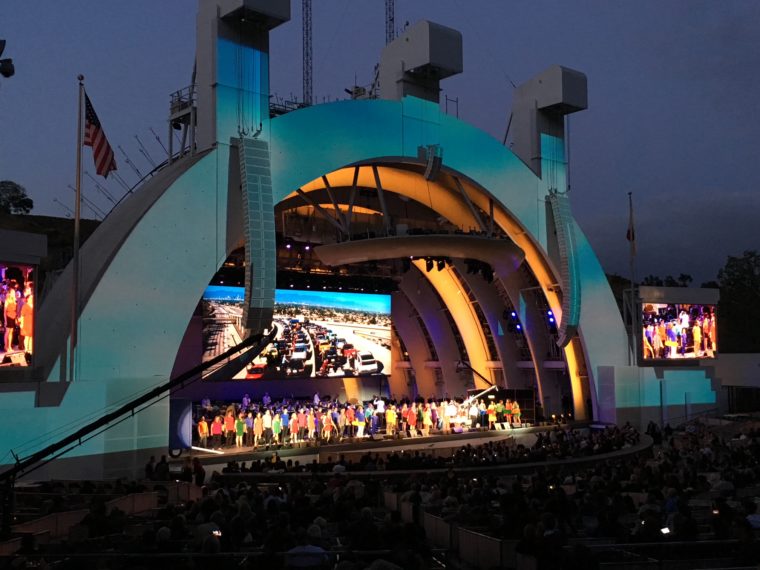 Summer Concerts All Over SoCal
Hollywood Bowl
2301 N. Highland Ave., Los Angeles, CA 90068
Seeing a concert at the Hollywood Bowl is an experience like no other, and for many families, it is an absolute "must-do" during the summer. And thankfully, this summer, the Hollywood Bowl will be welcoming families.
Tickets are available for purchase now. Be sure to check the website for the latest information regarding health and safety protocols.
Ford Theatre
2580 Cahuenga Blvd. E., Los Angeles, CA 90068
The Ford Theatre will be open this summer starting in June for several weeks of concerts and special events. The first concert of the summer season will be made available free to the public. Tickets are available now. Details can be found on their website.
Concerts at Warner Park
Warner Park
5800 Topanga Canyon Blvd., Woodland Hills, CA 91367
Concerts at Warner Park is a free series of fun, family-friendly outdoor musical performances held on Sunday evenings from June 19th through August 28th. Bring a picnic, blankets, low chairs, and pillows and get ready for good music and good times. These free concerts begin at 5:30 pm and end at 8:00 pm.
Free Concerts
Levitt Pavilion Los Angeles
MacArthur Park
W. 6th St. and S. Park View St., Los Angeles, CA 90057
MacArthur Park is the site of free summer concerts, from June 18th through September 4th. Their goal is to "make live music accessible to all, creating stronger and more connected communities while celebrating the diversity of our city and beyond."
Enjoy a wide range of musical genres at these fun concerts. Check the website for the most up-to-date information. The opening date of the concert is dependent on L.A. County Health guidelines.
Summer Concerts in the Park
Conejo Community Park
1175 Hendrix Ave., Thousand Oaks, CA 91360
The Conejo Recreation and Park District will host its 2022 series of Summer Concerts in the Park. Talent on the stage includes top-notch tribute bands, an Independence Day concert featuring a Beach Boys-style band, and the Everly Brothers, who have played all across the United States and overseas.
Concerts begin on Memorial Day, Monday, May 30th, and will also be held on July 4th, July 24th, August 14th, and September 5th from 5:00 pm to 7:00 pm. Early arrival is encouraged to get a good seat and pets should be left at home. The concerts are free to the public.
Weekend Performances
The Grove
189 The Grove Dr., Los Angeles, CA 90036
The Grove invites families to enjoy live musical performances each Friday, Saturday, and Sunday through September 30th, 2022. Performances are scheduled for 5 pm to 8 pm on Fridays and Saturdays and from 3 pm to 6 pm on Sundays.
Sunset Concerts at the Skirball
Skirball Cultural Center, 2701 N. Sepulveda Blvd., Los Angeles, CA 90049
Together with friends and family, celebrate the resilience of Los Angeles and experience the joy of live music again! This beloved, FREE summertime live music series, from July 21st – August 25th, features "an eclectic lineup of path-makers and bridge-builders from around the world to Los Angeles".
Enjoy a variety of music and sounds under the stars. Ticket reservations are now open. Advance reservations are required; Discounted parking is available with an advanced purchase.
The Greek Theatre
2700 N. Vermont Ave., Los Angeles, CA 90027
Enjoy a concert under the stars at the famous Greek Theatre located in Griffith Park. A variety of acts featuring different musical genres perform at The Greek throughout the summer. A full summer season of performances is planned. Check the website for a list of upcoming shows and for ticket information.
Beachlife Festival
137 N. Harbor Dr., Redondo Beach, CA 90277
The Beachlife Festival is scheduled for May 13th – 15th. The mission behind the festival is to "inspire community, authenticity, and generosity through the celebration of music, art, and our Southern California beach life culture." The Festival will include 4 stages and more than 50 bands. Tickets and details are available online.
Weekend Performances
The Americana at Brand
889 Americana Way, Glendale, CA 91210
Enjoy live outdoor musical performances each Friday, Saturday, and Sunday at The Americana at Brand. Performances are scheduled from 6 pm to 9 pm on Fridays and Saturdays and from 3 pm to 6 pm on Sundays.
Will Geer founded the Theatricum Botanicum in 1973. Since then, families have been enjoying plays and education programs in this special outdoor setting. The 299-seat amphitheater offers a variety of special programs featuring musical and theatrical performances. This summer you can enjoy four different plays, beginning in June. Tickets are on sale now. Check the website for details.
This time-honored event is free and held at Constitution Park in Camarillo. Attendees are welcome to bring low folding chairs, blankets, and a picnic dinner to enjoy during the concerts. Seating is on the lawn, on a first-come, first-served basis.
Residents will be allowed to save their spot in advance by placing their chairs on the grass, no earlier than 8 am on the day of the concert. Safety protocols will be in accordance with the California Department of Health and county health.
Schedule:
Saturday, June 25, 2022 at 7 pm, The Tribe Band
Saturday, July 16, 2022 at 7 pm, Forever Rod
Saturday, August 6, 2022 at 7 pm, Twisted Gypsy
Saturday, August 27, 2022 at 7 pm, Country Nation
Concerts in the Park
Central Park
27150 Bouquet Canyon Rd., Santa Clarita, CA 91350
The City of Santa Clarita presents Concerts in the Park, a series of free concerts happening on eight consecutive Saturdays at 7:00 pm. Concerts begin Saturday, July 9th and run through Saturday, August 27th. "Grab your chairs and blankets to carve out your spot on the field." Check the website for a schedule of performers.
San Gabriel's popular annual summer entertainment series returns with free movies, providing residents and guests with plenty of family-friendly fun and free experiences to enjoy on southern California's cool summer nights. Bring a blanket and enjoy free outdoor concerts throughout San Gabriel on select Thursdays in June and July:
Thursday, June 23 at 7 p.m.: Jennifer Keith sextet concert at the Mission Playhouse
Thursday, June 30 at 7 p.m.: Latin concert featuring Drive Band at Vincent Lugo Park
Thursday, July 14 at 7 p.m.: Kids concert featuring Wacko the Magician and Kids Imagine Nation at Vincent Lugo Park
Thursday, July 21 at 7 p.m.: Jazz concert featuring Phat Cat Swinger at the Mission Playhouse
Thursday, July 28 at 7 p.m.: Top 40 concert featuring Forward Motion Band at Marshall Park
Summer Sounds on the Plaza
The Original Farmers Market
6333 W. 3rd St., Los Angeles, CA 90036
Each Thursday night from 6–8 pm, starting on May 26th, the Farmers Market is hosting Summer Sounds on the Plaza. Enjoy live musical performances, featuring a variety of musical genres, while you "shop, dine and relax at The Original Farmers Market."
You can also attend EB's Rock & Roll Dance Party each Friday in May. These free performances begin at 7:00 pm and conclude at 9:00 pm.
Concerts in the Park
Summitridge Park
1425 Summitridge Dr., Diamond Bar, CA 91765
The City of Diamond Bar invites families to its Concerts in the Park series happening on Wednesday evenings from June 15th through August 3rd. These free concerts begin at 6:30 pm and end at 8:00 pm and feature a variety of musical genres. There will be a special patriotic concert to celebrate Independence Day on June 29th from 6–8:30 p.m.
Seating is outdoors, on the grass, so be sure to bring blankets and low chairs. No concessions will be available so don't forget to pack the snacks.
From June 3rd-June 25th, The Pop-Up Arts and Music Festival will be performed at various parks around the Conejo Valley and will include a mix of live music, movies and performances for the whole family to enjoy!
Pop Up Arts and Music Festival Series Lineup:
Fri, June 3rd — New West Symphony: Opera Lite, El Parque de la Paz
Sat, June 4th — The Furious Seasons & Brynn Albanese, Stagecoach Museum Lawn
Fri, June 10th — Mark de Clive-Lowe, California Museum of Art Thousand Oaks
Sat, June 11th — Leftover Cuties, Northwood Park
Fri, June 17th — Califonia Dreamin' with 5-Star Theatricals, Suburbia Park
Sat, June 18th — Movie Night Featuring Brave and Alehouse Fire, Kimber Park
Fri, June 24th — Mostly Kosher, Thousand Oaks Community Park
Sat, June 25th — Mariachi Garibaldi de Jaime Cuellar & Ballet Folklorico de Los Angeles, Triunfo Park
Tiny Porch Concerts
Peter Strauss Ranch
30000 Mulholland Hwy, Agoura Hills, CA 91301
Once per month from June to September you can enjoy music in the great outdoors at the Peter Strauss Ranch. "Artists are coming from Nashville, San Francisco, San Luis Obispo, and Los Angeles".
Reserve VIP tickets can be purchased through the website, but general admission is free. They do ask for a $20 donation.
Dance DTLA
Jerry Moss Plaza, The Music Center
135 N. Grand Ave., Los Angeles, CA 90012
On most Friday nights, starting in June, you can "dance the night away under the stars". The event features LA's top DJs and local bands with many different dance styles. Check the website for dates and times and to rsvp if you will attend.
Descanso Gardens
1418 Descanso Dr., La Cañada Flintridge, CA 91011
What better way is there to listen to music than in a beautiful setting? Descanso Gardens has "partnered with some exceptional artists and organizations" to bring music to new and repeat visitors this summer.
Event admission is sometimes included in the price of admission to the garden, but not in all cases — some events have separate admission fees. Descanso Gardens general admission is $15, for seniors and students it's $11, for children ages 5–12 admission is $5, and children under 5 get in free. Check the website for details about each event.
Note: Chairs, blankets, and outside food are not allowed at some events.
Here's a partial schedule of music events:
June 22, 11:00–11:45 am, 1:00–1:45 pm: Le Ballet Dembaya
June 23, 11:00–11:45 am, 1:00–1:45 pm: Tres Souls
June 24, 11:00–11:45 am, 1:00–1:45 pm: Quarteto Nuevo
July 8–10 7:30–10 pm: Pacific Opera Project, Into the Woods
July 15–17, 7:30–10 pm: Pacific Opera Project, Into the Woods
August 13, 6:00 pm: KCRW Summer Nights
Disclaimer: MomsLA has made every effort to confirm the information in this article; however, things can often change. Therefore, MomsLA makes no representations or warranties about the accuracy of the information published here. MomsLA strongly urges you to confirm any event details, like date, time, location, and admission, with the third party hosting the event. You assume the sole risk of relying on any of the information in our list. MomsLA is in no way responsible for any injuries or damages you sustain while attending any third-party event posted on our website. Please read our Terms of Use which you have agreed to based on your continued use of this website. Some events have paid to be listed on MomsLA.