Updated for 2023
There are so many reasons to be in Los Angeles in the summer; one of them is the number of fun events for families. We've compiled a list of the best outdoor summer concerts for families in and around Los Angeles. Most of them are free and all of them are a really fun way to be together as a family and hear great music by DJs as well as local and national musicians.
Sit outdoors, enjoy our amazing weather, and maybe even bring a picnic! You can also listen to beautiful music with your family and friends. Whether you're a fan of classical music or contemporary, you'll find plenty of options all over SoCal.
Outdoor Summer Concerts All Over SoCal
Hollywood Bowl
2301 N. Highland Ave., Los Angeles, CA 90068
Seeing a concert at the Hollywood Bowl is an experience like no other, and for many families, it is an absolute "must-do" during the summer. And thankfully, this summer, the Hollywood Bowl will be welcoming families. Tickets are available for purchase now. Be sure to check the website for the latest information regarding health and safety protocols.
The Ford
2580 Cahuenga Blvd. E., Los Angeles, CA 90068
Called, LA's hidden gem, the Ford is a terrific venue to hear concerts and see dance performances in Los Angeles. The Ford also hosts LA Soundscapes, designed for families, and the schedule is filled with terrific shows you'll all want to see. Tickets are available now. Details can be found on their website.
Concerts at Warner Park
Warner Park
5800 Topanga Canyon Blvd., Woodland Hills, CA 91367
Concerts at Warner Park is a free series of fun, family-friendly outdoor musical performances held on Sunday evenings. Hosted by the Valley Cultural Foundation, everyone is welcome. Bring a picnic, blankets, low chairs, and pillows and get ready for good music and good times.
Levitt Pavilion Los Angeles
MacArthur Park
W. 6th St. and S. Park View St., Los Angeles, CA 90057
MacArthur Park is the site of the Levitt Pavilion's free summer concerts, from June through September. Their goal is to "make live music accessible to all, creating stronger and more connected communities while celebrating the diversity of our city and beyond." Enjoy a wide range of musical genres at these fun concerts. Check the website for the most up-to-date information.
Off the 405 at the Getty
Getty Center Museum, 1200 Getty Center Drive, Los Angeles, CA 90049
OFF THE 405 is the Getty Center's annual outdoor summer concert series, bringing some of today's most exciting bands to the stage for a memorable experience amid stunning architecture and breathtaking sunset views.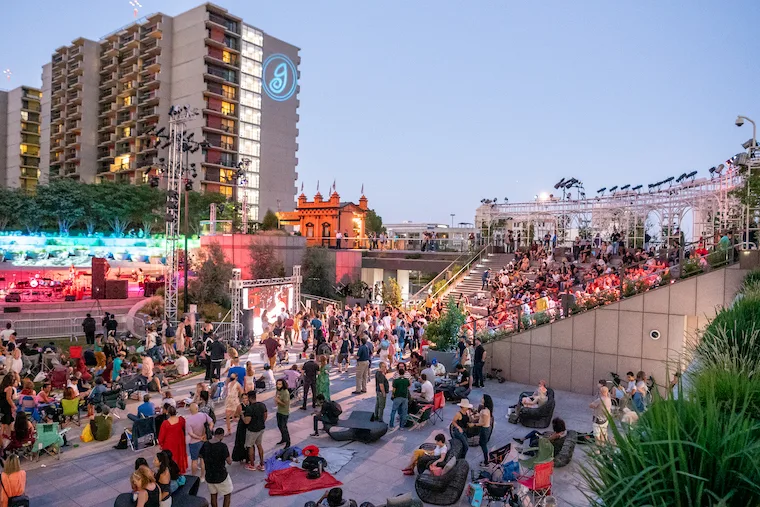 Grand Performances
California Plaza, 350 South Grand Avenue, Los Angeles, CA 90071
Grand Performances is excited to announce the line-up for their 37th Summer Season of Free Concerts at California Plaza in DTLA! With music from across Latin America, Africa, Middle East and Asia, GP's 2023 Summer Season brings together a diverse mix of genres and generations, from samba to doo-wop, salsa to hip-hop, jazz to cumbia, and much more. All Grand Performances' events are free, outdoors and all-ages.
Latin Sounds at LACMA
Los Angeles County Museum of Art
5905 Wilshire Blvd., Los Angeles, CA 90036
Latin Sounds is back! Join us for evenings of live music, picnicking, and community on the LACMA grounds.. These free concerts are presented Saturday evenings from Memorial Day weekend in May to Labor Day weekend in September, featuring world-renowned artists performing everything from Indigenous music to the latest sounds from Argentina, Brazil, Cuba, Mexico, Peru, and Los Angeles.
Come listen and dance this Summer! Live music and DJ Robby will perform on select Fridays: June 9, July 14, August 11, and September 8. Attendees are invited to bring lawn chairs and blankets. Food and beverages will be available for purchase.
Libbey Bowl is located in the heart of downtown Ojai, and has been hosting concerts for more than 45 years. This Summer's Canyon Concert Series kicks off in May and runs through August. Ticket info online.
Grab your crew, a picnic dinner, and a blanket or low-profile beach chairs and make your way to Burton Chace Park for this popular event series. On alternating Thursdays in July and August, enjoy classical and opera performances. On alternating Saturdays, expect a mix of pop music groups.
Summer Concerts in the Park
Conejo Community Park
1175 Hendrix Ave., Thousand Oaks, CA 91360
The Conejo Recreation and Park District will once again host its series of Summer Concerts in the Park. Talent on the stage includes top-notch tribute bands, and a special Independence Day concert.
Grab a copy of our Book: Los Angeles with Kids!
Looking for Fun Things to do with Kids in LA? You'll love this book! This handy-dandy, portable paperback book is packed full of ideas for FUN all over SoCal! Keep it in the car, your purse, your diaper bag – and be ready for fun anytime, anywhere!
Skirball Cultural Center Sunset Concerts
2701 N. Sepulveda Blvd., Los Angeles 90049
This popular FREE summertime music series is back for its twenty-sixth season! Get together with friends and family to sing and dance to an eclectic lineup of musicians from Jewish, African, and Cuban diasporas. With amazing views of the Santa Monica mountains, intimate courtyard setting, and after-hours access to the galleries, there's no venue quite like the Skirball. Arrive early to eat, drink, shop, and see the exhibitions! Doors open at 6:30 pm. Concerts run Jul 20–Aug 24 and are FREE. Artists include Billy Valentine, Telmary, AvevA, and more!
The Greek Theatre
2700 N. Vermont Ave., Los Angeles, CA 90027
Enjoy a concert under the stars at the famous Greek Theatre located in Griffith Park. A variety of acts featuring different musical genres perform at The Greek throughout the summer. A full summer season of performances is planned. Check the website for a list of upcoming shows and for ticket information.
This time-honored event series is free and held at Constitution Park in Camarillo in June, July, and August. Attendees are welcome to bring low folding chairs, blankets, and a picnic dinner to enjoy during the concerts. Seating is on the lawn, on a first-come, first-served basis.
Rock The Collection
The Collection at Riverpark, 2751 Park View Court, Oxnard 93036
Come enjoy the sounds of summer and fall with a series of free, family-friendly concerts at The Collection at Riverpark. These live outdoor shows will be held on Wednesday nights – August 23, September 6, September 20, and October 4 – and will feature everyone's favorite rock and pop classics performed by popular tribute bands. Bring blankets, lawn chairs and your best dance moves. Each performance will start at 6:30 p.m. Make sure to stop by one of The Collection's restaurants to grab dinner to go so you can dine al fresco while listening to the live music.
Concerts in the Park
Central Park
27150 Bouquet Canyon Rd., Santa Clarita, CA 91350
The City of Santa Clarita presents Concerts in the Park, a series of free concerts happening on eight consecutive Saturdays at 7:00 pm, in July and August. "Grab your chairs and blankets to carve out your spot on the field." Check the website for a schedule of performers.
San Gabriel's popular annual summer entertainment series returns with free concerts, providing residents and guests with plenty of family-friendly fun and free experiences to enjoy on southern California's cool summer nights. Bring a blanket and enjoy free outdoor concerts throughout San Gabriel on select days in June, July, and August.
Concerts in the Park
Summitridge Park, adjacent to Diamond Bar Center 91765
The City of Diamond Bar invites families to its Concerts in the Park series happening on select Wednesday evenings in June, July, and August. These free concerts begin at 6:30 pm and end at 8:00 pm and feature a variety of musical genres. Seating is outdoors, on the grass, so be sure to bring blankets and low chairs. Various Food Trucks will be there fro your dining pleasure.
From June through early July, The Pop-Up Arts and Music Festival will be performed at various parks around the Conejo Valley and will include a mix of live music, movies and performances for the whole family to enjoy! 10 Free events in all.
Tiny Porch Concerts
Peter Strauss Ranch
30000 Mulholland Hwy, Agoura Hills, CA 91301
Once per month from May through September, you can enjoy music in the great outdoors at the Peter Strauss Ranch. "Artists are coming from Nashville, San Francisco, San Luis Obispo, and Los Angeles".
Dance DTLA
Jerry Moss Plaza, The Music Center
135 N. Grand Ave., Los Angeles, CA 90012
Friday nights, from June through September, you can "dance the night away under the stars". The free events features LA's top DJs and local bands with many different dance styles. Check the website for dates and times and to rsvp if you will attend.
What better way is there to listen to music than in a beautiful setting? Descanso Gardens has "partnered with some exceptional artists and organizations" to bring music to new and repeat visitors this summer.
Event admission is sometimes included in the price of admission to the garden, but not in all cases — some events have separate admission fees, so be sure to check.
Disclaimer: MomsLA has made every effort to confirm the information in this article; however, things can often change. Therefore, MomsLA makes no representations or warranties about the accuracy of the information published here. MomsLA strongly urges you to confirm any event details, like date, time, location, and admission, with the third party hosting the event. You assume the sole risk of relying on any of the information in our list. MomsLA is in no way responsible for any injuries or damages you sustain while attending any third-party event posted on our website. Please read our Terms of Use which you have agreed to based on your continued use of this website. Some events have paid to be listed on MomsLA.