Updated for 2023
Summer means it's time to get outside and have fun. What better way to celebrate than taking the family to a movie under the stars? Parks, schools, museums — and even rooftops — are some of the great places to see outdoor movies in Los Angeles.
We've checked and updated the schedules, and we'll keep checking all summer to make sure this info is fresh.
There are pop-up drive-ins all over SoCal, and you can find their schedules here, too. Plus, we are very excited about seeing movies while sitting on a blanket or in beach chairs.
But, what if you'd rather stay indoors? No problem! We've got a great list of bargain movies showing at some of the theater chains this summer, too: like the Regal Summer Movie Express and the AMC Summer Movie Camp.
Wherever you catch a movie this summer, we hope you'll enjoy it!
Outdoor Summer Movies in Los Angeles and SoCal
Boat Cinema
32132 Castaic Lake Dr., Castaic, CA 91384
Yes, you can watch movies on a boat this summer. Head out to Castaic and have a super fun summer experience with your family. It's pet-friendly, too! Picnic meals are made to order and served on your very own boat for the evening! Or you can even get a season pass. Enjoy!
Street Food Cinema makes going to the movies an event. They offer a wide range of movies, food trucks, live music (before the film), and community fun. This summer, their locations include the Autry Museum and LA State Historic Park, among others. Check the website for details about dates, films, and locations — and to purchase tickets in advance.
Note: Not all movies are family-friendly, so check the schedule to find ones your family will enjoy.
Parks After Dark
34 LA County Parks Locations all over SoCal
LA County is bringing back its popular FREE summer movie and concert series at 34 area parks this summer. With movies, concerts, and events for families of all ages, you're bound to have fun! The movie nights also include an arts and crafts activity as well as health resources for all. Click over to see the event schedule at a park near you.
Rooftop Cinema Club
3 Locations
Arts District: 777 S. Alameda St. Los Angeles 90021
DTLA: 888 South Olive Street, Los Angeles 90014
El Segundo: 1310 East Franklin Ave., El Segundo 90245
Watch movies on a rooftop while seated in a comfortable deck chair. State-of-the-art wireless headphones are available so nothing will distract you from the classic dialogue! Three locations to choose from for Summer movie fun!
Rooftop Cinema Club is also offering special family-friendly screenings this summer on an LED screen. RCC's early screenings can start as early as 1 pm or somewhere between 4 and 5 pm, so watch movie times closely. They'll open their 18+ rooftop venue to younger moviegoers for these early screenings and allow the whole family to enjoy a movie night under the sky. Check out their website to see the entire schedule!
Want to see a movie at a Classic SoCal Drive-in? Check out this list of great places.
Grab a copy of our Book: Los Angeles with Kids!
Looking for Fun Things to do with Kids in LA? You'll love this book! This handy-dandy, portable paperback book is packed full of ideas for FUN all over SoCal! Keep it in the car, your purse, your diaper bag – and be ready for fun anytime, anywhere!
Plaza West Covina
Summer Movie Night Flix Series
112 Plaza Dr., West Covina, CA 91790
Plaza West Covina — in partnership with the City of West Covina and sponsored by Regal Medical Group and Athens Services — is excited to announce its Summer Movie Night Flix Series, on the roof of the parking garage. Attendees are asked to bring their own beach/lawn chairs and come ready to enjoy a night of family entertainment, games, and giveaways.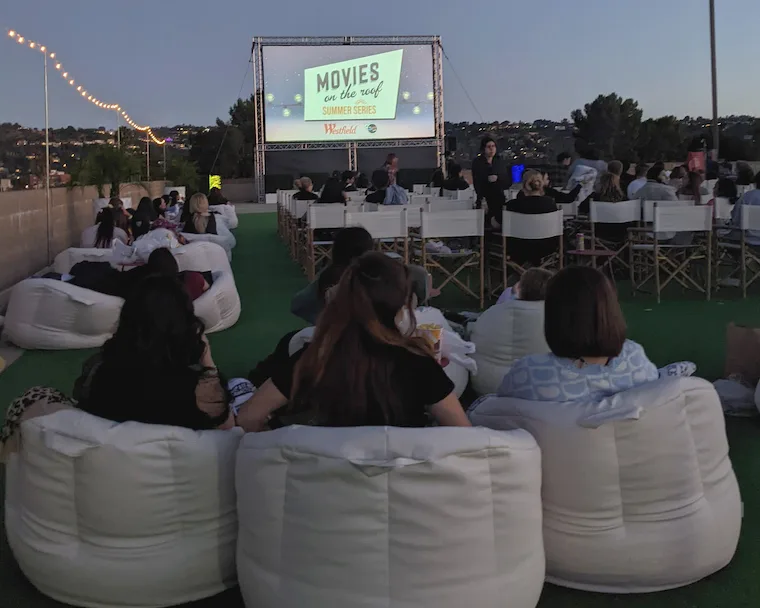 Movies On The Roof
Westfield Fashion Square On The Roof of the Parking Garage
14006 Riverside Drive, Sherman Oaks 91423
Movies On The Roof offers an alfresco summer movie-screening experience at Westfield Fashion Square in Sherman Oaks every weekend, July 7 – August 12. The screenings include comfortable seating, state-of-the-art projection and sound, and valley views in an upscale event space on the parking garage rooftop of Westfield Fashion Square. Tickets are $10 and includes complimentary popcorn and water with 100% of the proceeds to benefit the Hope The Mission organization whose mission is to prevent, reduce, and eliminate poverty, hunger and homelessness. Come early to the screening and enjoy live music from local musicians, raffle giveaways, lawn games, and more. Upcoming screenings at Movies On The Roof include Clueless (July 7) – which was also filmed at Westfield Fashion Square, Top Gun: Maverick (July 15) , DC League of Super Pets (July 22), an Indiana Jones movie weekend (Aug 4 -5), and more!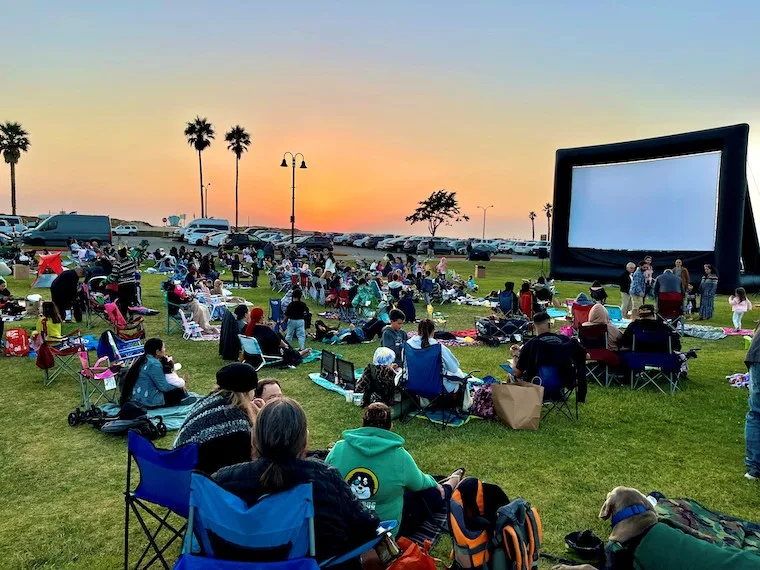 Summer Outdoor Movie Nights
Ventura Harbor Village 1583 Spinnaker Drive in Ventura 93001
The 2023 Summer Outdoor Movie Nights will take place on the last Saturday of each month: June 24, July 29, and August 26, 2023 at sunset on the Ventura Harbor Village Main Lawn. Gather under the starry skies and enjoy a fantastic lineup of films against the picturesque backdrop at sunset at Ventura Harbor. Parking and admission to the movie nights are complimentary. Movie-goers are encouraged to bring blankets, low chairs, and their enthusiasm to support local business at Ventura Harbor Village for a summer night movie fun. Movie lineup: June 24: Jaws, July 29: Goonies, and August 26: Moana.
Cinespia screens terrific movies at locations around LA, like at Hollywood Forever Cemetery, LA State Historic Park, and the Greek Theatre. Audiences enjoy pre-show fun including DJs and themed photo booths — and don't forget to bring a picnic. Note: not all movies are family-friendly.
PCH Movies and Moonlight
6400 East Pacific Coast Hwy, Long Beach, CA 90803
PCH Movies & Moonlight returns this Summer for their annual screenings. Movies are complimentary to the community; self-seating will be available on a first-come first-serve basis. Pets are welcome but must remain leashed and under physical control at all times. Guests are encouraged to bring their own lawn chairs and blankets. 2ND & PCH offers an array of restaurants, retailers, and specialty services within the center for the community to enjoy before, during, or after the movie.
Marina Movie Nights
13650 Mindanao Way, Marina del Rey, CA 90292
Marina Movie Nights returns for a free summer series on select summer Saturdays in July and August. Movies will play at 8 pm, but arrive early to pick your spot on the grass — seating is on a first-come, first-serve basis. You can bring a picnic, a blanket, and a low beach chair. Stay tuned to their website to get the upcoming movie line-up!
A unique outdoor cinema experience nestled in the heart of West Hollywood's fashion and design precinct. The Melrose Rooftop Theatre is attached to the property occupied by E.P. & L.P. and the entry is via the lobby at 603 N La Cienega Boulevard, West Hollywood.
Movies in the Park
Summitridge Park, 1425 Summitridge Dr., Diamond Bar, CA 91765
The City of Diamond Bar invites families to its Concerts and Movies in the Park series happening on Wednesday evenings from June 15th through August 3rd. These free events begin at 6:30 pm and end at 8:00 pm and feature a variety of musical genres. There will be a special patriotic concert to celebrate Independence Day as well!
On select Fridays from June through August you can watch free movies in the park, enjoy live music, and play family games. Movies start at 8:15 pm and food trucks will be available as early as 6 pm. Seating will be on the lawn at each event and is on a first-come, first-served basis. You can "bring blankets, low folding chairs, and a picnic to enjoy during the movie".
Movies are a great Summer tradition, and these are hosted by the Valley Cultural Foundation, everyone is welcome. Saturday nights in August. Bring a picnic, blankets, low chairs, and pillows and get ready for good music and good times.
Movies on the Lawn
Jamaica Bay Inn, 4175 Admiralty Way, Marina del Rey, CA 90292
Head over to the Jamaica Bay Inn on Sundays, when you can watch free movies and maybe purchase one of their tasty picnic meals to go! Seating begins at 7 pm with movies starting at dusk. Food and drinks will be available for purchase. It's acceptable to bring blankets, pillows, and low chairs for seating comfort during the movie screenings. Guests are encouraged to register ahead of time online.
Eat See Hear – No updates yet about the 2023 season
This terrific summer movie biz uses the "largest inflatable movie screen on the West Coast with the highest quality HD-projection, a 52-foot wide image, and professional sound". There will also be music, pop-ups, and food trucks to enhance your viewing experience. Look on the website for further information and to buy event tickets.
San Gabriel's popular annual summer entertainment series returns with free movies, providing residents and guests with plenty of family-friendly fun and free experiences to enjoy on southern California's cool summer nights. Bring a blanket and enjoy free outdoor movies throughout San Gabriel on select dates in June and July.
Poolside Cinema Series – Info not updated for 2023 yet
Fairmont Miramar Hotel, 101 Wilshire Blvd., Santa Monica 90401
Park yourself by the pool and enjoy family-friendly films, along with food and drinks – every Saturday from now to Labor Day with the return of Fairmont Miramar's Poolside Cinema Series, showcasing iconic classics and cult-favorites from Encanto to The Incredibles and much more. Stop by Saturdays & Sundays at sunset (7pm/8pm) for a plethora of family-friendly films for guests and locals to enjoy while lounging poolside al fresco with complimentary popcorn in hand. And the option for dinner provided by the ultra-seasonal farm-to-table FIG Restaurant. Reserved seating is complimentary for hotel guests and outside visitors can book a $20 reservation through the hotel's website.
Disclaimer: MomsLA has made every effort to confirm the information in this article; however, things can often change. Therefore, MomsLA makes no representations or warranties about the accuracy of the information published here. MomsLA strongly urges you to confirm any event details, like date, time, location, and admission, with the third party hosting the event. You assume the sole risk of relying on any of the information in our list. MomsLA is in no way responsible for any injuries or damages you sustain while attending any third-party event posted on our website. Please read our Terms of Use which you have agreed to based on your continued use of this website. Some events have paid to be listed on MomsLA.