Birthday parties are a time to celebrate the most special people in our lives – our kids! And what better way to celebrate than at a dynamite party venue? We have curated an eclectic list of LA's top kids' birthday party venues – from robots to bowling balls – we have chosen the best and rounded them all up here for you.
If you choose not to have your child's birthday party at home, where can you go instead? There are dozens of terrific Birthday Party Places in Southern California where you can have a terrific Kids' Party!
25 Terrific Birthday Party Places in Los Angeles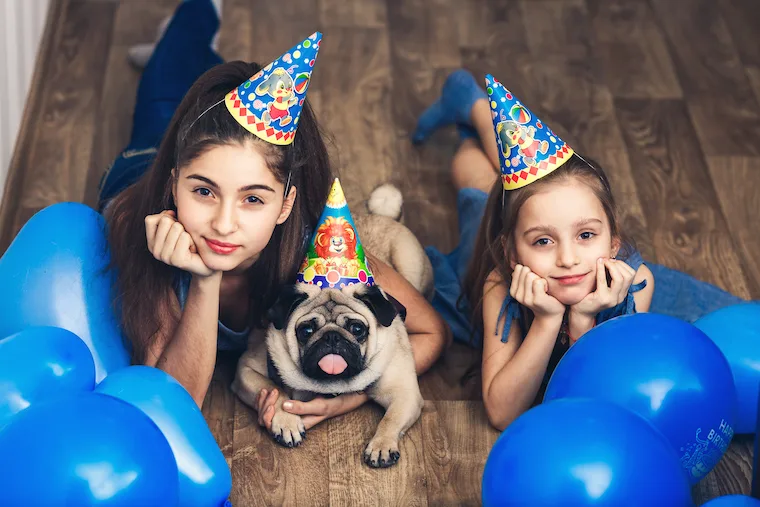 Pasadena Humane is now hosting kids birthday parties! There are two party options:
Party Animals! VIP Birthday Experience (ages 5 and up)
During your one-hour private VIP experience, you will learn about Pasadena Humane's mission and vision of providing opportunities for animals to find homes. The children will visit the dog kennels, the Neely Cat Center, and the Critter House. At the end, the birthday child will get to name one of our shelter animals! This experience is suitable for up to three children and one adult chaperone.
Party Animals! Birthday Party for Kids (ages 7 and up)
During the 1 ½ hour party, children will learn about Pasadena Humane's mission and vision of providing opportunities for animals to find homes. They'll make purposeful animal enrichment toys and enjoy a behind-the-scenes shelter tour. The celebration will end with a birthday celebration in the Pasadena Humane classroom. Our Party Animals birthday experience is suitable for up to 15 people (children and adults).
American Girl Place
Westfield Century City, 10250 Santa Monica Blvd., Los Angeles 90067
Treat your child to a fantastic birthday party at the American Girl Place, now open in Century City.
Moonlight Rollerway
5110 San Fernando Road, Glendale, CA 91204
Skate on down to Moonlight Rollerway for a roll of a good birthday party time! Moonlight Rollerway is the premier roller skating rink in LA with the best Rollerskating staff in town. Several party packages are available.
Do something different and inspire wonder and ignite creativity by having a birthday party at Kidspace Children's Museum. You can choose to host your party in the celebration center, Galvin Physics Forest, Stone Hollow Amphitheater or the Digging Deeper Gallery. Add-ons and other entertainment are available, too.
Lights! Camera! Action! The Santa Monica Playhouse offers birthday parties of a theatrical sort where you don't have to do a thing and the kids are entertained. The Santa Monica Playhouse offers several party packages and themes.
The Underwood Family Farms in Ventura County offers fantastic birthday parties for the animal and outdoor loving child. Each guest at the party will ride the horse drawn wagon, visit the Farm Animal Center, unlimited pony rides (for heights above 48″), unlimited fun in the Moonbounce, Trike Trail, Cow Train Ride, Petting Corral, and the electric Train Ride, as well as driving the Electric Tractors during the 2 1/2 hour party.
Scooters Jungle
Several Locations in Southern California
Get the wiggles out! At Scooter's Jungle, parents and kids will jump, climb, slide, dance and sing their way to a memorable birthday party. Their party planners organize the details while their friendly, responsible, attentive staff handle the games and run the party, including cleaning up the mess.
Bowlero Bowling Parties
Multiple Locations in SoCal, including:
21915 S. Western Avenue, Torrance 90501
Kids love bowling parties, and luckily, they are fun and easy! Bowlero locations offer kid-sized shoes, low weight balls, bumpers, rolling ramps and a variety of menu options to choose from. Event specialists help craft the perfect party. Stress-free parents, guaranteed.
Disclaimer: MomsLA has made every effort to confirm the information in this article; however, things can often change. Therefore, MomsLA makes no representations or warranties about the accuracy of the information published here. MomsLA strongly urges you to confirm any event details, like date, time, location, and admission, with the third party hosting the event. You assume the sole risk of relying on any of the information in our list. MomsLA is in no way responsible for any injuries or damages you sustain while attending any third-party event posted on our website. Please read our Terms of Use which you have agreed to based on your continued use of this website. Some events have paid to be listed on MomsLA.