Spring Break Camps in Los Angeles
Time is flying by, and Spring Break will be here before you know it. In Los Angeles, the schools schedule their Spring Breaks at wildly different times, so the Spring Break Camps in Los Angeles have lots of different dates to accommodate all the school district's calendars.
Whether you're looking for a week-long camp or want to enroll your kids in a few days for a drop-in experience, we bet you'll find a Camp that fits your family's needs right here, in our list of terrific Spring Break Camps in Los Angeles.
And if you're looking for Summer Camps, check out our 2020 Summer Camp Guide!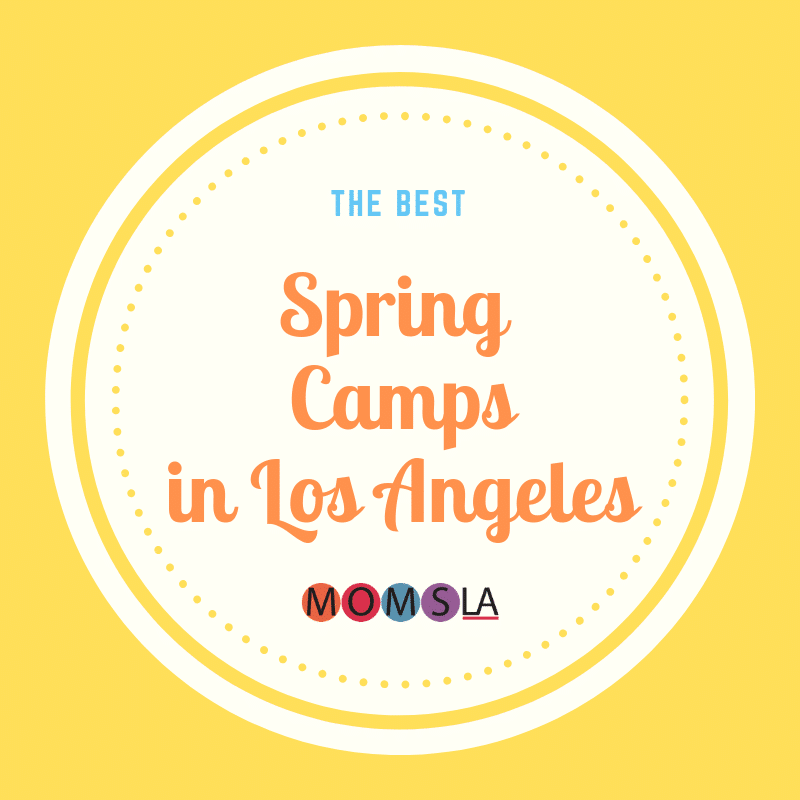 Spring Break Camps on the Westside
CodeREV
1639 16th Street, Santa Monica, CA 90404
Phone: (310) 450-4984
A fresh camp experience starts each week, with a new exciting program. Students build the next app, video game, their own robot, website, or 3D animation, create their own mod in Minecraft using Java code, or explore math in Minecraft through revolutionary program, Mathcraft. Spring Code REV camps are offered for ages 7 and up: March 25th – April 5th.
Camp Wildfolk
1265 N. Fairfax Ave., West Hollywood, CA 90046
(424) 341-5522
Camp Wildfolk is a wildly-fun and unique Day Camp, centrally located in West Hollywood, blending the spirit of traditional camp with a progressive, camper-centered approach. Campers are given the autonomy to influence their experience by choosing class electives. Wildfolk is a hands-on, project-based adventure, where kids teambuild, explore, create, and innovate. April 8th – April 19th.
Got Game Camp
408 S Fairfax Avenue, Los Angeles CA 90036
(310) 975-8524
Your kids are going to love the spring camp curriculum at Got Game. Campers will play competitive Sports (basketball, soccer, hockey, flag football, baseball), Arts (dance, theatre, karate, arts & crafts), Games (oasis, chess, dodgeball), surprise appearances and more. April 15-19th.
Kidspace Children's Museum
480 North Arroyo Boulevard, Pasadena, CA 91103
(626) 449-9144

Theme: 3, 2, 1, Launch! Discover how rockets escape Earth's gravitational pull, how propulsion works, what forces act upon a spacecraft and listen to astronaut story time from the International Space Station!
Dates: March 30-April 3 AND April 6-10
Aquasurf Camp
2701 Barnard Way, Santa Monica, CA 90405
310-902-7737
AQUA SURF Camp provides safe, fun and educational surf camps for kids and teens ages 5 to 17. Our students develop lifelong skills, lasting memories and treasured friendships. Our instructors tailor the experience based on the needs of each individual, while maintaining a group/family-style atmosphere. We accommodate complete beginners to kids and teens learning at a pro-level. Dates: April 8 – April 19, 2019
Camp Super Duper
540 Commonwealth Ave., Los Angeles, CA 90020
(866) 309-7322
A 21st century day camp for 21st century kids. A kaleidoscope of activities, a whole-child heart-centered philosophy, the BEST staff of fun, quirky, cool, mature, experienced ADULTS, and more fun than you may be able to handle. We do everything from Art, Sports & Cooking to DJing, Podcasting, Parkour & mini-golf. Maker's Lab. Water Play. Field Trips. Theme Days…. Come Discover, Create, Connect, Laugh, Play, Grow, and be the YOUiest YOU you can be!
Groundlings Teen Camp
7307 Melrose Ave, Los Angeles, CA 90046
323-934-4747
Teens learn the fundamentals of improv in this fun and engaging workshop series which culminates in an improv performance on The Groundlings student stage. April 15th-20th.
Digital Dragon
1453 14th Street, Suite C, Santa Monica, CA, 90404
424.280.4654
Amazing week-long Spring technology camp for kids aged 7-14 interested in designing video games, advancing their computer programming skills, engineering/programming robots, producing and shooting YouTube videos and short films, taking their Minecraft expertise to the next level, and having fun at the same time! Our camp culture is central to who we are: we have team building activities and outdoor time at a nearby park for lunch and field games. March 25th – April 19th.
8 Count Dance Academy
10662 West Pico Blvd., Los Angeles, CA 90064
Spring Break CREATE-A-CAMP at 8 Count Dance Academy! Not finding a camp that fits for your child and their friends? If you have 5 or more children, you can create a 3 day or 5 day camp at 8 Count Dance! Please e-mail [email protected] and let us know the dates that work best for you. Time options for camps are 9am-12:30pm, 9:30am-1:00pm or 1:30pm-5:00pm. Our camps offer classes in ballet, jazz, hip hop, lyrical, acro, improv, and dance games! We also have crafts for our tiny campers. Let us know what you're looking for and we will make it happen for you!
Atwater Photo Camp
3015 Glendale Blvd, LA, CA 90039
This 5 day adventure begins with a basic overview of camera functions and ends with an exhibition featuring the kids' work from the week. Through a series games and expeditions, we'll challenge the way we see; we'll learn through instruction and practice how to make images, rather than take them. Ultimately campers will develop their photographic eye and learn new ways of seeing. Weekly from March 30th – April 24th.
Sender One Climbing Camp
LAX – 11220 Hindry Ave., Los Angeles, CA 90045
Looking for something fun and exciting for your kids to do during the next school break? Look no further than Sender One's Rock Climbing Camp! Rock climbing has been shown to help build confidence, improve focus, and increase coordination and strength in children. Through active instruction and supervised games, climbers ages 6 to 13 years old, will learn how to problem solve, work in groups and gain confidence in their ability to reach new heights! Sign up for morning camp, afternoon camp, or both for a full day of fun. March 25th – April 19th.
Iverbe Day and Sports Camp
The Willows in Culver City, 8509 Higuera St., Culver City, CA 90232
Iverbe Day and Sports Camp is dedicated to creating a fun, positive summer experience in a safe environment at the Willows Community School, Palisades High School and at St. Anastasia School in Westchester. Our goal is to provide a safe, supportive environment where campers are free to explore their capabilities and focus on having fun. Session 1 – March 25-29, Session 2 – April 1-5.
Tinkering School LA
reDiscover Center, 12958 W Washington Blvd.
Los Angeles, CA 90066
Come build amazing things with us! Tinkering School LA teaches children the skills they need to work confidently in wood, plastic, and metal to build robust structures as wild as their imaginations. With a 4:1 camper to facilitator ratio, our fully stocked workshop provides a safe and supportive environment for personal growth through skills development and creative construction. April 8th – April 19th.
Second City Spring Comedy Camps
6560 Hollywood Blvd., Hollywood, CA 90028
323-464-8542
How fun does a Comedy Camp sound? Campers ages 6-18 exercise their sense of play through improv games and exercises that are the foundation of The Second City's unique brand of comedy. Our teachers will work with these young improvisers to help enhance their ability to communicate with others and develop confidence in their own creativity while working as part of an ensemble. Camps end with a show where the students show off what they've learned! April 1-5, April 15-19, April 20-26
Saken Sports Camp
15871 Mulholland Drive, Los Angeles, CA 90049
310.273.2459
Join us for Spring Camp to have a fun and active spring break! Expert coaches help develop campers in a variety of sports activities. In addition to sports we offer tournaments, arts and crafts, special events, and theme days. At Saken Sports Camp, we offer a 7 to 1 camper to coach ratio and may be as low as 3 to 1. March 25th – April 5th.
Los Angeles Zoo
5333 Zoo Drive, Los Angeles, CA 90027
(323) 644-4200
Zoo Campers will participate in animal close-ups, games, crafts, and activities that will help them discover more about our animal friends and the vital role they play in our daily lives. March 18th – 22nd and April 15th to 19th
MOMSLA IS YOUR SOURCE FOR THE BEST SUMMER CAMPS IN LOS ANGELES.
Some of the camps in this list have paid for advertising with MomsLA.com.
[social-bio]