Updated for 2021
Time is flying by, and 2021 Spring Break will be here before you know it. In Los Angeles, the schools schedule their Spring Breaks at wildly different times, so the Spring Break Camps in Los Angeles have lots of different dates to accommodate all the LA County school districts' calendars.
Whether you're looking for a week-long camp, want to enroll your kids in a few days for a drop-in experience, or you're looking for an online camp, we bet you'll find a Camp that fits your family's needs right here, in our list of terrific Spring Break Camps in Los Angeles.
And if you're looking for Summer Camps, check out our 2021 Summer Camp Guide!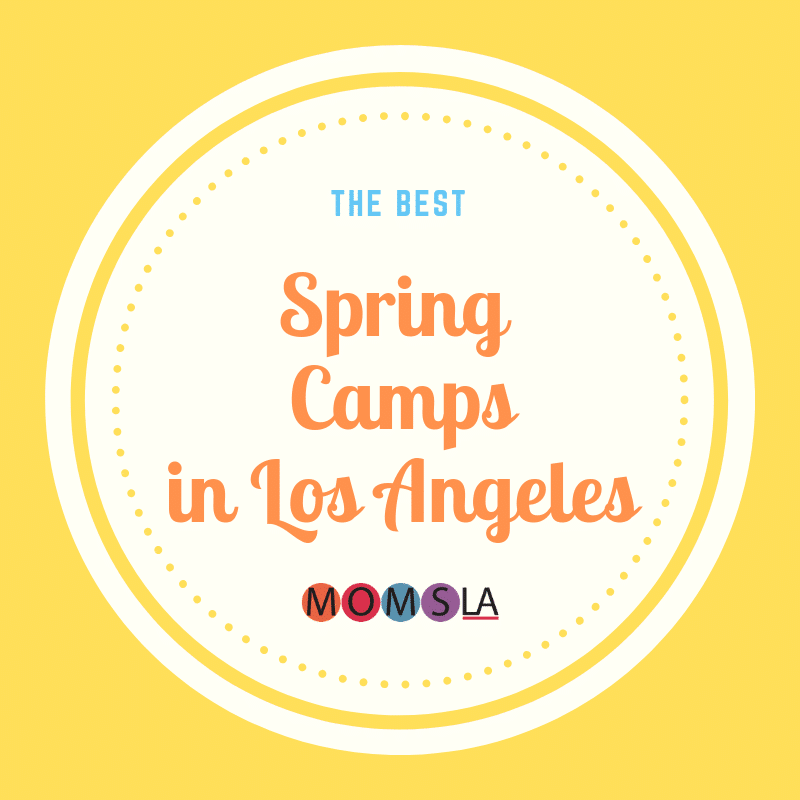 Spring Break Camps on the Westside
Structured, weeklong sessions available now in multiple time zones (5 consecutive days, Monday-Friday) with the hottest curriculum in Python, Java, Minecraft, Roblox, Unity, Adobe, 3D modeling, and more. Average of 5 students per instructor, blending personalized learning and time to socialize with new friends, plus a balanced schedule including 2 hours of live instruction and peer collaboration + 2 hours of self-paced project development per day. All the magic of camp including games, challenges, and legendary iD traditions you can't find anywhere else. Courses in Python, Java, Minecraft, Roblox, Unity, Adobe, 3D modeling, and more!
CodeREV
1639 16th Street, Santa Monica, CA 90404
A fresh camp experience starts each week, with a new exciting program. Students build the next app, video game, their own robot, website, or 3D animation, create their own mod in Minecraft using Java code, or explore math in Minecraft through revolutionary program, Mathcraft. Spring Code REV camps are offered for ages 7 and up.
Digital Dragon
1453 14th Street, Suite C, Santa Monica, CA, 90404
Amazing week-long Spring technology camp for kids aged 7-14 interested in designing video games, advancing their computer programming skills, engineering/programming robots, producing and shooting YouTube videos and short films, taking their Minecraft expertise to the next level, and having fun at the same time! Our camp culture is central to who we are: we have team building activities and outdoor time at a nearby park for lunch and field games.
Looking for something fun and exciting for your kids to do during the next school break? Look no further than Sender One's Rock Climbing Camp! Rock climbing has been shown to help build confidence, improve focus, and increase coordination and strength in children. Through active instruction and supervised games, climbers ages 6 to 13 years old, will learn how to problem solve, work in groups and gain confidence in their ability to reach new heights! Sign up for morning camp, afternoon camp, or both for a full day of fun.
Tinkering School LA
reDiscover Center, 12958 W Washington Blvd., Los Angeles, CA 90066
Come build amazing things with us! Tinkering School LA teaches children the skills they need to work confidently in wood, plastic, and metal to build robust structures as wild as their imaginations. With a 4:1 camper to facilitator ratio, our fully stocked workshop provides a safe and supportive environment for personal growth through skills development and creative construction.
Saken Sports Camp
15871 Mulholland Drive, Los Angeles, CA 90049
Join us for Spring Camp to have a fun and active spring break! Expert coaches help develop campers in a variety of sports activities. In addition to sports we offer tournaments, arts and crafts, special events, and theme days. At Saken Sports Camp, we offer a 7 to 1 camper to coach ratio and may be as low as 3 to 1.
The LA Clippers Spring Break Camps are virtual this year. They run from March 29th – April 2nd, and the fee is $99. For Boys and Girls ages 12-17
Elite 360 Camp. Developing the complete player! Find out more on their website.
Got Game Camp
Multiple locations, including:
Short Avenue Elementary School, 12814 Maxella Avenue, LA 90066
Your kids are going to love the spring camp curriculum at Got Game. Campers will play competitive Sports (basketball, soccer, hockey, flag football, baseball), Arts (dance, theatre, karate, arts & crafts), Games (oasis, chess, dodgeball), surprise appearances and more.
Spring Break Camps on the Eastside
This 5 day adventure begins with a basic overview of camera functions and ends with an exhibition featuring the kids' work from the week. Through a series games and expeditions, we'll challenge the way we see; we'll learn through instruction and practice how to make images, rather than take them. Ultimately campers will develop their photographic eye and learn new ways of seeing.
Second City Improv Camps
6560 Hollywood Blvd., Hollywood, CA 90028
How fun does a Comedy Camp sound? Campers ages 6-18 exercise their sense of play through improv games and exercises that are the foundation of The Second City's unique brand of comedy. Our teachers will work with these young improvisers to help enhance their ability to communicate with others and develop confidence in their own creativity while working as part of an ensemble. Camps end with a show where the students show off what they've learned!
Related: Things to do during Spring Break
Some of the camps in this list have paid for advertising with MomsLA.com.
Disclaimer: MomsLA has made every effort to confirm the information in this article; however, things can often change. Therefore, MomsLA makes no representations or warranties about the accuracy of the information published here. MomsLA strongly urges you to confirm any event details, like date, time, location, and admission, with the third party hosting the event. You assume the sole risk of relying on any of the information in our list. MomsLA is in no way responsible for any injuries or damages you sustain while attending any third party event posted on our website. Please read our Terms of Use which you have agreed to based on your continued use of this website. Some events have paid to be listed on MomsLA.