Whether your high school student has a passion to change the world or is trying to accumulate volunteer hours to satisfy a school requirement, volunteering isn't as easy as it used to be. Fortunately, there are still many ways to help – some of which include virtual volunteer opportunities. Check out our list of Volunteer Opportunities for High School Students.
Please contact any organization that you're considering and confirm all the details before signing your child up. If you choose to pursue an in-person opportunity, please be sure the organization is following all the necessary health guidelines as you make the decision.
Most schools have a form they need filled out to show proof of the volunteer hours, so make sure you have that ready, and confirm with the organization that they can and will provide that proof upon completion.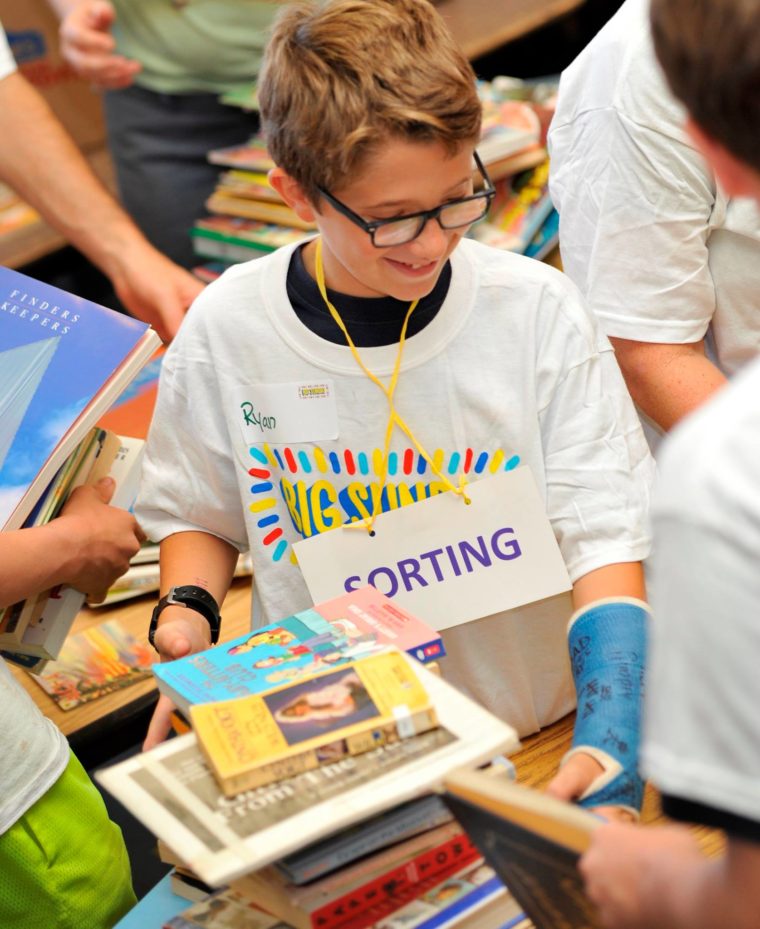 Virtual Volunteer Opportunities
Best Buddies is the "world's largest organization dedicated to ending the social, physical, and economic isolation of the 200 million people with intellectual and developmental disabilities (IDD)." There are several ways to get involved as a virtual volunteer, such as becoming an "e-buddy," hosting a virtual activity or workshop, and more. Check the website for details on how to get started.
Habitat for Humanity Youth Programs
One way for students to get involved with Habitat for Humanity is through Campus Chapters. "Each campus chapter is a student-led, student- initiated organization on a high school or college campus that partners with the local Habitat for Humanity to fulfill the four functions of a campus chapter." Check the website for details to find out if your school already has a Campus Chapter or details on how to start one.
High school students can sign up with "Learn To Be" and serve as a virtual tutor for K-12 students in need of academic assistance in science, reading, and math. Tutors work on-line, one-on-one with students. Check the website for details to find out how to sign up and become matched up with your student.
Teens Give Virtual Volunteering
With Teens Give Virtual Volunteering, high school students serve as tutors to children in need of extra academic assistance. Many of the students served attend "after-school programs in underserved communities are attending Title 1 schools and are performing well below grade level." Application information is available online.
In-Person Volunteer Opportunities
Alexandria House – Top Chef Program
426 S. Alexandria Ave., Los Angeles, CA 90020
Alexandria House is a transitional residence for women and women with children. The Top Chef Program is the Alexandria House's cooking volunteer program. Volunteers may work Monday through Sunday at 6:00 pm serving dinner for current residents and other members of the Alexandria House community. Guidelines are available online.
All you need to get started to volunteer for FoodCycle LA is "a car and a little bit of time." This organization partners with ChowMatch to make sure no food is wasted and excess food is delivered to those who most need it. Minors can still volunteer as long as they're also volunteering with someone over 18.
Volunteers are greatly needed to help "sort, stack, and shelve valuable food to distribute to the hungry throughout Los Angeles." Volunteers must be at least 18 to help assist the L.A. Regional Food Bank, the second-largest food bank in the U.S.
My Friend's House Foundation
540 San Pedro St., Los Angeles, CA 90013
My Friend's House Foundation is a non-profit human service organization whose mission is to "provide life-sustaining staples that include food, clothing, toiletries and encouragement to the homeless and economically disadvantaged." Volunteers are needed each Wednesday (rain or shine) from 12:00 pm to 2:00 pm to "give back donated clothes and food to the Los Angeles homeless population" at the We Feed the Hungry weekly event.
Both Online and In-person Volunteering
Big Sunday
6111 Melrose Ave., Los Angeles, CA 90038
Big Sunday is a wonderful resource with lots of ways for volunteers to get involved and make a difference in their communities. In fact, Big Sunday believes everyone can help make a positive difference. Check their website for volunteer opportunities, including ways to help from home.
There are multiple ways for high school students to volunteer and assist The Humane Society's important mission of ending all animal cruelty. Many can be done at home, such as serving as a phone banking volunteer (minimum age 16). Check the website for details.
Kitty Bungalow
2032 W. Martin Luther King Jr. Blvd., Los Angeles, CA 90062
Kitty Bungalow depends on its volunteers to "help us improve the lives of over 1,500 cats and kittens per year." Students can volunteer by providing their homes temporarily and serving as "foster mamas and papas."
P.A.T.H. – People Assisting the Homeless
There are many ways for teens to get involved and help P.A.T.H. A variety of kits are very much in demand right now including care kits, stay-at-home kits for families, food support kits for seniors, and more. Check the website for further details.
Check out Project Giving Kids to discover a wide-range of volunteer opportunities. Project Giving Kids works by connecting "kids, teens, and families to high-quality, age-appropriate volunteer activities with our network of nonprofit partners across the country." Find a cause you feel passionate about and ways to help on the website.
Reading to Kids
1600 Sawtelle Blvd. Suite 210, Los Angeles, CA 90025
Teens with a love of reading who are looking to help younger children with their reading should check out "Reading to Kids." Multiple opportunities are available for teens to volunteer as a reader at Saturday reading clubs. Details are available online.
The American Red Cross has a variety of volunteer opportunities available including volunteer-from-home options. Check the website to find the role that best fits your needs and passions – whether it's helping behind the scenes, with technology, fundraising, etc. Additionally, the Red Cross has a special webpage specifically geared toward teen volunteers. Check it out here.
Schools on Wheels provides "free tutoring and mentoring to children from kindergarten through twelfth grade living in shelters, motels, vehicles, group foster homes, and on the streets in Southern California." Tutors are all volunteers. Teens between the ages of 16-18 can serve as peer tutors, tutoring one hour per week. Check the website for details.
Great Food Program
St. James Episcopal Church
3903 Wilshire Blvd., Los Angeles, CA 90010
There are several volunteer opportunities available through St. James Episcopal Church. Teens may wish to assist with the Soup Kitchen (generally on Tuesdays and Fridays), the Food Pantry (Thursdays), and/or Shower of Hope program (Saturdays). Check the website for details on how to give back to those most in need in the Mid-City area.
The Midnight Mission
601 S. San Pedro St., Los Angeles, CA 90014
A variety of volunteer opportunities are available with The Midnight Mission. The Midnight Mission was founded in 1914 and continues to serve as a homeless shelter and homeless services provider. Teens may choose to tutor, sort clothing, serve meals, make food boxes and hygiene kits, and more. Details are available online.
Together We Rise offers teens the chance to help out with a Safer at Home Service Project. Teens work from home to help create a special Sweet Case Kit for foster children to use when moving houses. (Many times. Foster children are only given a trash bag to move their belongings.) Sign up online.
Volunteer Match is an extensive database with a very large listing of volunteer opportunities, including virtual volunteer opportunities. If your teen has a particular field they feel passionately about, this may be the site that helps find a related volunteer opportunity.
Youth Service America – Service Vote
High school seniors who feel strongly about their right to vote will want to check out "Service Vote – 20 Ideas for 2020." There are a number of ways listed for teens to help register, educate, and prepare to vote in the upcoming election.
Disclaimer: MomsLA has made every effort to confirm the information in this article; however, things can often change. Therefore, MomsLA makes no representations or warranties about the accuracy of the information published here. MomsLA strongly urges you to confirm any event details, like date, time, location, and admission, with the third party hosting the event. You assume the sole risk of relying on any of the information in our list. MomsLA is in no way responsible for any injuries or damages you sustain while attending any third party event posted on our website. Please read our Terms of Use which you have agreed to based on your continued use of this website. Some events have paid to be listed on MomsLA.