This is a guest post by Caroline Gelabert-Noh of Eat Drink LA.
Updated for 2023
Let's face it: feeding kids can get expensive! That's why we love places where Kids Eat Free. Going out to eat at a restaurant with kids can be tricky. Even if you find a "kid friendly" place to eat, sometimes those friendly kids won't eat what you've bought them.
Plus, kids generally don't want to eat out at restaurants, so why should parents be paying (or paying extra) for them? To help make dinnertime more pleasant, we've rounded up a list of places where kids eat free (or almost free) in Los Angeles from A to Z. The letters spell out major savings for Y-O-U!
Los Angeles Restaurants Where Kids Eat Free from A to Z
A
Acapulco Mexican Restaurant Y Cantina – Kids 12 and under eat for (almost free) on Wednesdays. Just add $1 to the purchase of your adult entrée, and you've got yourself a happy meal.
Applebee's – While this isn't currently running, from time to time, Applebee's offers a promotion where you get a free kids' entrée for every adult's entrée purchased. Look for this one in the summertime when you need more ways to entertain your kids anyway.
B
BJ's – Encourage your children to try their best at school, and that could translate to free food! The program is called Awesome Achievement, and it rewards kids for positive behavior and academic success. Once they earn a certificate, it can be presented for a free kids' meal and a bracelet. The only caveat is that your school needs to be a partner. A kid's meal costs $6.75 on average, though, so if you pair that with a daily adult special, you could come out just as well.
Blaze Pizza – Fast-casual, healthy-ish pizza brand, Blaze Pizza, is running a promotion in August 2023 where every Tuesday guests can receive a free 11-inch Kid's Cheese Pizza with the purchase of a full-priced. This offer is also good on their website with the code BLAZEKID.
C
Chevy's Fresh Mex – Kids 12 and under can eat for just $1 on Wednesdays. This offer must be paired with the purchase of an adult entrée.
Chili's – Chili's is giving back to its rewards members by taking care of the kids. Sign up for email or text alerts to receive Kids Eat Free Loyalty offers. They are valid on the Pepper Pals menu with the purchase of an adult entrée for kids 12 and under.
D
Denny's – Kids can eat free with a paying adult spending at least $6 on an entrée, but it varies by location. A popular day appears to be Tuesday for this offer.
Dickey's Barbeque Pit – Dickey's Barbeque Pit is honoring the Sunday supper tradition by letting kids 12 and under eat free with a purchase of $12 and up on Sundays. Use the code KEFOLO for online delivery and carryout orders. One kids' meal per check is allowed. Check the website on holidays as well for similar offers.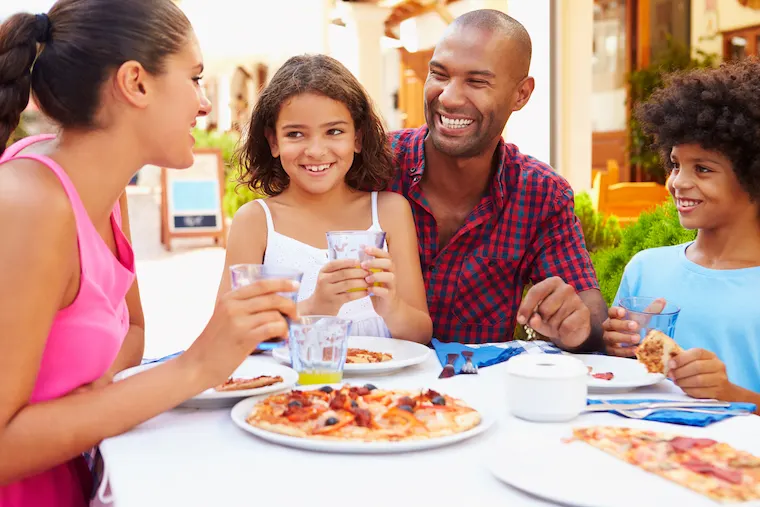 E
El Pollo Loco – Although this promotion isn't currently running, you'll find El Pollo Loco offers BOGO deals for kids' meals with the purchase of an adult entrée on Tuesdays or Sundays. Look for announcements on their Facebook page.
El Torito – Kids eat for $1 on Wednesdays by purchasing an adult meal.
F
Fogo de Chão – Kids 6 and under can enjoy a free churrasco experience while little ones 7 to 12 get half off. An adult churrasco costs anywhere from $43.95 to $66.95 a person, so this is a great way to save.
G
Gladstone's Long Beach – Mention the promotion, and your child can enjoy a complimentary beverage, entrée, and dessert along with your purchase.
Related: Restaurants with Family-Style Take out
H
Hai di Lao Hot Pot – Kids 5 and under can enjoy a free meal with a toy and an apron. Your kids will also love the dancing noodle shows.
Hillstreet Cafe – Kids eat free on Tuesdays at this Burbank cafe when they accompany an adult.
I
IKEA – Up to two kids can eat for free every Wednesday with just one adult entrée purchase. That's a lot of Swedish meatballs.
IHOP – The Kids Eat Free after 4 p.m. promotion is back at IHOP! This happens on the daily, which is as sweet as a stack of pancakes. Bonus: Check their Facebook for offers surrounding holidays.
J
Jinya Ramen Bar – Although kids don't eat for free here, they will eat like kings and queens for less than $15. The regular kids' meal includes Jinya chicken ramen with spinach and corn, chashu rice, crispy chicken, french fries, an orange, candy, and vanilla ice cream. There's also a vegan kids' meal.
K
Krispy Kreme – Kids can get a free original glazed doughnut and a free paper hat just by walking into a Krispy Kreme location. Even adults can get in on the free sample fun.
L
La Serenata de Garibaldi – This West Los Angeles restaurant offers free meals for kids on Mondays, with the purchase of a paying adult. Although their website is not active, you can contact them at 310-441-9667 for more information.
M
Mama's on 39 – Kids 12 and under eat for free from the kids' menu all day every Thursday with the purchase of one adult entrée.
N
Norms – While Norms no longer offers their kids eat-free on Monday specials, they do post coupons from time to time on their website and Instagram, especially for holidays.
O
Original Roadhouse Grill – Kids eat free all day on Tuesdays with the purchase of an adult meal. Throwing peanut shells on the floor and not having to pick them up will make you feel like a kid again.
P
Panda Express – Kids can eat almost for free at Panda Express, and adults will feel guilt free with the healthier Cub Meal choices. For less than $7, you can order a protein-rich meal with vegetables, apple slices, a starch, and a bottle of water or juice.
Q
Quiznos – Quick, name me a restaurant that begins with Q in Los Angeles? Chances are, it's Quiznos, and while their kids' meal deals aren't free, they are still less than $10 for everything from beverages to dessert. Choose a sandwich or flatbread, chips or a cookie, and a kids' drink for $9.50.
R
Ruby's Diner – Tuesday is family night at Ruby's Diner, where kids eat free from 4 p.m. on. Must be 12 and under.
Grab a copy of our Book: Los Angeles with Kids!
Looking for Fun Things to do with Kids in LA? You'll love this book! This handy-dandy, portable paperback book is packed full of ideas for FUN all over SoCal! Keep it in the car, your purse, your diaper bag – and be ready for fun anytime, anywhere!
S
Sharky's – Sharky's prides itself on offering healthy and organic food choices for the whole family. While they don't offer free meals for kids, it's hard to get anything organic in this city for less than $10, and all of their kids' meals are under $7.50. Enjoy a protein with non-GMO brown rice and organic black beans, among other choices.
T
Tapizôn Bar and Kitchen – Tapizôn in El Segundo offers happy hour every day from 4 to 6:30 p.m. for adults and food for less than $8 for the kiddos all day every day. Put those two together, and it's tudo bem for your wallet. Favorites include pão de queijo sliders on gluten-free cheese bread with smoked chicken and french fries and the P.F. Bowl with rice, beans, greens, and sliced oranges.
U
U Street Pizza – Kids always eat free at U Street Pizza because you're buying the pizza for yourself, right? Ok, maybe it's a technicality – but it's also hard to find restaurants that begin with U. If you haven't been here yet, it's a casual spot in Pasadena with great-tasting gourmet pies from the people behind Union Restaurant.
V
Veggie Grill – Trick your kids into eating their vegetables when you get them some "chik'n" at Veggie Grill. Their kids' menu offers various choices for children 10 and under that cost $10 and under and include a dessert and their choice of side. Sign up for their rewards app and get $5 off your first purchase.
W
Wienerschnitzel – Wienerschnitzel is flipping the script by letting parents be the ones eating for free. Visit them on Mother's or Father's day to take advantage of a free chili dog meal. You can also get coupons on their website any day of the year, including a free corndog with a purchase offer. What kid wouldn't be happy with that?
X
Xiang Bai Li Hotpot – This is another spot where kids technically eat for free because you don't necessarily need to get them their own hotpot. Plus, they will love the interactive nature of cooking their own meal.
Y
Yard House – This restaurant has almost 10 different options on the kids' menu, and they are all less than $10. I like to think of Yard House as the "after school special" restaurant because they start happy hour at 3 p.m. Monday to Friday, during which all pizzas and select appetizers are half-off. Specials vary by location so check before you go.
Z
Zankou Chicken – The family meal is the way to go at Zankou Chicken if you want to feel like you're getting a deal. It includes one large rotisserie chicken, two sides, six pitas, and those incredibly addictive garlic sauces that you want to drizzle over everything for just $27.99.
---
Caroline Gelabert-Noh is the host of EatDrinkLA.com. She is the mom of two boys and the wife of one husband, and they all live together in Glendale, CA.
Disclaimer: MomsLA has made every effort to confirm the information in this article; however, things can often change. Therefore, MomsLA makes no representations or warranties about the accuracy of the information published here. MomsLA strongly urges you to confirm any event details, like date, time, location, and admission, with the third party hosting the event. You assume the sole risk of relying on any of the information in our list. MomsLA is in no way responsible for any injuries or damages you sustain while attending any third-party event posted on our website. Please read our Terms of Use which you have agreed to based on your continued use of this website. Some events have paid to be listed on MomsLA.