Kids grow. Fast. It seems like every time you turn around, they've outgrown another pair of shoes or their favorite shirt doesn't fit anymore.
Don't even get us started on babies. The entire reason there are any Baby Resale stores at all is because they can outgrow a onesie faster than you can shop for a replacement.
And clothes and toys are expensive. So, if you're looking to save some money, and help our environment, then take a look at these thrift stores and resale shops that offer gently used children's clothes and toys. Some even offer consignment sales, so you can trade in the gently used items junior never liked for some new duds he's sure to love.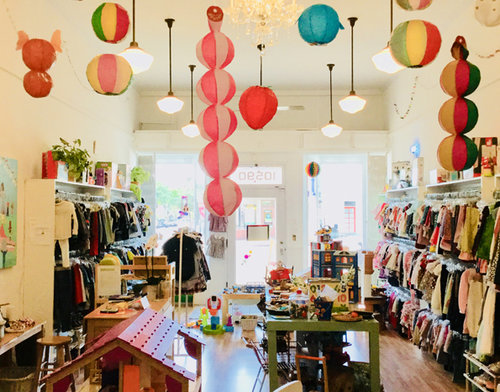 MomsLA is your source for Things to do in Los Angeles With Kids
Resale Clothes for Kids
Grow Kid Grow
4310 W. Sunset Blvd., Los Angeles, CA 90029
Grow Kid Grow is a Silver Lake favorite featuring new and gently used children's clothing (infant to 14-16 years old) as well as shoes, books, toys, accessories, and maternity clothes. Additionally, the store "also displays artwork of local artists and features local kid-friendly music." They are open seven days a week.
Kids Double Time
715 Torrance Blvd., Redondo Beach, CA 90277
Kids Double Time has been in business since 1988. In their 3,000-square foot store, you'll find new and used merchandise (including clothing, baby gear, toys, and books). While parents shop, kids can take advantage of the enclosed play area.
Kids Gallery Children Resale Store offers "the best selections for lightly used babies' and kids' apparel, furniture, toys, and gear in town." You'll find lots to look through at this Anaheim store; some parents find it a bit messy, but if you have an idea of what you want, the staff is happy to help you locate it. The store is closed on Sundays.
Started by a Mom looking to find inexpensive kids' clothes for her growing children, the sale has grown to 3 locations, twice a year in SoCal. Sign up for her email list to get the updates on the next online sale or in-person event.
Rosebuds and Rosestuds
1012 Mission Street Suite B, South Pasadena, CA 91030
Rosebuds and Rosestuds describes itself as an "upscale baby, children's and maternity new and resale boutique." At this popular South Pasadena shop, you'll find toys, books, clothes, and more. Families speak highly of the selection as well as the friendliness of the owner and employees. Additionally, the owner hosts charitable events at the store year-round.
At Wear It Once Wear It Twice parents will find children's clothing (from infants to size 12), shoes, and baby accessories (including bouncers, diaper pails, and strollers). While parents shop, children can take advantage of the small sitting/play area to watch television and read books.
Noodles Children's Resale Boutique was established in 2000 and offers a large selection of children's clothes (up to size 14), books, equipment (swings, strollers, walkers), DVDs, toys, and much more. They are open seven days a week.
Children's Orchard
2701 N. Sepulveda Blvd., Manhattan Beach, CA 90266
At Children's Orchard, parents can "purchase like-new clothing at a much lower cost in their child's current size." The store stocks "gently-used" children's apparel (in sizes 0-14), shoes, toys, furniture (such as strollers, changing tables), and toys (including games, books, and DVDs). The store is bright and neatly organized.
The Green Bean Kid Shop was established in 2010 and is a shop as well as a performance center. The Green Bean offers "trade to help make the world go round and recycle lovingly used family items." You'll find clothing sized for preemies all the way to size 14. They are a new toy shop as well as a resale shop. And be sure to check their calendar of events for information about their weekly activities as well as special events throughout the year.
MOMSLA IS YOUR SOURCE FOR THINGS TO DO IN LOS ANGELES WITH KIDS.
Disclaimer: MomsLA has made every effort to confirm the information in this article; however, things can often change. Therefore, MomsLA makes no representations or warranties about the accuracy of the information published here. MomsLA strongly urges you to confirm any event details, like date, time, location, and admission, with the third party hosting the event. You assume the sole risk of relying on any of the information in our list. MomsLA is in no way responsible for any injuries or damages you sustain while attending any third party event posted on our website. Please read our Terms of Use which you have agreed to based on your continued use of this website. Some events have paid to be listed on MomsLA.