If 2021 is the year you've decided to make your health and fitness a priority, you may now be wondering how to start. Thankfully, there are several apps that offer great workouts for moms – – workouts that don't require a lot of time or equipment, but that are still effective and fun.
Whether you're looking for a home workout app, a cardio workout app, a full body workout app, or a daily workout app – this list has you covered. Here is our list of 10 of the Best Workout Apps for Moms.
The Best Workout Apps + Online Workouts
Perfect for moms who don't have a lot of time is the Johnson & Johnson Official 7 Minute Workout. The app is designed by Chris Jordan, the Director of Exercise Physiology at the Johnson & Johnson Human Performance Institute. The app features a "fast, simple, science-based way to work out anywhere, anytime." Moms can select from 72 exercises and 22 additional workouts that can be customized and modified to create more than 1,000 different variations. Other than a wall and a chair, no special tools or equipment are needed.
Technically, this isn't an app, but these online classes are terrific – and we love them. Lesley is a Pilates expert and does private lessons around the world, who manages to teach like she's talking to beginners and pros alike. She's got a fun teaching style and we really appreciate it. She releases one new online video class every Tuesday – and the best part is – it only costs $7/week. You can pay one at a time, or better yet – get the annual membership and save!
Moms Into Fitness features "200+ scientifically-backed streaming workouts designed by a mom, made for moms." Workouts are designed for moms, in all stages of motherhood – whether you have a newborn at home, are adapting to being an empty-nester, or are somewhere in-between. You'll also have access to over 150 kid-tested recipes and meal plans and a community of other moms all striving to be healthier.
As moms, we're used to doing for others and putting our own needs behind those of everyone else's. Well, with this app, you can "fool yourself" into exercising while focusing on the good you're doing for others. You can exercise as often and as long as you want. "Just choose a charity and get moving. The app tracks your movement. For every mile you log, you help to earn money for your chosen charity." A variety of charities participate, including those that are working with children, animals, veterans, and the environment so you'll be sure to find a cause that is close to your heart. Moms can walk, run, bike, skip, or dance to earn miles.
This is an amazing website filled with online yoga classes for all levels of your yoga practice. Some videos are simply the yoga teacher and her mat, and some have a class of people with them. Some use blocks, straps and other yoga props, and some are as basic as it gets. There are even some stretching classes. It has a wonderful searchable database for finding the teacher and style you like best. For the price of one in-person class at most LA yoga studios, you can get a month of unlimited classes here. Pilates and Meditation, too.
Turns out ClassPass has more than classes in studios. They've also got access to online, on-demand workouts all over, and then when you can get back into a studio for a live class, you'll be ready for that, too.
The Nike Training Club App is described as serving as "your ultimate personal trainer." The app features world-class Nike Master Trainers. Workout times range from 15-45 minutes and feature workouts for all levels. You can customize it so you're getting the workout you want and need – whether you're using bodyweight only or light equipment; whether you'd like to focus on strength, mobility, or endurance, and more. You'll also have access to the Nike Performance Council's tips on "training, nutrition, mindset, recovery and sleep."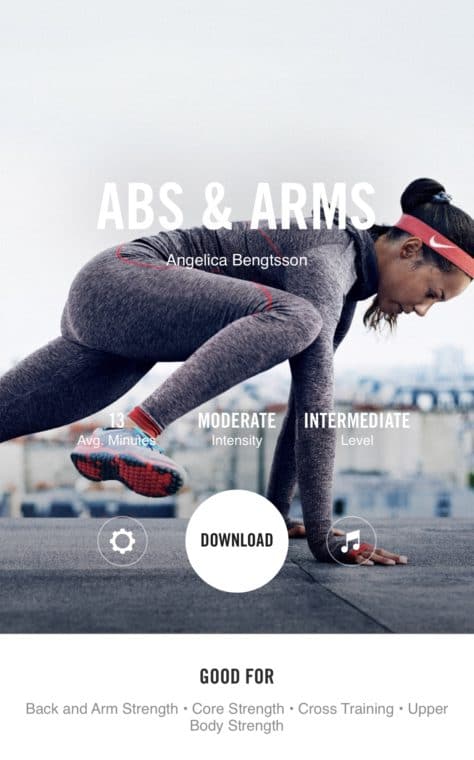 Daily Burn is an online workout membership program that has thousands of workouts, from live workouts to videos you can watch anytime. We tried it and the best parts are that you can choose a workout by the level of intensity you're looking for as well as the length of time it runs. If you find an instructor you like, you can stick with them and try all their workouts, or mix it up to get a variety.
The Fit Mummy Project App features more than 35 short, but effective, post-natal workout videos moms can do at home with little or no equipment. The app offers a variety of exercises so you'll be sure to find what you're looking for whether you want to focus on one body part or are looking to tone-up and strengthen your body as a whole. The app also features yoga and meditations.
If you've been reluctant to start an exercise program because you think you don't have the time, then Sworkit may be the app you need. Sworkit's workout program "is designed to help you make fitness a habit." Moms will appreciate the convince – you can workout at home or on the go for as little or as long as you'd like. A variety of workouts (more than 300 workouts and over 400 exercises!) are offered including strength training, stretching, cardio, yoga, and more.
This app is designed for women, with workouts and a community built around it for support as you move on your fitness journey. Many of their workouts require no equipment, giving you no excuses not to workout.
The Runkeeper app "helps people get out the door and stick with running." For moms, it's so easy to put our own needs at the bottom of our to-do lists. This app helps keep you accountable by keeping track of your runs (also your walks and hikes), as well as giving you encouragement to become active more often. Set goals, develop a personalized plan and routine, and see your progress over time.
"Seven's workouts are based on scientific studies to provide the maximum benefit in the shortest time possible." Perfect for moms! You can work out anywhere, anytime, with no extra equipment needed. Moms can set their own fitness goals (get first, get strong) and you'll then have access to all workouts and over 200 exercises. Seven serves as a "virtual coach that motivates you with alerts, encouraging words and rewards." It's not just our kids that need that!
With Busy Moms' Fitness, it's "no gym, no equipment, no fuss." Just what a busy mom needs! Select from over 400 different exercises, track your progress, and "get in shape and stay in shape with short high-intensity interval exercises using body weight only." Moms will also have access to clean-eating recipes for the whole family.
Maybe you've been eyeing the treadmill in the corner of the room, wondering if it will ever be used for anything besides a place to hang clothes. The Fitscope app can help. It's designed to be used with equipment you have at home or at a hotel. You'll have access to "hundreds of on-demand classes taught by inspirational L.A. trainers." But, it also works for moms who don't have gym equipment. You'll find core, yoga, and strength training workouts designed for all levels.
---
Disclaimer: MomsLA has made every effort to confirm the information in this article; however, things can often change. Therefore, MomsLA makes no representations or warranties about the accuracy of the information published here. MomsLA strongly urges you to confirm any event details, like date, time, location, and admission, with the third party hosting the event. You assume the sole risk of relying on any of the information in our list. MomsLA is in no way responsible for any injuries or damages you sustain while attending any third-party event posted on our website. Please read our Terms of Use which you have agreed to based on your continued use of this website. Some events have paid to be listed on MomsLA.