Los Angeles is known for many things, and having a prominent Car Culture is one of them. From car wash architecture to a maze of freeways, Los Angeles has grown and changed as cars and vehicles have changed and evolved.
To get a sense of the history of the automobile, as well as an idea of what the cars of the future may look like, and to get an up-close-and-personal look at famous cars seen in movies and television, plan a family outing to these Car Museums and Collections found in SoCal.
We hope you get a chance to visit each of these 15 Car Museums and collections, located in Los Angeles and all over Southern California. They all offer something a little different, and if you and your family are into Car Culture, we're sure you'll love them.
Car Museums and Collections in Los Angeles and Around SoCal
The California Route 66 Museum in Victorville strives to represent famous Route 66 in both a "historic and contemporary exhibition." This interactive museum features many fun photo opportunities in its 4500 square feet of floor space, including a "50's diner, our VW Love Bus complete with hippy wigs and sunglasses." The Museum is open Fridays (10 am to 4 pm), Saturdays (10 am to 4 pm), and Sundays (11 am to 3 pm) and offers free admission.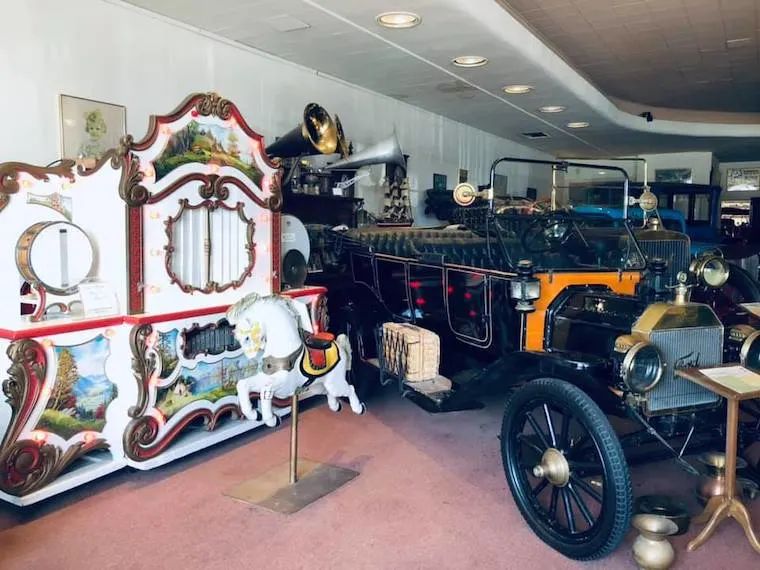 If you're headed down to San Diego, make sure you visit the J.A. Cooley Museum. A visit to the Museum may have you feeling as if you've stepped back in time. "The museum features over two dozen automobiles from 1886 to 1933." In addition, the Museum is home to a number of collections including typewriters, telephones, cameras, clocks, and more. The Museum is open seven days a week from 11:00 am to 4:00 pm. (Admission is $10 for adults; $2 for children.)
The Justice Brothers Automotive Collection was established in 1985. This collection includes cars, motorcycles, vintage gasoline pumps, a toy car collection, and more. The Collection is open Monday through Friday 8:00 am to 5:00 pm, and there is no admission fee.
Lions Automobilia Foundation and Museum was founded in 2019. "Its nearly 100,000 square foot facility includes galleries featuring Southern Californian's infamous car culture and motorsports history." Families start their visit by walking through a 1960s speed shop, then enter the Main Street Gallery which features classic cars parked in front of a 1950s diner. "The Lions Automobilia Foundation takes preserving automotive history to the next level with its onsite restoration facility." The Museum is generally open to visitors on Saturdays, but be sure to check the website for the latest information before visiting. (General admission is $16 for adults; $14 for military and seniors 62+; $11 for children ages 4-17; and free for children under 4.)
"The Marconi is home to a collection of over 100 vehicles, worth $60 million consisting of Ferraris, Lamborghinis, muscle cars, race cars, motorcycles, memorabilia and more." In addition, three of the most iconic cars from movie and TV history are on display at the same time at The Marconi — The General Lee from the television show Dukes of Hazard, The Original Batmobile from the 1989 Batman movie, and KITT from the TV show Knight Rider. Additionally, a portion of net proceeds from museum visitors is donated to charities and organizations that help children in need. The Museum is closed Sundays and Mondays. (General admission is $20; seniors, military, law enforcement, and first responders are $15; students are $10; and children under 13 are free.)
A visit to the Motor Transport Museum is a must for those interested in history. The Museum is a "home for the preservation and restoration of more than 200 motor transport vehicles." The Museum strives to "educate the public by creating a positive awareness and appreciation for old trucks and the development of the motor transport industry." The Museum is open on Saturdays from 9:00 am to 5:00 pm and 10:00 am to 4:00 pm on the first Sunday of each month.
The Motte Historical Car Museum includes Classic cars (ranging from 1910-1969) and "represents the years of enthusiasm and passion the Motte family has for their antique/classic vehicles." On display, you'll see a 1924 Model T School Bus, a 1925 Ford Model T Runabout, a 1930 Ford Model A Tudor Hot Rod, and a 1960 Ford Thunderbird to name just a few. There is also a "static nifty 50's diner and auto garage" to visit. A gift shop is on-site too. The Museum is open Wednesday through Sunday from 10:00 am to 4:00 pm. Check the website before visiting; the facility is also often used as a wedding venue. Admission is free.
The exhibitions at Mullin Automotive Museum celebrate French culture and design. Exhibitions include Le Mans (the "Le Mans track and racing pit diorama is complemented by a selection of historic race cars"), Lady of the Lake ("an immersive exhibit featuring the storied 1925 Bugatti Type 22 Brescia Roadster that spent more than 75 years submerged in Lake Maggiore"), and Bugatti Furniture, Sculpture and Vehicles just to name a few. The Museum is open on Fridays and Saturdays from 10:00 am to 3:00 pm.
At the Murphy Auto Museum, families will have the chance to see nearly 50 Classic, Vintage and Antique Cars. Additionally, "it is also the only auto museum in the nation with a stand-alone Art Gallery called The Fireball Gallery featuring 8-10 amazing Automotive Artists from SoCal." You'll also find a "Tiki Lounge, Diecast Car Collection and massive HO Scale Train Set." The Museum is open Saturday and Sunday from 10:00 am to 4:00 pm. (General admission is $10; free for children under 13.)
One thing that makes the Nethercutt unique — each car on display is just as drivable today as it was "when the vehicle originally rolled off the showroom floor." Currently, the Nethercutt Museum, which is a self-guided visit, remains closed for renovations. The Nethercutt Collection Tour is a guided tour offered Thursday, Friday, and Saturday – advance reservations are required. In the Lower Salon of The Nethercutt Collection, families will see about 25 automobiles, dating from the early 1900s until the late 1940s. The Grand Salon features about 30 automobiles dating from the 1910s, 20s, and 30s, as well as crystal chandeliers, marble columns, and more. Tours are $10 per person and are about 2 hours long. Children must be at least 10 years old to attend.
You'll find The Petersen on Museum Row, just down the street from the La Brea Tar Pits and Museum and Los Angeles County Museum of Art. The Museum is home to many cars, some you may recognize such as those in the Cars of Film and Television exhibition. There are also hands-on opportunities such as the Forza Motorsports Racing Experience as well as the Cars Mechanical Institute. In addition to the automobiles on display, the Museum has a Vault housing over 250 vehicles from around the world including "some of the most iconic and rare cars, motorcycles, and trucks spanning over 120 years of automotive history." (FYI – The Vault is not included with general admission. A separate ticket is required, and children under 10 are not permitted on Vault tours.)
Take a drive and visit the San Diego Automotive Museum in Balboa Park. Current exhibitions explore the "history and evolution of the automobile" and include a large selection of International Motorcycles and Barn Find (a 1928 Studebaker "found in less than perfect condition, but all of the parts are there and they are in reasonably good shape," to name a few. The Museum is open Tuesday to Sunday from 10:00 am to 5:00 pm. (Adults 18-64 are $14.50; seniors 65+, military with ID, and students with ID are $10; and youth ages 5-17 are $8.50; free for children under 5.)
Families are invited to "wander at your own pace through our amazing cars, neon signs, vintage gas pumps, and other petroliana." "The Segerstrom Shelby Event Center is a place of preservation, education, and celebration." Here, you'll marvel at high-performance Mustangs, street and racing Cobras, and more. Profits from the Segerstrom Shelby Event Center are given to the Shriners for Children Medical Center – Pasadena as well as the Carroll Shelby Foundation. Tickets are available online. The Center is generally open Thursday through Sunday from 10:00 am to 4:00 pm; however, private events may impact regular operating hours, so be sure to check the calendar on the website when planning your visit. ($15 for general admission; $10 for seniors 65+ and Military; $5 for children ages 5-12.)
"The Museum's mission is to celebrate the impact of motorsport on American culture. The Museum collects, preserves, exhibits and interprets the vehicles, stories and artifacts that represent America's affection for, and the influence of, automotive speed and style in all its forms." The NHRA Motorsports Museum's collection includes hot rods, race cars, land speed vehicles, customs, dragsters, and more. The Museum is located on the grounds of the Los Angeles County Fairplex, where you'll also find the Auto Club Raceway at Pomona. Be sure to check the website before visiting as the Museum hosts a number of special events throughout the year. The Museum is closed on Mondays and Tuesdays. (General admission is $12; seniors 60+ and students 13-18 with student ID are $10; active military with military ID and children 12 and under are free. Be sure to ask about Auto Club Discounts.)
The Zimmerman Automobile Driving Museum is home to more than "130 antique, vintage, and muscle cars." The collection is used to "present educational opportunities and displays that illustrate the aesthetic, engineering and cultural evolution of the automobile." The Museum also has a designated Kids Area, and be sure to ask about the scavenger hunt when you visit. The Museum hosts a number of special events throughout the year including Sunday Rides. Each Sunday from 10:00 am to 3:30 pm, visitors can take a ride in one of the museum's cars. Sunday rides don't need a reservation, and are first-come, first-served. (Children must be at least 55" tall to ride.) The Museum is closed Mondays and Tuesdays. (Admission is a suggested donation : $15 for adults; $10 for seniors; $5 for children 11-17; and free for children 10 and younger.)
Wendy Kennar is a mother, writer, and former teacher who has lived her entire life in the same Los Angeles zip code. You can read more from Wendy at her website WendyKennar.com where she writes about books, boys, and bodies (living with an invisible disability).
Disclaimer: MomsLA has made every effort to confirm the information in this article; however, things can often change. Therefore, MomsLA makes no representations or warranties about the accuracy of the information published here. MomsLA strongly urges you to confirm any event details, like date, time, location, and admission, with the third party hosting the event. You assume the sole risk of relying on any of the information in our list. MomsLA is in no way responsible for any injuries or damages you sustain while attending any third-party event posted on our website. Please read our Terms of Use which you have agreed to based on your continued use of this website. Some events have paid to be listed on MomsLA.