If you're expecting a baby in Los Angeles, we hope you got a chance to check out Babylist Cribs while it was open. Located in a home in the Venice neighborhood, Babylist Cribs was a shoppable, in-person experience, designed for new parents and parents-to-be. And there were LA Celebrity Moms in attendance!
Teddi Mellencamp Arroyave and Witney Carson attend Babylist Cribs
It was a chance to experience the Babylist Editors' top picks of products you'll need on your parenting journey. And you could see exclusive collections from celebrity Moms like Teddi Mellencamp Arroyave and Witney Carson.
But don't worry if you missed the January pop-up in person. Teddi and Witney both sent us a list of their favorite products and gave us their scoop on Motherhood. And you can always check out Babylist.com to find all the best stuff.
Related: Mommy and Me Classes in Los Angeles
Teddi Mellencamp's Favorite Baby Products (and why she loves them)
Teddi Mellencamp Arroyave is a former professional equestrian, accountability coach, and Mom, and she shared her picks for what new parents need the most, as well as her take on design and décor.
Products Teddi loves – and why:
Doona Car Seat A two-fer! So easy and convenient.
Dekor Diaper Pail Foot peddle allows for easy disposal and it's designed not to absorb odors!
Luli Bebe Diaper Bag A diaper bag with style!
Munchkin Wipe Warmer Nobody likes the shock of something cold touching them unexpectedly. Your little munchkin will appreciate the cozy warmth every time you have to wipe.
Magnificent Baby Hooded Bear Pram SO cute and cozy I'm wondering when they're gonna make them in adult sizes.
Babybjorn Baby Carrier The Ferrari of baby carriers!
Nanit x Babylist Bundle See your baby at all times in full HD while tracking sleep, breathing and capturing memories!
Dockatot Deluxe The cutest little lounger!
Brezza Formula Pro Advance Like a coffee maker for formula- a must for convenience!
Summer Swaddleme Perfect to help your baby get some undisturbed sleep.
Comotomo Baby Bottle Bundle These are great when switching from breast to bottle.
Willow Breast Pump Fits right in your bra for leak-proof pumping any time!
Dohm White Noise Machine Sometimes I even steal this for myself- a must for struggling sleepers.
Kickee Pants Ruffle Footie We love a footie in my house, especially one lined with fleece!
Skip Hop Bathtub Love that this can be used as soon as you bring baby home until they're toddler-size. Cutest way to keep your little one clean.
Wubbanub Pacifier These are so cute and ingenious, love love love these pacifiers!
4moms Mamaroo Bundle With different motions and speeds plus the ability to connect to your own music, your baby will be entertained for hours.
Baby First Aid Kit Important to have on hand for those little slip-ups.
Baby Starter Library Everybody needs some colorful baby books! These are some of the best.
You can find all these products and more on Babylist.com.
Related: Baby Road Trip Essentials
What are you decor preferences and inspiration for designing your room at Cribs?
I love to always make things fun and whimsical; to make sure every time you go into the room there's a sense of playfulness yet peace.
What are your best tips for preparing for baby?
To give yourself grace! Believe me, you never know what can happen, especially with each child's individual personality. So, yes, make sure you have the essentials stocked up, "baby proof" what you can and put a plan in place, but be prepared to always shift expectations.
How do you support your family and friends who are having kids of their own?
I'm always open to talk things through and give advice on what did and didn't work for me. Also, offering to watch them for a night— everybody needs a little me-time!
Thank you Teddi!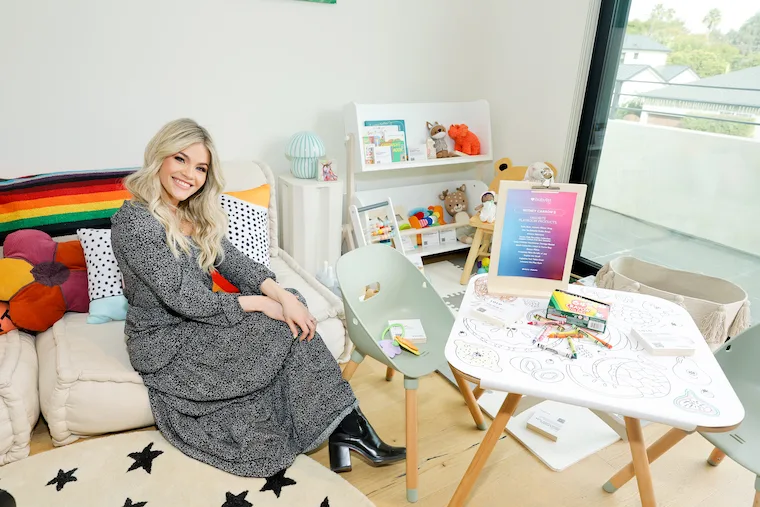 Witney Carson's Favorite Baby Products and Why She Loves Them
Witney Carson, professional dancer, known for her work on Dancing with the Stars, and Mom to a 1-year-old son, partnered with Babylist to curate a list of must-haves. She also shared her design and décor ideas with us.
We asked – what products do you love?
Pottery Barn Lily & River Little Climber
West Elm Plan Toys x PBK Rocking
Crate & Barrel Bear Animal Kids Chair
PBK Kids Table
West Elm Starry Skies Rug
Minsted Solar System Wall Art
PBK Framed Mirror
You can find all these products and more on Babylist.com.
Why Witney loves them:
These products give life and color to a playroom! You want to have something for each stage that your child is in currently. The little climber is so great for when your baby wants to start exploring and using those motor skills! The rocking chair is perfect for those curious babies who want to start moving in different ways. The kids table is perfect for when your toddler is starting to become creating in coloring and arts and crafts. I love the starry skies rug- it brings so much imagination and life to the room! The wall art was inspired by the rug, it keeps the room gender neutral so you can have it for any and all kids!
What are you decor preferences and inspiration for designing your room at Cribs?
I wanted to keep everything gender-neutral when it came to colors and decor. A playroom should be a common area that all the kids can enjoy and that has something for every stage! It's fun and playful with lots of colors to stimulate babies' brains. To encourage exploration and creativity!
What are your best tips for preparing for baby?
Start as early as you can! Get everything you think you may need well before the baby arrives. Set up your difficult electronics/big things first. For example your owlet or nanit (otherwise when baby is here you'll give up and never use it!) cribs etc… honestly, no matter how much prep you do, don't stress over the little stuff! You'll figure it out because you are the perfect parent for your child!
How do you support your family and friends who are having kids of their own?
I think when I had my son I really just wanted people to come and visit, love on him and celebrate this new little life! Obviously, some cleaning and cooking didn't hurt too haha! I loved when my friends and family would just do thoughtful things like drop off bread and soup, come over for a quick lunch, or text to check in how I was doing. For me, just knowing people were there to help was so comforting even if I didn't need it all the time!
Thank you Witney!
MomsLA was invited to experience Babylist Cribs event.