Guess what's always a fun family activity? Going to a Drive in Movie. Drive in theaters are a super fun way to see a movie, from the comfort of your own car, listening with your radio.
Seeing a movie – or even a double feature – at a drive in theater means you'll be able to stay 6 feet away from people, even in a large gathering, but still be able to see a movie outdoors.
It's a terrific Summer experience, and in Los Angeles, it's actually something you can do year-round. Southern California has several great drive-in theaters within an hour or two of Los Angeles, so check out our list below.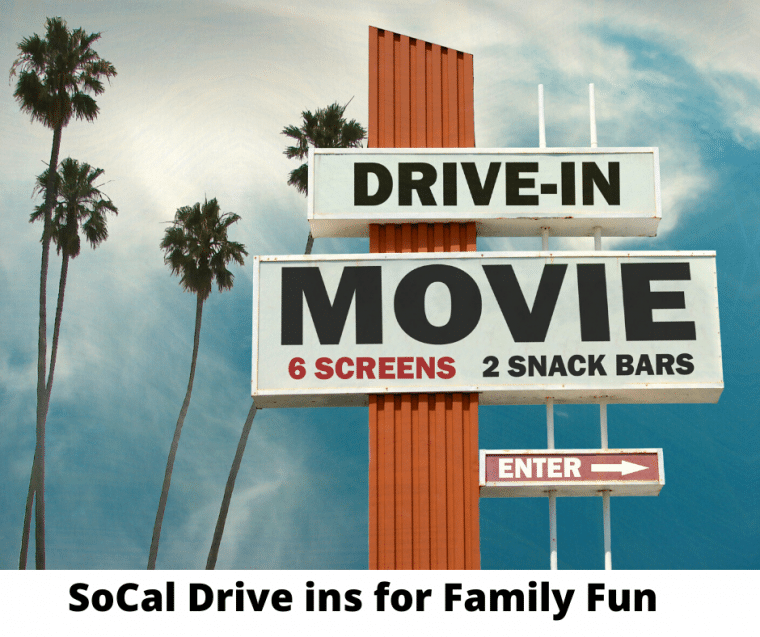 Many drive in theater owners seem to supplement their revenue by using the parking lot area as a Swap Meet during the daylight hours. Check each location's website for the most recent operating hours.
Plus, this Summer, we've heard that some of our favorite Outdoor Movie pop-ups are going to be switching to drive-ins. Drive-ins everywhere!
Drive in Movies are Kid-Friendly
Family cars are made for families, right? So it's perfect for a family to see a movie together in their car. The littlest ones can get up out of their seats, bounce around, and even talk, without disturbing anyone in the theater, and they can even sit in your lap without you having wasted the money on their ticket. In fact, Drive in movies are actually quite a bargain.
Related: 13 Movies set in Los Angeles
Drive in Movies are a Bargain
Many of the drive-in theaters near Los Angeles show double features for one ticket price, which means you're really paying half the regular amount per show, and some even have $1 tickets for young kids. And although it's always a treat to visit the snack bar for popcorn and drinks, being in your car means you could bring your own food, if you wanted to. So you see how the savings can add up quickly. A family experience that doesn't have to break the budget.
(Some) Drive in Movies are Pet-Friendly
Please check with each drive in listed below for their specific rules, but some will allow you to bring your pets with you in the car. Some will not allow any pets, except in the case of Service Animals.
Related: Outdoor Summer Movies in Los Angeles
Best Drive in Theaters in SoCal – Open Now
Enjoy a drive-in screening of a favorite film at the Greek Theater as part of Cinespia's offerings. Families also have the opportunity to order snacks and drinks in advance and then have them delivered to your car.
Drive-In At the Park
Kenneth Hahn Disco Golf Course
4100 S. La Cienega Blvd., Los Angeles, CA 90056 and
Castaic Lake Park Headquarters
32132 Castaic Lake Dr., Castaic, CA 91384
Drive-In At the Park hosts drive-in movies at two locations – one in L.A. and one in Castaic. Screenings are generally held on Friday and Saturday evenings, and most movies are family-friendly.
Drive-In Movies at the Mall
Lakewood Center Mall
500 Lakewood Center Mall, Lakewood, CA
Lakewood Center Mall is the site of family-friendly drive-in movies. Movies generally screen on Saturday evenings. Check the website for a schedule.
Electric Dusk Drive-In
Old Sears Parking Lot
236 N. Central Ave., Glendale, CA 91203 and
Santa Monica Bergamot Station
2525 Michigan Ave., Santa Monica, CA 90404
Electric Dusk Drive-In is "LA's longest running pop up drive-in." Be sure to check the website for listings; not all movies are family-friendly.
ELP Drive-In
La Cañada Thursday Club
4440 Woodleigh Lane, La Cañada Flintridge, CA 91011
818-790-1166
Empire Lake Productions (ELP) hosts a Drive-In series featuring "modern blockbusters, to classic films, and everything in between." As an added bonus, ticket prices also include popcorn for everyone in the car!
Gardena Cinema is the "only old-fashioned single-screen stand-alone independent movie theater in South Los Angeles." Since August 2020, Gardena Cinema has been operating as a drive-in, showing films in the parking lot. Check the website for details.
The Hollywood Legion Theater Drive-In is described as the "first-ever drive-in cinema in the heart of Hollywood." Capacity is limited, so don't hesitate to purchase your tickets. Though keep in mind not all movies are family-friendly. (R-rated movies are screened here.)
Mission Tiki Drive-In
10798 Ramona Avenue Montclair, CA 91763
909-628-0511
Opened in 1956, the Mission Tiki Drive In got a major makeover in 2006 and their 4 screens are ready to entertain your family in style. As you can guess from their name, they have a Hawaiian theme to their ticket booth and concession stand, making the experience even more fun. Make sure to read their FAQ page about rules for where to park anytime, and new rules for the current situation as well. Currently, the drive-in is open nightly, and the swap meet is open Wednesday and Friday through Sunday.
Paramount Drive-In
7770 Rosecrans Ave., Paramount, CA 90723
562-630-7469
The Paramount Drive-in features two 75-foot screens and state of the art sound and projection. They show movies nightly and have a concession stand on-site. Keep in mind, tickets are sold at the entrance on a first-come, first-serve basis.
The Roadium
2500 W. Redondo Beach Blvd., Torrance, CA 90504
310-532-5678
The Roadium hosts "Friday Night Family Flicks." Movies are fun and appear to a range of ages (Toy Story 2 and Sister Act, for example). And you'll also find a snack bar on-site.
Rooftop Cinema
Santa Monica Airport
3233 Donald Douglas Loop S, Santa Monica, CA 90405
Rooftop Cinema has a wide range of movies planned. You'll find family-favorites like The Sandlot and Coco as well as adult-only films such as Pulp Fiction. Movies are current favorites as well as popular, stand-the-test-of-time films such as Grease. Tickets are available online. Check the website for a schedule. Movies are currently scheduled through the end of May.
Rubidoux Drive-In
3770 Opal Street Riverside, CA 92509
951-683-4455
The Rubidoux was opened in 1948, and has been upgraded to 21st Century technology. There are currently 3 screens in operation, including the original one from back at the start. Each ticket allows you admission for two movies playing on the same screen. There is an on-site snack bar as well.
Santee Drive-In
10990 Woodside Ave., Santee, CA 92071
619-448-7447
At the Santee, you'll find two screens and over 1000 car spots! Four different feature films are screened each night at this family-owned drive-in. Tickets must be purchased on-site at the ticket booth upon arrival. Each ticket permits you to watch two movies for the price of one. There is also a snack bar on-site.
Skyline Drive In
31175 Old Highway 58, Barstow, CA 92311
760-256-3333
Skyline Drive-In will be opening April 23rd for another season of fun, drive-in movies. Information will be posted on their Facebook page (updated each Wednesday) as it becomes available.
South Bay Drive-In
2170 Coronado Ave., Imperial Beach, CA 92154
619-423-2727
The South Bay was opened in 1958 and sports a 100-foot screen, as well as nautical themed-decor. They've been upgraded to modern technology and are a family favorite in the San Diego area. There is an on-site snack bar as well.
Starlite Movies
Brea Mall
1065 Brea Mall, Brea, CA 92821
Starlite Movies in Brea prides itself on having "Southern California's largest outdoor inflatable screen." Movies are generally screened only on weekends. Check the website for the latest information. Families also have the option of taking advantage of ordering from the different restaurants and eateries located nearby.
You might be familiar with Street Food Cinema from their outdoor summer movie screenings. However, they also have been showing drive-in movies at different locations around Los Angeles, including King Gillette Ranch in Calabasas. Check the website for details.
Van Buren Drive-In
3035 Van Buren Blvd., Riverside, CA 92503
951-688-2360
Opened in 1964 with a single screen, the Van Buren now boasts 3 screens, and an Old California Orange Grove themed decor, along with state of the art technology. And with reasonable ticket prices, going to a drive-in is a family-friendly, budget-friendly outing.
Vineland Drive-In
443 Vineland Ave., City of Industry, CA 91746
626-961-9262
The Vineland is a multi-screen drive-in. With four screens, you're sure to find a film the whole family can agree on. The Vineland's concession stand also offers traditional movie snacks – candy, popcorn, nachos, and beverages.
Drive In Movie Theaters Opening Soon (Hopefully)
Smith's Ranch Drive-In
4584 Adobe Rd Twentynine Palms, CA 92277
760-367-7713
Unfortunately, Smith's Ranch Drive-In remains closed. We're all hoping they can re-open soon.
And Other Fun Drive-Through Experiences:
Bob's Big Boy
4211 W. Riverside Dr., Burbank, CA 91505
818-843-9334
For a bit of nostalgia, take the family to Bob's Big Boy in Burbank, home of the "original double deck hamburger." This location was built in 1949 and is the "oldest remaining Bob's Big Boy in America." However, you'll find much more than just hamburgers on this large menu, meaning even the picky eater members of the family will find something they like to eat. As of this writing, Car Hop service is available every day.
The Donut Hole
15300 Amar Rd., La Puente, CA 91744
626-968-2912
People go to The Donut Hole as much for the donuts as to see the giant donut hole landmark. Kids will love the chance to "drive through a donut." As you drive through, you can view your options through the glass windows. In business since 1968, you'll find such varieties as the "Texas Sized Donut," the "Blueberry Cake" donut, and the "Chocolate Chips" donut on their menu. (Keep in mind – this was a cash-only establishment; not sure if that is still the case. Have cash with you, just in case.)
Mels Drive-In
14846 Ventura Blvd., Sherman Oaks, CA 91423
818-990-6357
Make going out to eat an event the whole family will remember. While indoor dining is now permitted, you may be feeling hesitant to head back inside a restaurant. Or, you may just want to do something really different – and really fun. Now is the perfect time to re-discover the fun of the "carhop." The large menu offers something for everyone – whether you're in the mood for eggs, hamburgers, milkshakes, or something else entirely, you'll find it on the Mels menu. As of this writing, Carhop Service is offered all day at this location.
Montebello Sanitary Dairy
505 S. Maple Ave., Montebello, CA 90640
323-726-0524
Take the kids for a unique drive-through experience and treat everyone to a cold bottle of milk. Broguiere's glass-bottle products may be found in your local market, but it's a lot more fun to take a drive to Montebello and purchase it from the drive-through Dairy. Check the website for the latest operating hours.
Ruby's Diner
1128 W. Lincoln Ave., Anaheim, CA 92805
714-635-7829
The Anaheim location of Ruby's Diner not only offers delivery and take-out, they also offer CarHop service! Ruby's offers breakfast all day, a large selection of appetizers and sides, hamburgers and sandwiches, salads, "big plates," a special kid's menu, and of course, tasty milkshakes and malts.
"Travel back in time to 1985 and become a Hawkins resident – in real life." From the safety of your car, you'll "dive into and explore a living, breathing story to savor some of the best moments from the Netflix series and maybe even witness some unforeseen and unusual occurrences." The experience lasts about an hour and is recommended for families with children ages 13 and older. Tickets are available online.
Find a Drive In Movie Near Me
Disclaimer: MomsLA has made every effort to confirm the information in this article; however, things can often change. Therefore, MomsLA makes no representations or warranties about the accuracy of the information published here. MomsLA strongly urges you to confirm any event details, like date, time, location, and admission, with the third party hosting the event. You assume the sole risk of relying on any of the information in our list. MomsLA is in no way responsible for any injuries or damages you sustain while attending any third party event posted on our website. Please read our Terms of Use which you have agreed to based on your continued use of this website. Some events have paid to be listed on MomsLA.