The Aquarium of the Pacific opened the first major expansion in its two-decade history in May 2019: a new wing called Pacific Visions.
The new wing houses the state-of-the-art immersive Honda Pacific Visions Theater, features interactive exhibitions, an art gallery that transports visitors under the ocean, and live animal exhibits, all intended to showcase the most pressing environmental issues of our time and help explore alternative pathways to designing a more sustainable future.
Aquarium of the Pacific
100 Aquarium Way, Long Beach, CA 90802
Hours: Generally, the Aquarium is open from 9:00 am to 6:00 pm every day of the year (except Christmas Day). On certain summer nights, the Aquarium has extended hours and closes at 8:00 pm.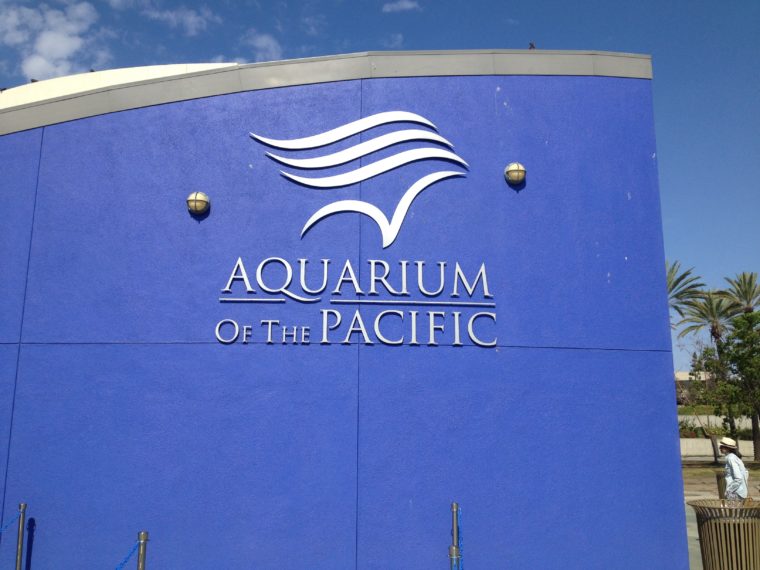 Description:
The Aquarium of the Pacific is more than an aquarium. It is also the site of a variety of festivals and special programs held throughout the year. Daily, though, families will find more than 11,000 animal exhibits which represent about 500 different species, with many opportunities for kids to get up close and personal to a variety of marine life. The Aquarium focuses on three main regions of the Pacific Ocean. Indoors, you can marvel at these beautiful sea creatures, including the kid-favorite "Nemo" and "Dory" varieties.
Outdoor exhibits include the Shark Lagoon, Lorikeet Forest, and Penguin Habitat. Families can get hands-on and use a gentle two-finger touch to touch a ray or small shark. You can purchase nectar, go inside the 5,400-square-foot aviary, and feed the colorful lorikeets. You'll also find an interactive section called "Our Water Future." Learn where our water comes from, what you can do to conserve water, and more. Also outside and adjacent to Shark Lagoon, you'll find the very popular water-squirting play area.
Throughout the Aquarium, you'll find many hands-on opportunities as well. A recent visit allowed my son to get up close with a shark's jaw; play a game identifying the fastest, smallest, most endangered sea creature from a list of five; and more. Volunteers are on hand and are eager to share their knowledge and passion.
As you wander through the exhibits, try to time it so you can watch and learn from one of the Aquarium's divers as they swim and clean inside those enormous tanks. They glide through the water, wave to visitors, and provide information about what you are seeing.
While you visit, you'll also be able to view one of the short films that plays in the Great Hall of the Pacific. The film is projected onto eight screens throughout the Great Hall so no matter where you stand, you can see and hear.
The Aquarium is expanding its facility with its Pacific Visions wing. Construction is happening on the Aquarium's front lawn and does not impact visitors at all.
Special Exhibit:
"FROGS: Dazzling and Disappearing" is the newest exhibit on display at the Aquarium. Families will see more than two dozen species of frogs and other amphibians and learn about their life cycles, the different environments they live in, the diversity that exists within their species, conservation efforts, and more. Take a look at the history of amphibians and learn about their uncertain future as well.
Price:
General admission is $29.95 for adults and $17.95 for children (3-11). However, families may also opt to add on an "extra" including an hour-long Behind-the-Scenes Tour (must be at least 7 years of age to participate).
Membership options allow families to receive unlimited admission to the Aquarium as well as special discounts (including in the gift shop), discounted parking, and invitations to member-only events. Family memberships begin at $139 per year.
Several discounts are available as well, including one offered through AAA and coupons from Domino's and Baskin-Robbins. Additionally, if you're planning on visiting another fun, family-friendly location discounts are offered for combo tickets (i.e. Aquarium/Battleship IOWA, Aquarium/L.A. Zoo, Aquarium/Natural History Museum).
Parking: Parking is available in the Aquarium Parking Structure located across from the Aquarium. Visitors can remain parked in this one location and explore other nearby attractions. All-day parking is $8 with validation.
Food: While visiting the Aquarium, families may choose to stop and enjoy a meal at Cafe Scuba which overlooks the Seal and Sea Lion exhibit. They offer daily specials, sandwiches, soups, salads, tacos, hot dogs, and hamburgers. Their kids' menu includes sandwiches, macaroni and cheese, grilled cheese, chicken strips, and more. There's also a Bubba Gump Shrimp Co. restaurant located right next to the parking structure, for another option close by.
Nearby Attractions:
Here's our list of the Best Things to do in Long Beach with Kids.
Close to the Aquarium you'll find Shoreline Village. In one charming setting, you'll find a variety of restaurants, speciality shops, and fun kid-friendly activities. Families may opt to rent a bicycle or take a tour on a Segway, go for a ride on the classic carousel, or play some arcade games.
Outside the Aquarium, you'll also find a number of boats offering harbor cruises and whale watching excursions. (If you select a boat-activity, be sure to take advantage of the combination price the Aquarium offers including admission to the Aquarium and the boat adventure).
The Pike Outlets is another nearby popular destination. You'll find many retail outlets (including Restoration Hardware, Nike, and more) and a variety of restaurants (such as Islands, Bubba Gump Shrimp Co., and California Pizza Kitchen).
Disclaimer: MomsLA has made every effort to confirm the information in this article; however, things can often change. Therefore, MomsLA makes no representations or warranties about the accuracy of the information published here. MomsLA strongly urges you to confirm any event details, like date, time, location, and admission, with the third party hosting the event. You assume the sole risk of relying on any of the information in our list. MomsLA is in no way responsible for any injuries or damages you sustain while attending any third party event posted on our website. Please read our Terms of Use which you have agreed to based on your continued use of this website. Some events have paid to be listed on MomsLA.