There are many reasons why parents choose to homeschool and it's a very personal decision to make. As you go through the process, you'll need to know all your options, all the rules, and learn about all the available resources.
Many parents in Los Angeles are considering Homeschooling their children for the 2020-2021 school year, given the current situation, so we wanted to help by offering a guide to Homeschool resources and information in the State of California.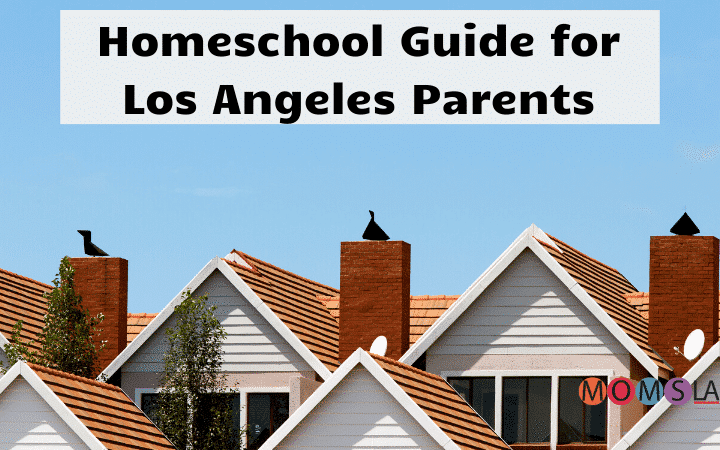 Contents
• How to Homeschool in California
• Why Parents Are Considering Homeschooling Now
• Why Homeschooling is not the Same as Crisis Schooling
• Homeschool Blogs and Websites
• Homeschool Programs in California
• Finding Homeschool Curriculum
Understanding the Rules and Laws: Homeschooling in California
The bottom line is: all children must be enrolled in some form of school, at all grade levels from Elementary to High School, according to California State Law. But the definition of school includes Homeschooling. So yes, you are legally allowed to homeschool your child here, as long as the rules are followed.
The CA State Department of Education has the definitive information on the rules and regulations for Homeschooling. We've found it's a very nuanced and complicated system, and luckily there are Homeschool groups and expert websites that can offer some practical information on the reality of life as a Homeschooler.
How to Homeschool in California
As an overview, there are a few basic ways to homeschool your children and follow the law:
• you can create your own private school (which entails filing a certain type of paperwork called the private school affidavit with the State – and also finding a curriculum),
• you can work with a Charter school program that already has a curriculum you like, or
• you can create an Independent Study Program with your local public school district.
Please note this is just an overview of the ways to legally Homeschool your kids – and in practice there's quite a bit more to it.
Why Would Parents Choose Homeschooling Now?
Los Angeles Unified School District (LAUSD) recently announced that they will not hold in-person classes at the start of the 2020-2021 school year. Instead, there will be remote/distance learning for all students beginning August 18th, and while some parents have applauded this move for safety concerns, others have decried it as inadequate for kids.
To be fair, the Superintendent has said he knows it will not be as good as being in the classroom, but has made the decision for a multitude of reasons.
Whatever the reasons, there are some parents who see this decision as a catalyst for beginning to Homeschool their children this year. Many feel they can find curriculum that is as good or better than what the schools offer, but more than that: many feel their child will be left behind if they don't take matters into their own hands.
Here's a guest article written by a Mom who has chosen to Homeschool her son this year.
Homeschooling is not "Crisis Schooling"
In the Spring of 2020, when schools were forced to shut down, many LAUSD students were left with little or no instruction time at all, and much of what was done was inconsistent. Some parents who are considering Homeschooling cite this as a reason to make the change, feeling they should take over the role of teacher in their child's life.
Many Homeschool experts point out that what took place in Spring 2020 was "Crisis-Schooling", not Homeschooling – and that the two are as different as Night and Day.
Instead of juggling working at home and inconsistent Zoom calls for their kids, like many found themselves doing in Spring 2020, Homeschooling is a conscious choice, which takes planning, resources, creativity and commitment.
Benefits of Homeschooling
While many parents are looking to this as a reaction to current events, many others have chosen to homeschool for years, for a variety of reasons, and with terrific results.
Being able to choose the curriculum your child learns is a big benefit to some parents, and it may go without saying that the flexibility it offers is something Homeschoolers value.
One Mom who's been doing it for years tells us she saved 3 hours a day in commuting time for school drop-offs and pick-up times when she started homeschooling, and having that time back helped her have more time for instruction (and fun) with her kids, not to mention the added boost to her sanity of not being on the 405 as much.
Homeschooling also offers a sense of community, which some might have felt would be lacking when leaving a traditional school setting. There are networks of families who collaborate, share best practices, and when conditions permit, enjoy field trips and "recess" play time together.
Along with course in core subjects like Math, English and Social Studies, Homeschooling can allow space and time for more enrichment classes, too.
Resources for Los Angeles Parents who want to Homeschool their Children
How do I start homeschooling in California? For those Los Angeles parents who are considering homeschooling their kids, we offer you this guide to the steps you need to take and the resources you'll need to do it.
You probably have questions like:
– Does California pay for homeschooling?
– How much does it cost to homeschool in California?
– How many hours per day do you have to homeschool?
– Can I hire a Credentialed Teacher to help?
– Can a group of families for a Pod and work together?
These are websites with tons of information, from Homeschooling parents and experts, to help guide you on your journey.
Homeschool Websites From Parents and Experts
California Homeschool Network
Christian Home Educators Association of California
Homeschool Legal Defense Association
Homeschool Association of California
A2Z Homeschooling
New Edge Academy
Time4Learning
How to Homeschool by Someday I'll Learn
California Unpublished – Free Printables and Info
The Homeschool Mom
The Contemporary Homeschooler
The Mom Trotter
K12.com
California Dept of Ed Website
California Department of Education Homeschool Laws
Featured Homeschool Programs
Local Homeschool Programs
Groza Learning
Realm Academy
Asteme
Homeschool Curriculum
Here's a partial list of options for Curriculum if you choose to Homeschool.
Abeka
Calvert
Right Start Math
Well-Trained Mind
ABC Mouse
Aleks Math
Alpha Omega Academy
Space of Mind
Disclaimer: MomsLA has made every effort to confirm the information in this article; however, things can often change. Therefore, MomsLA makes no representations or warranties about the accuracy of the information published here. MomsLA strongly urges you to confirm any event details, like date, time, location, and admission, with the third party hosting the event. You assume the sole risk of relying on any of the information in our list. MomsLA is in no way responsible for any injuries or damages you sustain while attending any third party event posted on our website. Please read our Terms of Use which you have agreed to based on your continued use of this website. Some events have paid to be listed on MomsLA.