It's easy to forget that before we were parents, we were people that went out on dates with each other. Thankfully, there is no shortage of romantic destinations in Los Angeles to serve as the setting for a wonderful date night experience! We've compiled a list of the best, most romantic, most memorable, only-in-L.A. Date Night and Date Day ideas, especially for Moms and Dads.
What's a Date Day, you ask? Sometimes what works best for couples with busy schedules and budgets to keep is a "date day," preferably done while your kids are at school. No need to find or pay for a babysitter, yet you're still able to enjoy some all-important couple time. Scroll down to see all our ideas.
Related >>>
Date Nights at Restaurants
Culver Hotel
9400 Culver Blvd., Culver City, CA 90232
Treat your special someone to an evening of music and old-world glamour at the Culver Hotel. The hotel was originally built in 1924 and was once owned by John Wayne. The iconic six-story, uniquely shaped flatiron building is distinctive and is just as well known for its history as its current offerings. Enjoy live jazz performed each evening after 7:30 pm while you enjoy some light appetizers or a three-course dinner. And, if you can arrange for the kids to stay with grandparents, you can treat yourselves to an overnight stay!
71Above
633 W. 5th St. 71st Floor, Los Angeles, CA
An evening at 71Above will be hard to top. Literally. This restaurant and skylounge is 950 feet above ground level, making it the highest restaurant west of the Mississippi. Couples will be treated to stunning 360-degree views of our city as well as modern American cuisine. A three-course dinner menu is offered, though guests eating in the bar area may select a la carte items from the regular menu. Be sure to check the website for reservation and dress code information.
Inn of the Seventh Ray
128 Old Topanga Canyon Rd., Topanga, CA 90290
The Inn of the Seventh Ray is described by many as the "most romantic restaurant" in Los Angeles. Plan a special dinner here, where loved ones will "dine by candlelight under the stars," and you'll find waterfalls along winding brick pathways. Your senses will be most happy as you dine in this magical "fairy land," enjoying creative, delicious meals.
The Penthouse at the Huntley Hotel
1111 Second Street, Santa Monica 90403
This is a spectacular spot to dine and view the Santa Monica Bay. Craft cocktails and delightful California contemporary cuisine, along with wonderful service, make for a date night to remember.
Date Nights at the Movies
Electric Dusk Drive-In
2930 Fletcher Dr. And San Fernando Rd., Los Angeles, CA 90065
Take the idea of a movie date to a whole new level with Electric Dusk Drive-In. You'll enjoy year-round outdoor movies each Saturday at 6:00 pm. Enjoy "great movies, great food, and great times." The "Snack Shack" offers a variety of food (hamburgers, chicken sandwiches, and snacks like candy and popcorn). Outside food is permitted, but no alcohol or smoking is allowed on the premises. Ticket information is available online. Movie viewing will start back up in Fall, so be sure to check the website for the latest information.
Unique Date Night Ideas
The Porsche Experience Center
19800 South Main Street, Carson, CA 90745
Unless you have your test track in the backyard, chances are good that this is one of the most unique date night ideas ever. Not only can you sit in the passenger seat while a very professional, very speedy driver puts you and the automobile through its paces on the 56-acre track at the Porsche Experience Center Los Angeles, but once you recover from the adrenaline rush, you can dine in the fabulous 917 restaurant upstairs.
LACMA
5905 Wilshire Blvd., Los Angeles, CA 90036
Strolling through the Los Angeles County Museum of Art is a great date experience. You can virtually travel around the world by exploring the more than 120,000 objects from around the globe, dating back to ancient times all the way to the present. You'll find Asian art, Latin American art, Islamic art, European art, and modern art. After you're done at the museum, get a drink and a bite to eat on Ray's and Stark Bar's beautiful outdoor patio. Read more about the museum in our Guide to LACMA.
Hornblower Dining Cruise
13755 Fiji Way, Marina del Rey, CA 90292
Take a dinner date to a whole new level with a Hornblower Dining Cruise. Escape the traffic and your usual surroundings as you sit back and relax and enjoy good food, fine views, and each other. Hornblower offers different cruise options such as a 2-hour brunch cruise and a 2.5-hour dinner cruise. Check the website for information on scheduling and fees.
The Griffith Observatory
2800 E. Observatory Rd., Los Angeles, CA 90027
If you've only been to the Griffith Observatory with kids in tow, it's a different experience when you're there on a date. As you explore the Observatory's exhibits, you'll be engaged, curious, and in awe. Somehow, within the vastness of space, things worked out for you and your partner to find each other! Admission to the Observatory is free, but if you opt to see one of the shows offered in the Planetarium, there is a slight fee. On clear days, you'll be treated to incredible views of our city (including the Hollywood Sign). You can also dine at the on-site cafe or treat yourselves to dinner at one of the nearby restaurants in Los Feliz.
The Queen Mary
1126 Queens Highway, Long Beach, CA 90802
You don't have to go far to spend time on what was once a world-class, luxury ocean liner. Head to Long Beach and visit The Queen Mary, which now serves as a major tourist attraction, floating hotel, and event venue. Couples will find a variety of dining options including a Sunday Champagne Brunch, Sir Winston's Restaurant and Lounge, Malibu Wines, and more.
Sunset Ranch Hollywood Stables
3400 N. Beachwood Dr., Los Angeles, CA 90068
Though Sunset Ranch is conveniently located between Universal Studios and the Hollywood Walk of Fame, you and your special someone may feel as if you're really quite far from home. Even the most inexperienced of riders will feel at ease exploring the trails of Griffith Park. A variety of Day and Evening tours are offered including tours that include a 2-hour ride as well as a BBQ meal and country music afterwards. (Helmets must be worn and will be provided to riders).
Pacific Park
380 Santa Monica Pier, Santa Monica, CA 90401
Charm your partner with a date night spent on the Santa Monica Pier, having fun at Pacific Park. Buy a wrist band and have some fun on the Pacific Wheel, Inkie's Scrambler, West Coaster, and more. Go for a spin on the historic Carousel and win your sweetie a special prize at one of the games. You'll also find a variety of restaurants and concession stands at the Pier. Take a stroll on the beach, hold hands, and enjoy the sights and sounds of the Pacific Ocean. NOTE: This can also be a Date Day idea!
Patina Restaurant and Los Angeles Philharmonic
The Walt Disney Concert Hall
111 S. Grand Ave., Los Angeles, CA 90012
Park the car once, and you're able to enjoy dinner and a show. Dine at Patina Restaurant, an "award-winning Michelin starred restaurant offering contemporary French cuisine with international influence." Then, enjoy a performance as part of the LA Phil's 100th Season in the distinctive Walt Disney Concert Hall. (And don't forget, during the summer you can enjoy the Los Angeles Philharmonic at the Hollywood Bowl).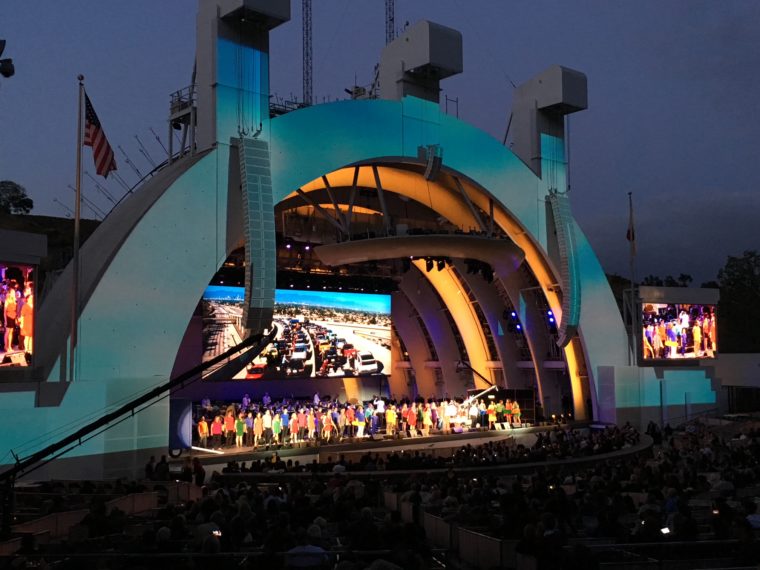 Hollywood Bowl
2301 N. Highland Ave., Los Angeles, CA 90068
The Hollywood Bowl opened in 1922 and since that time this world-famous venue has showcased a variety of musical talents ranging from The Beatles to Ella Fitzgerald to Stevie Wonder to John Williams. You can bring a picnic or dine at one of the on-site restaurants, as you relax under the stars and enjoy a date night like no other.
Day Date Activities
Hike to the Hollywood Sign
Griffith Park
A hike to the iconic Hollywood Sign is not only a great workout, but a fun way to reconnect with the person you love. Couples can make the hike as strenuous as you'd like depending on where you start. Pack plenty of water and a lunch and have a picnic along the trail, which is open from sunrise to sunset. For more information about trails, visit Hollywoodsign.org.
Gondola Getaway
5437 E. Ocean Blvd., Long Beach, CA 90803
Maybe you can't afford a trip to Venice, but you can certainly afford a trip to Naples. That is, the Naples Island located in Long Beach. There you'll find Gondola Getaway which offers different customizable packages so you can design the cruise that best fits your needs. Cruises are generally one hour in duration and are serene and romantic. According to one happy Mom, "it was an hour of pure relaxation. Our friendly gondolier gently maneuvered the gondola through the canals. During the cruise, we looked at the large houses, and we said hello to others that were enjoying the waterways. And we talked. Without interruption. We held hands. We were simply together." Sounds heavenly!
Malibu Wine Safaris
32111 Mulholland Hwy., Malibu, CA 90265
This may be one of those "only in Los Angeles" types of experiences. Treat your special someone to a Wine Safari. Couples will explore the 1,000-acre Saddlerock Ranch and vineyard in Malibu in an open-air Safari vehicle. You'll make stops along the way, enjoying the scenery, tasting local wines, and getting a close look at a variety of animals including zebras, bison, camels, alpacas, and more. (Keep in mind that tours don't happen at night, but are offered until about 5:00 pm).
Walking Tour of Downtown Los Angeles
L.A. Conservancy Tour meets in Pershing Square – see website for details
Whether you're a native Angeleno or new in town, taking an L.A. Conservancy tour is a great way to discover Los Angeles while also spending the day walking around with your partner holding hands. The L.A. Conservancy Historic Downtown walking tour offers a great overview of downtown L.A. history and architecture, from the eighteenth century to the present. The tour includes downtown landmarks like the Bradbury Building, The Central Library and the U.S. Bank Building. After the tour, have lunch at Grand Central Market, which is also part of the tour.
The Getty Center
N. Sepulveda Blvd. and Getty Center Dr., Los Angeles, CA 90049
When you go on a date to The Getty Center, there's as much to see inside as there is outside. The permanent collection includes European and American art, from Medieval Times to the present. Outside, take time to stroll through the Getty's famous Central Garden. You're also in for some spectacular views of the city! Stroll hand-in-hand, while you marvel at the architecture (both of our city and the museum). Admission is free; parking is $15. (The Getty is closed on Mondays, but opens every other day at 10:00 am).
The Getty Villa
17985 Pacific Coast Highway, Pacific Palisades, CA 90272
While a trip to Europe might be beyond your budget, you may feel as if you've traveled there as you wander through the collection at The Getty Villa. The Getty Villa is a re-creation of an ancient Roman country house. The art on display represents 7,000 years of ancient art — from the end of the Stone Age to the fall of the Roman Empire. You'll also be enchanted by the Villa's four gardens featuring fountains, ponds, and arbors. (Check the website before visiting; some galleries will be closed due to reinstallation of the collection). Admission is free, though an advance, timed-entry ticket is required. Parking is $15. The Getty Villa is closed on Tuesdays and opens at 10:00 am every other day.
The Huntington Library, Art Collections, and Botanical Gardens
1151 Oxford Rd., San Marino, CA 91108
You and your partner have 207 acres of land to explore at The Huntington. Stroll hand-in-hand as you see first editions of literary works, great works of art, beautiful gardens, and wildlife (including several types of birds, squirrels, and koi fish in the ponds). In the Library, you'll find early editions of Shakespeare's works, Henry David Thoreau's manuscript of Walden, a Gutenberg Bible, and much more. The Art Collection includes 440 sculptures and 650 paintings with European art from the 15th to early 20th century and American art from the late 17th century to mid-20th century. Popular pieces include Thomas Gainsborough's Blue Boy and Pinkie by Sir Thomas Lawrence. The Huntington is also home to 12 gardens with 15,000 different varieties of plants including a rose garden, a California garden, a jungle garden, and more. A variety of dining options are available as well including the casual 1919 Cafe or the more elegant Rose Garden Tea Room (which requires advance reservations). The Huntington opens at 10:00 am each day (with weekdays offering slightly less expensive admission than weekends. (The Huntington is closed on Tuesdays).
Miniature Golf
Sherman Oaks Castle Park
4989 Sepulveda Blvd., Sherman Oaks, CA 91403
Many couples remember a date night that involved miniature golf. But when was the last time you went mini golfing without kids? It takes on a different vibe when it's just the two of you. Sherman Oaks Castle Park offers three different 18-hole golf courses, and if you can get there early during the week, you're not likely to encounter big crowds.
Couples Massage
Larchmont Sanctuary Spa
331 N. Larchmont Blvd., Los Angeles, CA
Stepping into the Larchmont Sanctuary Spa, you and your partner will be entering a 100-year old home that is now a popular and comfortable day spa. Escape the daily demands of life and parenthood and focus on yourselves and each other. Larchmont Sanctuary Spa offers several couples massage treatments. So whether you have 60 minutes or a few hours, you and your partner can find a treatment to meet your needs. Check the website for descriptions and fees. (They are closed on Tuesdays).
Horseback Riding
Malibu Riders
2903 Cornell Rd., Agoura Hills, CA 91301
Contact Malibu Riders to set up a horseback riding session with your special someone. They offer daily rides in Malibu Creek State Park which cover a 3-mile loop in a one-hour time period. You'll be treated to magnificent views, and while you're riding, you won't see the same view twice. It's a great way to gain a different perspective on our city (and each other). And don't worry if you've never been on a horse before, no previous experience is necessary. Check the website for fees and scheduling information and to make a reservation.
South Coast Botanic Garden
26300 Crenshaw Blvd., Palos Verdes Peninsula, CA 90274
The South Coast Botanic Garden is open every day from 9:00 am to 5:00 pm. Within the Garden's 87 acres, you'll find blooming trees, flowers, and shrubs including California native plants, Moreton Bay Fig trees, a desert garden, a Japanese garden and koi pond, a rose garden, a "Garden for the Senses" (where you can touch and smell the plants), and more. Enjoy the peaceful garden settings together and don't forget that you're not that far from the beach. How about a picnic on the beach (before or after the Garden) to complete the day?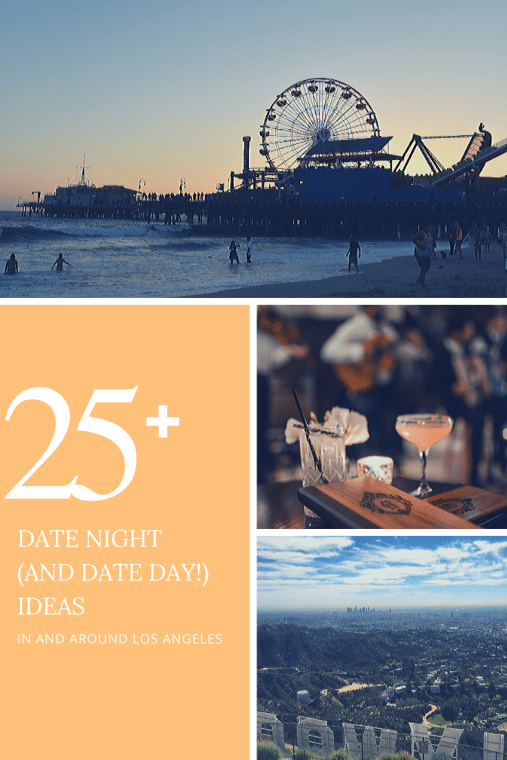 Disclaimer: MomsLA has made every effort to confirm the information in this article; however, things can often change. Therefore, MomsLA makes no representations or warranties about the accuracy of the information published here. MomsLA strongly urges you to confirm any event details, like date, time, location, and admission, with the third party hosting the event. You assume the sole risk of relying on any of the information in our list. MomsLA is in no way responsible for any injuries or damages you sustain while attending any third-party event posted on our website. Please read our Terms of Use which you have agreed to based on your continued use of this website. Some events have paid to be listed on MomsLA.