It's easy to forget that before we were parents, we were people that went out on dates with each other. Thankfully, there is no shortage of romantic destinations in Los Angeles to serve as the setting for a wonderful date night experience! We've got a list of the most romantic date night ideas for Moms and Dads in Los Angeles, including ideas if you're looking for:
Best Restaurants for Date Night
Best Unique Date Night Ideas
Best High-End Date Night Ideas
Best Fun Date Night Ideas
Best Cheap Date Ideas
Best Date Night restaurants
Best Culture Date Night Ideas
Best Day Date Ideas
Best At-Home Date Night Ideas
Best Romantic Date Night Ideas for Moms and Dads in Los Angeles
Old-School Romantic Date Night
Hotel Bel-Air
701 Stone Canyon Road, Los Angeles, CA 90077
Long considered one of the most romantic spots in LA, the Hotel Bel-Air is a lovely, secluded, boutique hotel, with a legendary restaurant, perfect for a special date night. Anniversary, anyone? Set on 12 acres of tropical gardens, you and your date can enjoy being surrounded by beauty and luxury, whether you simply dine there or book a stay. Use our Booking.com link to check current prices.
Date Nights at Restaurants
71Above
633 W. 5th St. 71st Floor, Los Angeles, CA
An evening at 71Above will be hard to top. Literally. This restaurant and skylounge is 950 feet above ground level, making it the highest restaurant west of the Mississippi. Couples will be treated to stunning 360-degree views of our city as well as modern American cuisine. A three-course dinner menu is offered, though guests eating in the bar area may select a la carte items from the regular menu. Be sure to check the website for reservation and dress code information.
Inn of the Seventh Ray
128 Old Topanga Canyon Rd., Topanga, CA 90290
The Inn of the Seventh Ray is described by many as the "most romantic restaurant" in Los Angeles. Plan a special dinner here, where loved ones will "dine by candlelight under the stars," and you'll find waterfalls along winding brick pathways. Your senses will be most happy as you dine in this magical "fairy land," enjoying creative, delicious meals.
This is a spectacular spot to dine and view the Santa Monica Bay. Craft cocktails and delightful California contemporary cuisine, along with wonderful service, make for a date night to remember.
Looking for the latest and greatest LA Restaurants for Date Night? Check out EatDrinkLA.com.
Culture Date Night Ideas for LA Parents
LA Phil
The Walt Disney Concert Hall
111 S. Grand Ave., Los Angeles, CA 90012
Enjoy a performance by the Los Angeles Philharmonic Orchestra at the distinctive Walt Disney Concert Hall before Gustavo Dudamel leaves LA for his next job. You've got until 2024 to experience Classical and contemporary music in one of the world's most renowned concert hall. Bonus: there are terrific restaurants within walking distance for after the show.
If you and your date are the literary types, the Library Foundation of Los Angeles has got you covered with ALOUD. Take your date to the Central Library for a celebrated series of conversations, readings and performances with top writers, thinkers, and performers to listen, learn, and exchange ideas. Members get discounted tickets and help support the library.
The Getty Center
N. Sepulveda Blvd. and Getty Center Dr., Los Angeles, CA 90049
When you go on a date to The Getty Center, there's as much to see inside as there is outside. The permanent collection includes European and American art, from Medieval Times to the present. Outside, take time to stroll through the Getty's famous Central Garden. You're also in for some spectacular views of the city! Stroll hand-in-hand, while you marvel at the architecture (both of our city and the museum). Or if you're in the mood for antiquities, try The Getty Villa in Malibu.
You and your partner have 207 acres of land to explore at The Huntington. Stroll hand-in-hand as you see first editions of literary works, great works of art, beautiful gardens, and wildlife (including several types of birds, squirrels, and koi fish in the ponds). In the Library, you'll find early editions of Shakespeare's works, Henry David Thoreau's manuscript of Walden, a Gutenberg Bible, and much more. The Art Collection includes 440 sculptures and 650 paintings with European art from the 15th to early 20th century and American art from the late 17th century to mid-20th century. Popular pieces include Thomas Gainsborough's Blue Boy and Pinkie by Sir Thomas Lawrence. The Huntington is also home to 12 gardens with 15,000 different varieties of plants including a rose garden, a California garden, a jungle garden, and more. A variety of dining options are available as well.
Hollywood Bowl
2301 N. Highland Ave., Los Angeles, CA 90068
The Hollywood Bowl opened in 1922 and since that time this world-famous venue has showcased a variety of musical talents ranging from The Beatles to Ella Fitzgerald to Stevie Wonder to John Williams. You can bring a picnic or dine at one of the on-site restaurants, as you relax under the stars and enjoy a date night like no other.
Electric Dusk Drive-In
2930 Fletcher Dr. And San Fernando Rd., Los Angeles, CA 90065
Take the idea of a movie date to a whole new level with Electric Dusk Drive-In. You'll enjoy year-round outdoor movies each Saturday at 6:00 pm. Enjoy "great movies, great food, and great times." The "Snack Shack" offers a variety of food (hamburgers, chicken sandwiches, and snacks like candy and popcorn). Outside food is permitted, but no alcohol or smoking is allowed on the premises. Ticket information is available online.
Most Unique Date Night Ideas for Parents in Los Angeles
Some things can only be done in a City like LA. These date nights are Los Angeles-specific, and amazing.
Pacific Park
380 Santa Monica Pier, Santa Monica, CA 90401
Charm your partner with a date night spent on the Santa Monica Pier, having fun at Pacific Park. Buy a wrist band and have some fun on the Pacific Wheel, Inkie's Scrambler, West Coaster, and more. Go for a spin on the historic Carousel and win your sweetie a special prize at one of the games. You'll also find a variety of restaurants and concession stands at the Pier. Take a stroll on the beach, hold hands, and enjoy the sights and sounds of the Pacific Ocean. NOTE: This can also be a Date Day idea!
Take a dinner date to a whole new level with a City Cruise experience out of Marina del Rey. Escape the traffic and your usual surroundings as you sit back and relax and enjoy good food, fine views of the Pacific Ocean, and each other. City Cruises offers different cruise options such as brunch and dinner.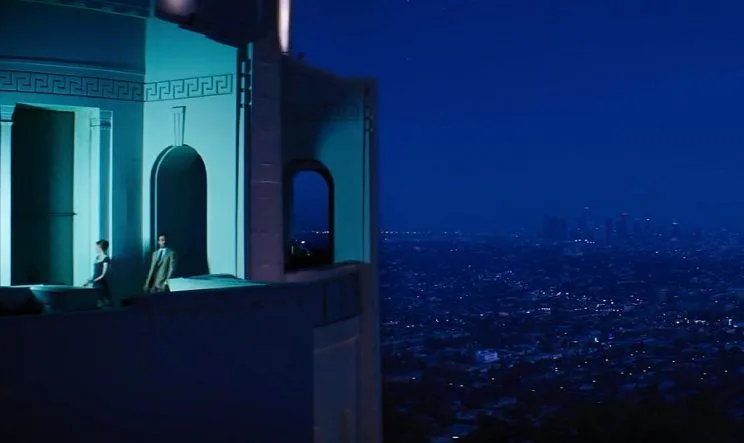 If you've only been to the Griffith Observatory with kids in tow, it's a different experience when you're there on a date. As you explore the Observatory's exhibits, you'll be engaged, curious, and in awe. Somehow, within the vastness of space, things worked out for you and your partner to find each other! Admission to the Observatory is free, but if you opt to see one of the shows offered in the Planetarium, there is a slight fee. On clear days, you'll be treated to incredible views of our city (including the Hollywood Sign). You can also dine at the on-site cafe or treat yourselves to dinner at one of the nearby restaurants in Los Feliz.
Fly Over Date
Sunset Flights LA
San Gabriel Valley Airport, 4233 Santa Anita Ave, El Monte, CA 91731
Do you and your date love to fly? Then consider taking flight over Los Angeles for a 45-minute tour of the most iconic spots in our city, all from inside a Piper Archer aircraft flown by an experienced commercial pilot. The adrenaline will pump through your veins and the excitement will be high! Marriage proposals are not unheard of!
The Queen Mary
1126 Queens Highway, Long Beach, CA 90802
You don't have to go far to spend time on what was once a world-class, luxury ocean liner. Head to Long Beach and visit The Queen Mary, which now serves as a major tourist attraction, floating hotel, and event venue. Couples will find a variety of dining options including a Sunday Champagne Brunch, Sir Winston's Restaurant and Lounge, Malibu Wines, and more.
Wine Tasting
The Wine House
2311 Cotner Avenue, Los Angeles 90064
The Wine House is famous for stocking thousands of wines, beers, and spirits, but they also host classes and tastings, plus they also have a restaurant upstairs. So if you and your date are into food and wine and want to educate your palates, a wine tasting at the Wine House might be just the thing.
If you're movie fans, the Warner Bros. Studio Tour is a great date idea! Tours are offered daily, and you'll get to see how your favorite TV shows and movies get made, see sets and costumes from classic Warner Bros. pictures, plus hang out on the lot.
Sporty or Musical Date Night
Lakers, Clippers, Sparks, or Kings Game
PLUS Concerts Galore
Crypto.com Arena
1111 S. Figueroa Street, Los Angeles 90015
Sports fans and music fans alike love heading to the Crypto.com arena for a date night (or anytime). Interspersed between Basketball and Hockey seasons, there are always amazing concerts on the calendar, and you get a bonus because the location near LA Live means there are multiple dining options within walking distance, or you can dine at the arena as well. Consider taking it up a notch and getting a suite for the night!
Of course we love to go to Disneyland and Disney California Adventure with our kids, and also, we love to go without them sometimes, too. Going to Disneyland on a date means you get to go on only the rides you want to, choose whatever food you want to eat, enjoy a cocktail if you like, and all the while spend time with your sweetie. With our without ears. Bonus: if you or anyone you know is a member of Club 33, you could take your date for an exclusive meal in the secretive restaurant within the park.
Abracadabra! Date Night
The Magic Castle
7001 Franklin Avenue, Hollywood 90028
The magic of Magic could be the perfect date night for you and your honey, and the Magic Castle is an amazing place to visit! There's a lot to see, from the vintage décor, to the magic shows, and there's full-service dining on site as well. So check your LinkedIn to find someone you know who's a member, because the Magic Castle is a private club, and you'll need an invitation.
High End Date Night Ideas for LA Parents
Unless you have your test track in the backyard, chances are good that this is one of the most unique date night ideas ever. Not only can you sit in the passenger seat while a very professional, very speedy driver puts you and the automobile through its paces on the 56-acre track at the Porsche Experience Center Los Angeles, but once you recover from the adrenaline rush, you can dine in the fabulous 917 restaurant upstairs.
Luxury Chopper Date
IEX Helicopters
Queen Mary Terminal, 1175 Queens Hwy, Long Beach CA 90802
Sure, you love to fly, but maybe this time you and your date would rather take a helicopter ride. No problem! IEX Helicopters started out taking people across to Catalina Island, and have expanded to include tours and custom experiences. For example, you could let them whisk you and your date away to a secluded location for a gourmet picnic and even add a photographer to memorialize the whole affair.
Drive in Style
Falcon Car Rentals
499 N Canon Dr, Beverly Hills, CA 90210
We love our luxury cars here in LA, so you and your date may want to rent a Lamborghini or a Ferrari for the night so you can show up and impress! (Falcon Car Rentals is but one of many options.) Make sure the Valet guy keeps it parked close by, and don't let the date go by without cruising along Mulholland Drive or PCH and enjoying the vehicle!
Hire a Private Chef
Table at Home
Location of Your Choice
Let a Private Chef make a romantic dinner for you and your date, in the privacy of your home, maybe when the kids are on a sleepover (or not, it's up to you!). Table at Home helps you hire a chef for a special occasion, including letting you choose a menu, set a budget, and book a chef who's available. Then you can relax, knowing someone else is cooking (and cleaning up), and you don't have to drive or Uber anywhere!
Wouldn't it be lovely to have a gourmet picnic in a super romantic location? Yes, you think, but I'll have to do so much work to make it happen I won't feel romantic afterwards! But no! Let Events by Moonflower take care of all the details for you. They'll deliver and set up your event, from romantic rendezvous to seaside picnics, and it's sure to be an unforgettable experience.
High End Shopping
Rodeo Drive, Beverly Hills
If you and your date are looking for a luxury experience that includes coming home with fancy shopping bags full of new, shiny objects, then a date on Rodeo Drive is perfect for you! Some of the world's most fabulous shops are lined up for you, and there are plenty of terrific dining options, too.
Fun Date Night Ideas for LA Moms and Dads
Get Out Date Night
The Escape Game Los Angeles
Westfield Century City, 10250 Santa Monica Blvd., Los Angeles 90067
If you and your date are into solving puzzles, the Escape Game's newest location in Los Angeles might be just the ticket. The Escape Game LA features 4 one-of-a-kind escape rooms, including one of our newest games, The Depths. Each immersive escape room holds up to 8 players, but and whether you're with a group or just the two of you, you can work as a team. This location is a bonus because there are plenty of dining and shopping opportunities at the Mall for after you escape!
Hilarious Date Night
The Comedy Store
8433 Sunset Blvd, Los Angeles 90069
They say laughter is the best medicine, but could it be the best date night? If you and your date love to laugh, then the answer is yes! There are lots of comedy clubs in Los Angeles, but the Comedy Store is one of the most famous, with big name comedians on the schedule all the time. Bonus because it's located in Hollywood, near other hot restaurants and clubs, so you can make a full evening of it.
Skate the Night Away
Moonlight Rollerway
5110 San Fernando Road, Glendale 91204
How well do you and your date do on roller skates? If you're like pros, then head out to Moonlight Rollerway and skate your date night away. But even if you can't stay upright on wheels – they give lessons! Take your date for a skating lesson and you can learn how to skate like a pro in no time. This is the most-film roller rink in the US, with its original wood floor, and the tunes are awesome.
Cheap Date Night Ideas in Los Angeles
Long Walks on the Beach
From Hermosa to Malibu (and beyond)
If you're looking for an inexpensive and wonderful date idea, take your sweetie for a long walk on the edge of the Pacific ocean. Get your feet wet, write their name in the sand, chase the seabirds away, and have that heart-to-heart talk you've been wanting to forever. The crashing waves will insure it's private, just for you two, and maybe you can catch the sunset. How romantic!
Swan Boat Ride in Echo Park
Wheel Fun Rentals
751 Echo Park Avenue, Los Angeles 90026
Imagine you and your date pedaling around in a scenic, urban lake, in a giant swan (boat). That could be your next amazing date, during the day or evening. They have lights, these swans! The Swan Boats at Echo Park Lake are a super fun way to see everything the Lake has to offer, including lotus beds, the fountain, and the views of downtown. Bonus: you're close to trendy dining spots for when you work up an appetite by pedaling!
Day Date Ideas for Los Angeles Moms and Dads
What's a Date Day, you ask? Sometimes what works best for couples with busy schedules and budgets to keep is a "date day," preferably done while your kids are at school. No need to find or pay for a babysitter, yet you're still able to enjoy some all-important couple time. See all our ideas!
A hike to the iconic Hollywood Sign is not only a great workout, but a fun way to reconnect with the person you love. Couples can make the hike as strenuous as you'd like depending on where you start. Pack plenty of water and a lunch and have a picnic along the trail, which is open from sunrise to sunset. For more information about trails, visit Hollywoodsign.org.
Gondola Getaway
5437 E. Ocean Blvd., Long Beach, CA 90803
Maybe you can't afford a trip to Venice, but you can certainly afford a trip to Naples. That is, the Naples Island located in Long Beach. There you'll find Gondola Getaway which offers different customizable packages so you can design the cruise that best fits your needs. Cruises are generally one hour in duration and are serene and romantic. According to one happy Mom, "it was an hour of pure relaxation. Our friendly gondolier gently maneuvered the gondola through the canals. During the cruise, we looked at the large houses, and we said hello to others that were enjoying the waterways. And we talked. Without interruption. We held hands. We were simply together." Sounds heavenly!
Malibu Wine Safaris
32111 Mulholland Hwy., Malibu, CA 90265
This may be one of those "only in Los Angeles" types of experiences. Treat your special someone to a Wine Safari. Couples will explore the 1,000-acre Saddlerock Ranch and vineyard in Malibu in an open-air Safari vehicle. You'll make stops along the way, enjoying the scenery, tasting local wines, and getting a close look at a variety of animals including zebras, bison, camels, alpacas, and more. (Keep in mind that tours don't happen at night, but are offered until about 5:00 pm).
Though Sunset Ranch is conveniently located between Universal Studios and the Hollywood Walk of Fame, you and your special someone may feel as if you're really quite far from home. Even the most inexperienced of riders will feel at ease exploring the trails of Griffith Park. A variety of Day and Evening tours are offered including tours that include a 2-hour ride as well as a BBQ meal and country music afterwards. (Helmets must be worn and will be provided to riders).
Whether you're a native Angeleno or new in town, taking an L.A. Conservancy tour is a great way to discover Los Angeles while also spending the day walking around with your partner holding hands. The L.A. Conservancy Historic Downtown walking tour offers a great overview of downtown L.A. history and architecture, from the eighteenth century to the present. The tour includes downtown landmarks like the Bradbury Building, The Central Library and the U.S. Bank Building. After the tour, have lunch at Grand Central Market, which is also part of the tour.
Miniature Golf
Sherman Oaks Castle Park
4989 Sepulveda Blvd., Sherman Oaks, CA 91403
Many couples remember a date night that involved miniature golf. But when was the last time you went mini golfing without kids? It takes on a different vibe when it's just the two of you. Sherman Oaks Castle Park offers three different 18-hole golf courses, and if you can get there early during the week, you're not likely to encounter big crowds.
Couples Massage
Larchmont Sanctuary Spa
331 N. Larchmont Blvd., Los Angeles, CA
Stepping into the Larchmont Sanctuary Spa, you and your partner will be entering a 100-year old home that is now a popular and comfortable day spa. Escape the daily demands of life and parenthood and focus on yourselves and each other. Larchmont Sanctuary Spa offers several couples massage treatments. So whether you have 60 minutes or a few hours, you and your partner can find a treatment to meet your needs. Check the website for descriptions and fees. (They are closed on Tuesdays).
Wendy Kennar is a mother, writer, and former teacher who has lived her entire life in the same Los Angeles zip code. You can read more from Wendy at her website WendyKennar.com where she writes about books, boys, and bodies (living with an invisible disability).
Disclaimer: MomsLA has made every effort to confirm the information in this article; however, things can often change. Therefore, MomsLA makes no representations or warranties about the accuracy of the information published here. MomsLA strongly urges you to confirm any event details, like date, time, location, and admission, with the third party hosting the event. You assume the sole risk of relying on any of the information in our list. MomsLA is in no way responsible for any injuries or damages you sustain while attending any third-party event posted on our website. Please read our Terms of Use which you have agreed to based on your continued use of this website. Some events have paid to be listed on MomsLA.