Los Angeles has some of the best shopping malls in the country. From The Grove to the Beverly Center to Westfield Century City, families will find opportunities to stroll, shop, eat, and explore. And in Los Angeles, you can find shopping malls of varying sizes, indoor and outdoor, malls that are as popular with visitors as they are with locals. Here is our list of the best shopping malls in and around Los Angeles.
What's Your Favorite Los Angeles Mall?
MomsLA is your source for Things to do in Los Angeles With Kids
Here's our List of the Best Malls in LA:
10250 Santa Monica Blvd., Century City, CA 90067
You could really spend the day at the Westfield Century City without any member of the family saying they were bored. Children will enjoy the Tumble Leaf Play Space: Presented by Amazon Prime Video where kids can "climb and explore the bright, colorful play area filled with games and plenty of space to stretch those little legs." The Westfield Family Lounge is where you go when you need a break from shopping. You'll find toys, child-friendly television programming, and private nursing areas here. Shops include Amazon Books, Cotton On Kids, Apple, Macy's, and Skechers to name a few. Dining options include Randy's Donuts, RockSugar Southeast Asian Kitchen, Eataly, Shake Shack among many others. AMC Theatres is on-site as well. But don't spend all your time shopping; be sure to stroll around and look at the many art installations found around the property.
189 The Grove Dr., Los Angeles, CA 90036
Adjacent to the Original Farmers Market is The Grove, a shopping and dining destination. See a movie at the theaters (which host special "Monday Morning Mommy Movies"), read and play in the children's section of Barnes and Noble, check out American Girl Place, and more. There are many dining options available too. Be sure to take a free ride on the Trolley (which travels between The Grove and the Farmers Market) and watch the Dancing Fountain. (The Fountain "dances" to different songs every hour and was designed by the same company who designed the famous fountains at the Bellagio in Las Vegas). And mark your calendar for Thursday mornings (from 10:00 am to 12:00 pm), when The Grove hosts "Kids Club" which features live entertainment and activities for children and their caregivers (offered February through the end of October). Click here to read our "Guide to the Original Farmers Market and The Grove."
889 Americana Way, Glendale, CA 91210
This outdoor shopping center has no shortage of kid-friendly activities. Each Tuesday, from 11:00 am to 1:00, bring the little ones for a free "Kids Club" featuring live performances. And just like at The Grove, The Americana at Brand also features a dancing fountain and trolley ride. Additionally, families can choose from a variety of shops (Barnes and Noble, Disney Baby, and Crewcuts by J. Crew among others), movies, and dining (including Shake Shack, The Pie Hole, and Frida Mexican Cuisine to name a few).
401 Newport Center Dr., Newport Beach, CA 92660
If you're in Newport Beach, a visit to Fashion island is a must. Take your time and stroll around the picturesque outdoor shopping center, and if the kids get tired of walking, take advantage of the complimentary trolley. Family-friendly shops include Apple, Barnes and Noble, Macy's, Peek Kids, and more. A variety of restaurants are on-site as well including The Cheesecake Factory, P. F. Chang's, Wahoo's Fish Tacos, and many more. And don't forget about The Lot, a "luxury lifestyle entertainment destination" offering a "cinematic experience unlike any other." Complimentary trolley around the open-air shopping center. Live entertainment is scheduled each weekend (through December 31st) from 12:00 pm to 4:00 pm.
395 Santa Monica Place, Santa Monica, CA 90401
There's lots to see and do at the the open-air Santa Monica Place which seems to be just as popular with locals as it is with tourists. Families will find the Disney Store, Gymboree, Nike, The Cheesecake Factory, Johnny Rockets and more. Santa Monica Place is located adjacent to the 3rd Street Promenade so it's easy to continue your shopping experience from one location to another. Each Thursday at 9 am, kids and their parents are invited to participate in "Stroller Strides and Books & Cookies with Monica + Andy." Parents can get a stroller workout followed by a story time with Books & Cookies. Additionally, on the first Wednesday of each month, Santa Monica Place hosts a free Kids Club from 11:00 am to 12:00 pm.
100 W. Broadway, Glendale, CA 91210
This large, indoor shopping center also offers ways to keep kids entertained and happy. You'll find a Children's Play Area when the kids need to run around and let off some steam. In addition to the variety of shops (Baby Gap, Build-A-Bear Workshop, The Children's Place, Target, and the Disney Store to name a few) and restaurants (Blaze Pizza, Five Guys, Chipotle, and Subway to name a few), you'll also find "Giggles N' Hugs," a combination restaurant and play space.
6801 Hollywood Blvd., Hollywood, CA 90028
This shopping center has it all. There are plenty of kid friendly dining options (including Johnny Rockets, the Hard Rock Cafe, and the French Crepe Company to name a few) as well as a bowling alley (Lucky Strike), and many specialty shops. You'll also find the Dolby Theatre (home of the Academy Awards) as well as the historic TCL Chinese Theatre.
300 E. Colorado Blvd., Pasadena, CA 91101
The Paseo is an outdoor shopping center located in downtown Pasadena. Families will find Arclight Cinemas as well as a large selection of restaurants (including Island's Fine Burgers and Drinks, El Cholo Café, and more) and shops including (H & M, Bath & Body Works, and more). Additionally, each Tuesday from 10:00 am to 12:00 pm, The Paseo hosts a free Kids Corner where kids "can sing along and interact with the performers."
6000 Sepulveda Blvd., Culver City, CA 90230
In addition to stores such as Crazy 8, JCPenney, Old Navy, Target, and The Children's Place, the Westfield Culver City offers several family-friendly amenities. When the kids need to run around, head to the Westfield PlaySpace. Check your child's height against the red seahorse at the entrance, and then let him run, climb, and explore. And when you need a break from shopping, you can go to the Westfield Family Lounge which features toys, changing stations, child-friendly TV programs, and private nursing areas. And if that's not enough, you'll also find a special dining area for families. Kids will particularly like the colorful tables and chairs as well as the smaller, more comfortable, size.
Do you have a favorite Shopping Mall in Los Angeles?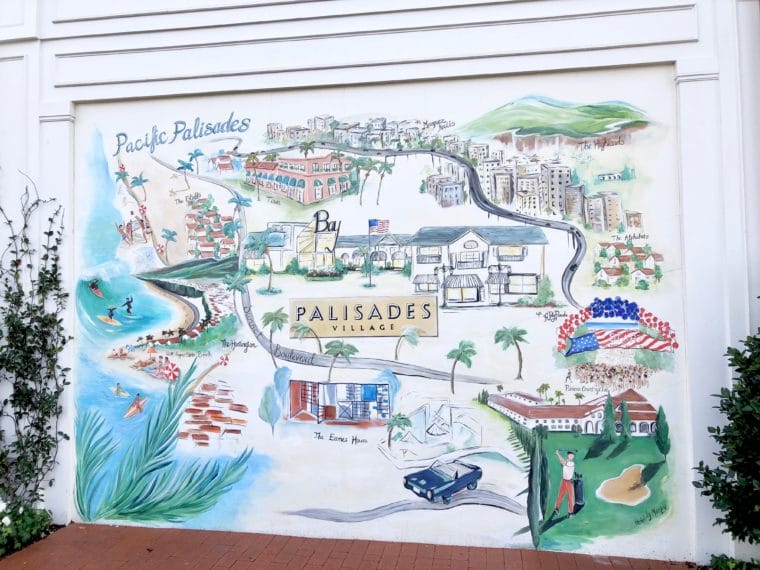 15225 Palisades Village Lane, Pacific Palisades, CA 90272
The upscale, outdoor shopping mall in the heart of Pacific Palisades has fabulous restaurants, boutique shopping, an Amazon store and a 5-screen movie theater with reserved seating. Shops include Cynthia Rowley, Rachel Zoe and Towne by ElyseWalker. Palisades Village also hosts a kids club every Thursday from 10 am to noon.
1 Mills Cir, Ontario, CA 91764
Ontario Mills is "California's largest outlet and value retail shopping destination" featuring more than 200 stores. You can spend the whole day exploring Ontario Mills and browsing/shopping at Build-A-Bear Workshop, Champs Sports, Gymboree Outlet, Crocs, GameStop, Nike Factory Store, Daiso Japan, Disney Store Outlet, and The Children's Place Outlet among others.When you're hungry choose from Dairy Queen/Orange Julius, Johnny Rockets, Rainforest Cafe, Dave & Buster's, or any of the 32 eateries on-site.
14006 Riverside Dr., Sherman Oaks, CA 91423
The Westfield Fashion Square wants to make shopping a pleasurable experience for families. They offer "family parking," a "family lounge," and a playspace. The playspace lets little ones climb and move and get active. You'll find an Apple store, Crazy 8, Disney Store, GapKids, The Children's Place, and more. In addition, the Westfield Fashion Square also hosts a Farmer's Market each Tuesday (February 6-August 28) from 3:00 pm to 7:00 pm.
3625 Carson St., Torrance, CA 90503
This large shopping center, with more than 200 stores, has everything for the whole family. You'll find a Barnes and Noble, Disney Store, JCPenney, Foot Locker House of Hoops, Macy's, and much more. Dining options include Dave & Buster's, Jamba Juice, Lemonade, Pink's Hot Dogs, and more. A Children's Play Area is also available when the kids need a break from shopping.
Figueroa and 7th, Los Angeles, CA
FIGat7th is a popular, outdoor shopping center in downtown Los Angeles. Families can select from a variety of restaurants including The Melt, Mendocino Farms, and California Pizza Kitchen to name a few. Shops include Target, Nordstrom Rack, H & M and more. FIGat7th also hosts a variety of special events throughout the year including a Kids Club featuring a free arts and crafts workshop on the second and fourth Saturday of each month. There is also a Farmers Market each Thursday from 10:00 am to 2:00 pm. (Be sure to have your parking validated; parking can get expensive).
8500 Beverly Blvd., Los Angeles, CA 90048
The Beverly Center has been undergoing a multi-year re-design and re-model (and it's not completely done yet). The exterior is no longer the large brown building many of us locals remember growing up with. Families will find a bright white building, with several new street-level restaurants open including Farmhouse, Cal Mare, Eggslut, and Yardbird Southern Table and Bar. The mall's "Food Hall" (formerly known as the Food Court) has yet to open, so quick dining options are currently limited to Wetzel's Pretzels. The Mall features an Apple Store, Macy's, Foot Locker, H & M, Bloomingdales, and more. (Disclaimer — the Beverly Center is not the most "family friendly" shopping mall for families with young children; there are no toy stores, kids' clothing stores, or children's play area).
3333 Bristol St., Costa Mesa, CA 92626
AT the South Coast Plaza, you'll find "250 boutiques, 30 restaurants, and the Segerstrom Center for the Arts." Family friendly stores include the Disney Store, Crate and Kids, Gymboree, Pottery Barn Kids, Vans, and more. The Corner Bakery, Claim Jumper, Ruby's Diner, and Wolfgang Puck Kitchen are just some of the restaurants on site. And all throughout the month of September, the South Coast Plaza is celebrating the "Festival of Children" with more than 100 special activities and performances that celebrate the "magic of childhood and the charities that work tirelessly to improve the lives of children across Southern California."
6600 Topanga Canyon Blvd., Canoga Park, CA 91303
Westfield Topanga and The Village are incredibly family-friendly and are a popular destination with families. Children may have a hard time deciding what to do first. Choices include the Carousel, Red Caboose Railroad, Animal Rides, The "Luckey" Kids Climber, and Playtown. Additionally, twice a month children can "get hooked on reading with LAPD," when uniformed officers read to children. You'll also find a Family Lounge, AMC Theatres, and a large variety of shops and restaurants.
9301 Tampa Ave., Northridge, CA 91324
There is much to see and do at the Northridge Fashion center. Take advantage of family-friendly shops including Macy's, the Disney Store, Champs Sports, JCPenney, and Kids Foot Locker to name a few. Dining options include Wood Ranch, Subway, Romano's Macaroni Grill, and more. A children's play area is also on-site. The Northridge Fashion Center Farmers Market is open for the season each Wednesday (from 5:00 pm to 9:00 pm) through November 1st. Families will find "10,000 pounds of farm-fresh seasonal fruits and vegetables, grown by more than 30 California farmers." Additionally, the Farmers Market offers a children's bounce house and rock climbing, hot food vendors, live entertainment, and local crafters.
MOMSLA IS YOUR SOURCE FOR THINGS TO DO IN LOS ANGELES WITH KIDS.
Disclaimer: MomsLA has made every effort to confirm the information in this article; however, things can often change. Therefore, MomsLA makes no representations or warranties about the accuracy of the information published here. MomsLA strongly urges you to confirm any event details, like date, time, location, and admission, with the third party hosting the event. You assume the sole risk of relying on any of the information in our list. MomsLA is in no way responsible for any injuries or damages you sustain while attending any third party event posted on our website. Please read our Terms of Use which you have agreed to based on your continued use of this website. Some events have paid to be listed on MomsLA.