Updated for 2023
Did you know that moms are in charge of at least 85% of household spending? That's a lot of consumer spending power! So when Los Angeles moms head out to flex those muscles, they are in luck.
Los Angeles has some of the best shopping in the country. Whether you choose to shop at a fancy mall to find that perfect outfit, or you want to spend the afternoon strolling on a famous street or in a trendy neighborhood, you'll find it all here in Southern California.
From The Grove to the Beverly Center to Westfield Century City, families will find opportunities to stroll, shop, eat, and explore at the coolest and fanciest malls anywhere. And in Los Angeles, you can find shopping malls of varying sizes, indoor and outdoor, malls that are as popular with visitors as they are with locals.
Los Angeles also has famous shopping streets and neighborhoods that shouldn't be missed. Ever heard of Rodeo Drive? Of course, you have! But there are a few more gems you must check out.
Not only that, but LA has some fantastic outlet malls, too, where you'll find bargains galore. Maybe you're shopping for Back-to-School or Holiday Gifts, or maybe you're just shopping. We get it! Use this as our Guide to Shopping in LA, from ultra-fabulous to super funky, and everything in between.
The Best Shopping Malls in Los Angeles and SoCal
Westfield Century City
10250 Santa Monica Blvd., Los Angeles, CA 90067
You could really spend the day at the Westfield Century City without any member of the family saying they were bored. Children will enjoy the Westfield Play Space where kids can climb and explore the bright, colorful play area filled with games and plenty of space to stretch those little legs.
The Westfield Family Lounge is where you go when you need a break from shopping. You'll find toys, child-friendly television programming, and private nursing areas here. Shops include CAMP, Little Kitchen Academy, Cotton On Kids, Apple, Macy's, and Skechers to name a few.
Dining options include California Pizza Kitchen, Mochinut, Café Landwer, Eataly, and Shake Shack among many others. AMC Theatres is on-site as well. But don't spend all your time shopping; be sure to stroll around and look at the many art installations found around the property.
The Grove
189 The Grove Dr., Los Angeles, CA 90036
Adjacent to the Original Farmers Market is The Grove, a shopping and dining destination. See a movie at the theaters (which host special "Monday Morning Mommy Movies"), read and play in the children's section of Barnes and Noble, and check out Gap, See's Candies, and more.
There are many dining options available too. Be sure to take a free ride on the trolley (which travels between The Grove and the Farmers Market) and watch the dancing fountain (the fountain "dances" to different songs every hour and was designed by the same company that designed the famous fountains at the Bellagio in Las Vegas).
Mark your calendar for Thursday mornings (from 10:00 am to 12:00 pm), when The Grove hosts "Kids Club" which features live entertainment and activities for children and their caregivers (offered February through the end of October). Click here to read our "Guide to the Original Farmers Market and The Grove."
This outdoor shopping center has no shortage of kid-friendly activities. Each Tuesday at 10 am and 11 am, bring the little ones for a free "Kids Club" featuring live performances. And just like at The Grove, The Americana at Brand also features a dancing fountain and trolley ride. Additionally, families can choose from a variety of shops (Barnes and Noble, My Little Shop, and Lululemon, among others), movies, and dining (including Shake Shack, Cinnabon, and Frida Mexican Cuisine to name a few).
Fashion Island
401 Newport Center Dr., Newport Beach, CA 92660
If you're in Newport Beach, a visit to Fashion Island is a must. Take your time and stroll around the picturesque outdoor shopping center, and if the kids get tired of walking, take advantage of the complimentary trolley.
Family-friendly shops include Apple, Barnes and Noble, Macy's, Claire's, and more. A variety of restaurants are on-site as well including The Chick-fil-A, P. F. Chang's, Wahoo's Fish Tacos, and many more. And don't forget about The Lot, a "luxury lifestyle entertainment destination" offering a "cinematic experience unlike any other." Complimentary trolley around the open-air shopping center.
Santa Monica Place
395 Santa Monica Pl., Santa Monica, CA 90401
There's lots to see and do at the open-air Santa Monica Place which seems to be just as popular with locals as it is with tourists. Families will find Bath & Body Works, Coach, Forever 21, Nike, The Cheesecake Factory, Johnny Rockets, and more. Santa Monica Place is located adjacent to the 3rd Street Promenade so it's easy to continue your shopping experience from one location to another.
Glendale Galleria
100 W. Broadway, Glendale, CA 91210
This large, indoor shopping center also offers ways to keep kids entertained and happy. You'll find a Children's Play Area when the kids need to run around and let off some steam. There are a variety of shops (Gap, Build-A-Bear Workshop, The Children's Place, Target, and Abercrombie Kids, to name a few) and restaurants (Blaze Pizza, Five Guys, Chipotle, and Panda Express, to name a few), to meet all of your shopping and dining needs.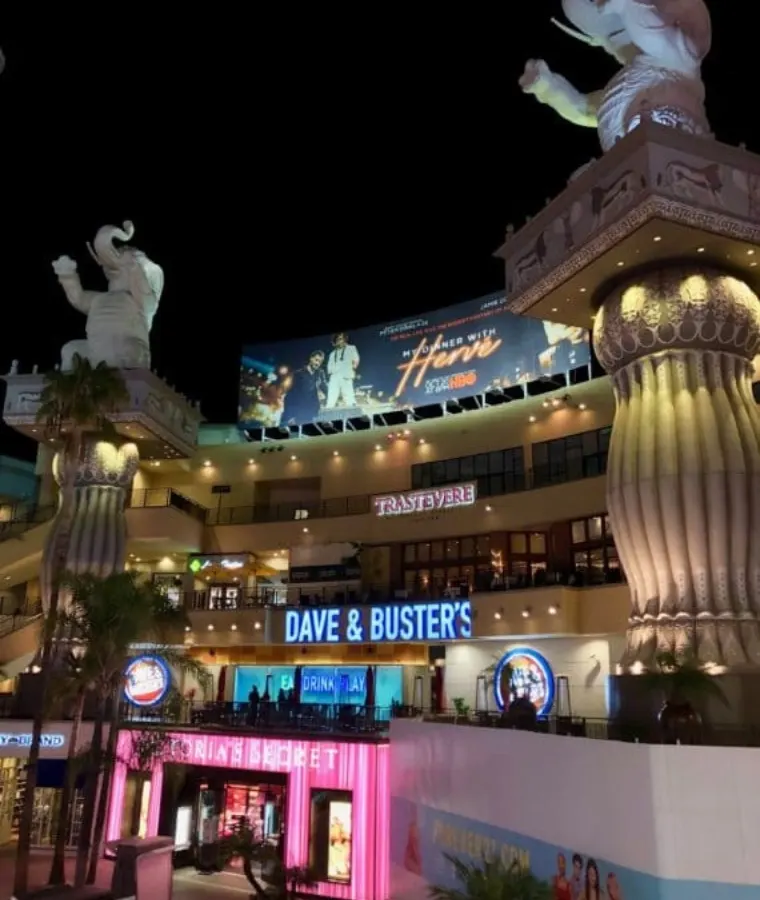 Ovation Hollywood (at Hollywood and Highland)
6801 Hollywood Blvd., Hollywood, CA 90028
This shopping center has it all. There are plenty of kid-friendly dining options (including Johnny Rockets, the Hard Rock Cafe, and Cold Stone Creamery, to name a few) as well as a bowling alley (Lucky Strike), and many specialty shops. You'll also find the Dolby Theatre (home of the Academy Awards) as well as the historic TCL Chinese Theatre. The Center has been recently renovated by new owners.
The Paseo
300 E. Colorado Blvd., Pasadena, CA 91101
The Paseo is an outdoor shopping center located in downtown Pasadena. Families will find the Regal Paseo Theater as well as a large selection of restaurants (including El Cholo Café, Rubio's, Starbucks, and more) and shops (including H & M, Bath & Body Works, and more). Additionally, each Tuesday from 10:00 am to 12:00 pm, The Paseo hosts a free Kids Corner where kids "can sing along and interact with the performers."
The Point
850 S. Pacific Coast Hwy., El Segundo, CA 90245
Located next to the Plaza El Segundo, The Point is a small mall with a super fabulous vibe. There's hip shopping and tasty restaurants, and they often host special events on the weekends, so be sure to check the website or follow them on social.
Westfield Culver City
6000 Sepulveda Blvd., Culver City, CA 90230
In addition to stores such as Claire's, JCPenney, Old Navy, Target, and The Children's Place, Westfield Culver City offers several family-friendly amenities. When the kids need to run around, head to the Westfield PlaySpace. Check your child's height against the red seahorse at the entrance, and then let him run, climb, and explore.
When you need a break from shopping, you can go to the Westfield Family Lounge which features toys, changing stations, child-friendly TV programs, and private nursing areas. And if that's not enough, you'll also find a special dining area for families. Kids will particularly like the colorful tables and chairs as well as their smaller, more comfortable, size.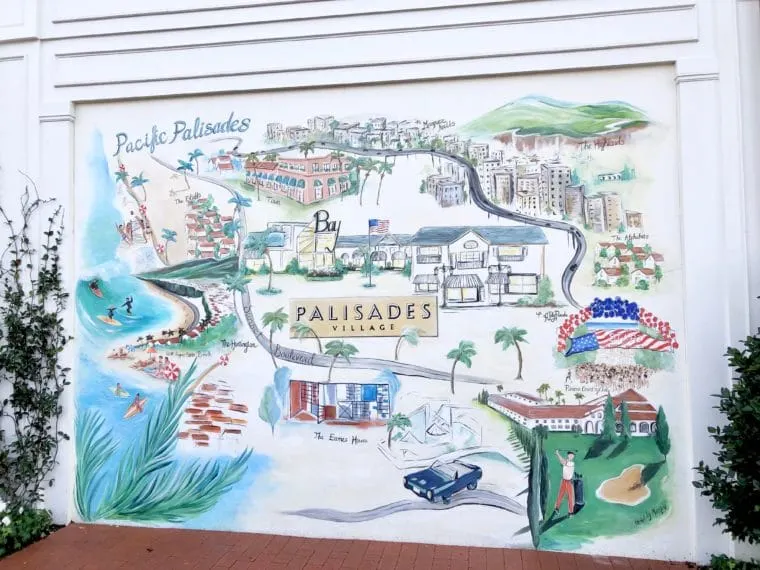 Palisades Village
15225 Palisades Village Ln., Pacific Palisades, CA 90272
This upscale, outdoor shopping mall in the heart of Pacific Palisades has fabulous restaurants, boutique shopping, an Amazon store, and a 5-screen movie theater with reserved seating. Shops include Bottega Veneta, Jennifer Meyer, and Towne by ElyseWalker. Palisades Village also hosts a kids club every Wednesday at 10 am and 11 am.
Ontario Mills
1 Mills Cir., Ontario, CA 91764
Ontario Mills is "California's largest outlet and value retail shopping destination" featuring more than 200 stores. You can spend the whole day exploring Ontario Mills while browsing or shopping at Build-A-Bear Workshop, Champs Sports, Guess Factory Store, Crocs, GameStop, Nike Factory Store, Daiso Japan, Disney Store Outlet, and The Children's Place, among others. When you're hungry choose from Dave & Buster's, Hot Dog on a Stick, Rainforest Cafe, Kelly's Cajun Grill, or any of the 36 eateries on-site.
The Westfield Fashion Square wants to make shopping a pleasurable experience for families. They offer "family parking," a "family lounge," and a playspace. The playspace lets little ones climb and move and get active. You'll find an Apple store, Clarks, Pandora, GapKids, The Children's Place, and more.
This large shopping center, with more than 200 stores, has everything for the whole family. You'll find Barnes and Noble, Urban Outfitters, JCPenney, Foot Locker, Nike, Macy's, and much more. Dining options include Dave & Buster's, Outback Steakhouse, Jamba Juice, Lemonade, and more. A Children's Play Area is also available when the kids need a break from shopping.
FIGat7th
Figueroa St. and 7th, Los Angeles, CA 90017
FIGat7th is a popular, outdoor shopping center in downtown Los Angeles. Families can select from a variety of restaurants including The Melt, Mendocino Farms, and California Pizza Kitchen to name a few. Shops include Target, Nordstrom Rack, H & M, and more.
FIGat7th also hosts a variety of special events throughout the year including a Kids Club featuring a free arts and crafts workshop on the second and fourth Saturday of each month. There is also a Farmers Market each Thursday from 10:00 am to 2:00 pm. (Be sure to have your parking validated; parking can get expensive).
Beverly Center
8500 Beverly Blvd., Los Angeles, CA 90048
The Beverly Center has been undergoing a multi-year re-design and re-model and it's not completely done yet. The exterior is no longer the large brown building many of us locals remember growing up with. Families will find a bright white building, with several new street-level restaurants open including ABSteak, Angler, Eggslut, and Yardbird Southern Table and Bar. The mall's "Food Hall" (formerly known as the Food Court) is open, so quick dining options are available.
The Mall features an Apple Store, Macy's, Foot Locker, H & M, Bloomingdales, and more. (Disclaimer — the Beverly Center is not the most "family-friendly" shopping mall for families with young children; there are no toy stores, kids' clothing stores, or children's play area).
South Coast Plaza
3333 Bristol St., Costa Mesa, CA 92626
At the South Coast Plaza, you'll find "250 boutiques, 30 restaurants, and the Segerstrom Center for the Arts." Family-friendly stores include babyGap GapKids, Crate and Kids, Pottery Barn Kids, Vans, and more. The Corner Bakery, Claim Jumper, Ruby's Diner, and Morton's The Steakhouse are just some of the restaurants on-site.
Westfield Topanga and The Village are incredibly family-friendly and are popular destinations with families. Children may have a hard time deciding what to do first. Choices include the Carousel, Red Caboose Railroad, Animal Rides, The "Luckey" Kids Climber, and Playtown. You'll also find a Family Lounge, AMC Theatres, and a large variety of shops and restaurants.
There is much to see and do at Northridge Fashion Center. Take advantage of family-friendly shops including Macy's, Pandora, Champs Sports, The Children's Place, and Kids Dick's Sporting Goods to name a few.
Dining options include Wood Ranch, Subway, Buffalo Wild Wings, and more. A children's play area is also on-site. The Northridge Farmer's Market is open for the season each Wednesday (from 5:00 pm to 9:00 pm) through November 1st. Families will find "10,000 pounds of farm-fresh seasonal fruits and vegetables, grown by more than 30 California farmers." Additionally, the Farmers Market offers a children's bounce house and rock climbing, hot food vendors, live entertainment, and local crafters.
Plaza El Segundo
700 S. Pacific Coast Hwy., El Segundo, CA 90245
The Plaza El Segundo is an open-air shopping collection of high-end retailers such as Crate&Barrel Outlet, Dick's Sporting Goods, and HomeGoods along with restaurants such as Marmalade Cafe and Sauced BBQ & Spirits.
Located where you can see it when you drive on the 101 freeway in Camarillo, this mall is filled with over 150 stores, all offering special discount prices. Featured retailers include Kate Spade, Adidas, St. John, The North Face, Vans, and Carters, and you're sure to find new brands represented when you shop. There are a dozen dining options in the mall as well or head to nearby Ventura or Oxnard for a meal when you're done shopping.
Citadel Outlets
100 Citadel Dr., Los Angeles 90040
This outlet Mall, located right off the 5 Freeway, is known for its long list of stores within the 700,000-square-foot facility. They host many special events throughout the year and offer amenities like free Wifi, baggage check, mobile charging stations, and even a Foreign Currency exchange.
This upscale mall has recently been refreshed with a $12 Million dollar investment in the interior space, and an expansion called the Village Shops, with outdoor dining, shopping, and event space. Featured retailers include Williams-Sonoma, Apple, Tommy Bahama, Ann Taylor, J. Jill, and many more.
Riviera Village
1799 S. Catalina Avenue, Redondo Beach 90277
(between Palos Verdes Blvd. and Avenue I)
Within the six blocks of shopping and dining, you'll find a delightful way to spend time — and money. This shopping area is charming and you'll find many unique stores. Dining is also wonderful, with both mom-and-pop restaurants and fine dining. They're generous enough to offer "complimentary views of the Pacific Ocean" while you stroll, and that's tough to beat!
This is a terrific mall, with over 100 stores, from American Eagle to Zumiez. They've got a full event calendar, so check to see if any fun things are happening when you visit, or whether any stores are offering deals and discounts, which happens often. And if you get hungry, there are over 40 dining options to choose from!
2nd and PCH
6400 Pacific Coast Hwy., Long Beach, CA 90803
Visible as you drive on PCH, this mall delivers amazing views of the Long Beach Marina, along with the terrific shopping and dining you'll find. They've focused on adding outdoor communal space, and hope you'll come and spend time there. They're also very creative with their public events, hosting seasonal fun for kids activities as well as outdoor movies for all.
Located right off the 10 freeway, this Mall is super easy to cruise into, and you'll be glad you did. With anchor stores like Macy's, JCPenney, Best Buy, and over 180 other stores, you're sure to find what you're looking for.
This shopping destination has a great mix of national brands and local shops, plus they've got a delightful Food Hall called The Annex, with terrific dining experiences to choose from. There is a weekly Farmers Market, a monthly Artisan's Market, a Kid's Playground, and special seasonal events — and many of the stores are pet-friendly.
Los Cerritos Center
239 Los Cerritos Center, Cerritos, CA 90703
This mall is anchored by both Nordstrom and Macy's and is filled with over 150 stores and dining options. They offer free Wifi, text concierge services, stroller rentals, multiple ATMs, and host seasonal events as well.
Lakewood Center Mall
500 Lakewood Center Mall, Lakewood, CA 90712
This mall, which is run by the same company as the Los Cerritos Mall, is anchored by Macy's and JCPenney and joined by a Costco and a Target. It offers many types of things to shop for all from one parking space. Along with seasonal special events, this mall also offers free Wifi, strollers, and wheelchairs for your use.
Brea Mall
1065 Brea Mall, Brea, CA 92821
With anchor tenants like Macy's, Nordstrom, and JCPenney, and over 170 more stores, you'll be able to take care of all your shopping, whether it's for back-to-school or the holidays. Plus they've got a full-service day spa on the premises. This Mall is run by the same people who run the Camarillo Premium Outlets.
Sunset Plaza
8623 W. Sunset Blvd., West Hollywood, CA 90069
Sunset Plaza offers over 50 stores, restaurants, spas, and more. Make sure you visit the back parking lots, as some businesses, such as Chin Chin Takeout, exist there. You can also get the most spectacular view of Los Angeles without having to take a helicopter ride.
Two Rodeo
9480 Dayton Way, Beverly Hills, CA 90210
Two Rodeo offers a luxury shopping experience along with a European-inspired walkway. This unique place also offers diverse luxury brands such as Versace, Lanvin, Tiffany & Co., and Jimmy Choo. Two Rodeo is constantly looking for ways to improve and transform to ensure that your shopping experience is one of a kind!
NOHO West
6150 Laurel Canyon Blvd., North Hollywood, CA 91606
Located in the heart of North Hollywood, NOHO West has plenty of options for shopping and dining all in an area that offers plenty of color, artistry, and unique LA style. With shops like Five Below, Nordstrom Rack, Traders Joe's, and more, you're almost guaranteed to find just what you're looking for. But if all of that shopping gets you hungry or overheated, grab a bite to eat at one of the many dining spots or cool off in the splash fountain.
Grab a copy of our Book: Los Angeles with Kids!
Looking for Fun Things to do with Kids in LA? You'll love this book! This handy-dandy, portable paperback book is packed full of ideas for FUN all over SoCal! Keep it in the car, your purse, your diaper bag – and be ready for fun anytime, anywhere!
The Best Shopping Streets and Neighborhoods in Los Angeles
The newly renovated Japanese Village Plaza offers a unique and fun shopping Little Tokyo Downtown culture experience in a relaxed open-air atmosphere. Abundant parking is available on Central Avenue, between 1st and 2nd Streets.
Melrose Avenue
Between La Cienega Blvd. and N. La Brea Ave., W. Hollywood, CA 90048
Made famous from the television series Melrose Place, Melrose Avenue is a colorful array of eclectic shops, restaurants, and bars. Melrose Avenue starts at Santa Monica Boulevard at the border between Beverly Hills and West Hollywood and ends at Lucille Avenue in Silver Lake.
Downtown Manhattan Beach offers outdoor shopping in the ultimate laid-back So Cal style. Excellent shopping for a unique gift, downtown Manhattan Beach runs along Manhattan Beach Boulevard and the streets perpendicular to it in the area near the Manhattan Beach Pier up to Valley Drive with many upscale shops, restaurants, and boutique hotels.
Old Pasadena
1 E. Colorado Blvd., Pasadena, CA 91105
Often referred to as "old town Pasadena", Old Pasadena is a historic district of Pasadena with a hip, modern vibe and a popular shopping and entertainment destination. During the daytime, shopping is a popular activity and during the vibrant evenings, street performers entertain passersbys with music and art.
The Santee Alley
210 East Olympic Blvd., Los Angeles, CA 90015
Quite literally an alley, the Santee Alley is a part of the Los Angeles garment district and is the best open marketplace to grab a great deal on apparel, shoes, accessories, perfumes, and cosmetics. The Santee Alley seems like its always open and full of bargains, but check the website to be sure.
Rodeo Drive
Rodeo Drive, Beverly Hills, CA 90210
(between Santa Monica Blvd and Wilshire Blvd)
No list of the best outdoor shopping in Los Angeles is complete without including the iconic Rodeo Drive in Beverly Hills. Quite literally the most famous shopping experience in the entire world thanks to TV shows and movies, Rodeo Drive is an upscale 2-mile-long street connecting Los Angeles and Beverly Hills. Major brands and upscale designer showrooms can be found here.
Third Street Promenade
1351 Third St. Promenade, Santa Monica, CA 90401
It is considered a premiere shopping and dining district on the Westside and draws crowds from all over the Greater Los Angeles Area. Due to its proximity to the Pacific Ocean coupled with Los Angeles's mild climate, it is also a popular tourist destination.
Montana Avenue
1528 Montana Ave., Santa Monica, CA 90403
On the north end of town, just adjacent to the Pacific Ocean, Montana Avenue offers shopping on a 10-block tree-lined street and is a luxurious shopping destination known for its unique stores as well as its popular bistros, cafes, and bakeries. Celebrity sightings happen often, at coffee shops and grocery stores.
Hotels Close to the Shopping in LA
Disclaimer: MomsLA has made every effort to confirm the information in this article; however, things can often change. Therefore, MomsLA makes no representations or warranties about the accuracy of the information published here. MomsLA strongly urges you to confirm any event details, like date, time, location, and admission, with the third party hosting the event. You assume the sole risk of relying on any of the information in our list. MomsLA is in no way responsible for any injuries or damages you sustain while attending any third-party event posted on our website. Please read our Terms of Use which you have agreed to based on your continued use of this website. Some events have paid to be listed on MomsLA.