Thanksgiving is just as much about the food as it is about the people you share it with. So, if you'd rather focus on family and friends and not the shopping, preparation, and clean-up that goes hand-in-hand with Thanksgiving Dinner, you're in luck. There are many Los Angeles-area restaurants serving memorable Thanksgiving meals.
Thanksgiving Lunch
Aquarium of the Pacific
100 Aquarium Way, Long Beach, CA 90802
The Aquarium of the Pacific's Scuba Cafe will be serving an "expanded menu of traditional Thanksgiving buffet" on Thanksgiving from 11:00 am to 3:00 pm. Adults are $70 and children (ages 3-11) are $42.50 each. The Aquarium will be open a full day on Thanksgiving, from 9:00 am to 6:00 pm so while you're there you can visit more than 12,000 animals that make their home at the Aquarium.
The Bazaar by José Andrés
SLS Hotel, 465 La Cienega Blvd., Los Angeles 90048
Join the festivities at The Bazaar for a modern day family-style Thanksgiving dinner "José's Way" complete with a Mary's Farm organic turkey centerpiece, an abundance of sides like Papas Canarias and Stuffed Piquillo Peppers, Bazaar signature salads, and Pumpkin Cremeuex or Chocolate Fudge Dessert for a sweet ending. Thanksgiving dinner is available at The Bazaar from 4 – 8:30 p.m. and the tasting menu is $110/person and $55 for children 12 and under. For more information, please visit their website.
Tres by José Andrés
SLS Hotel, 465 La Cienega Blvd., Los Angeles 90048
SLS Beverly Hills offers an additional couple of ways for locals and visitors alike to give thanks this year on top of Thanksgiving dinner at The Bazaar. At Tres by José Andrés, the sophisticated and cozy three-meal lobby restaurant, you can start the Thanksgiving feast early this year with the signature Tres Thanksgiving Day Brunch from 11:30 a.m. – 4 p.m. for $85/person and $45/child, with the option to add an additional entrée for $14 and a welcome cocktail for $10.
For dinner from 5-10 p.m., the Tres prix-fixe Thanksgiving Day Dinner includes a plated first and second course alongside a selection of side dishes and desserts, including menu items such asCelery Root & Carrot Soup, Garlic & Rosemary Grilled Lamb Chops, and Cheesecake with pumpkin cremeuex and spiced crème fraiche. The prix-fixe menu is offered for $75/person.
Patina Thanksgiving Buffet
Descanso Gardens
1418 Descanso Drive, La Cañada Flintridge, CA 91011
Enjoy a special Thanksgiving meal, prepared by the Patina Restaurant Group, at Descanso Gardens. Feast on a "Thanksgiving buffet including turkey and all the trimmings" while surrounded by the beauty of Descanso Gardens. RSVP by phoning 818-864-6435.
Inn of the Seventh Ray
128 Old Topanga Canyon Road, Topanga Canyon 90290
Known as one of the most romantic spots in Los Angeles, this beautiful restaurant, tucked away in Topanga Canyon, also offers Thanksgiving dinner. Choose either a 3-course of 5-course meal, and even get wine pairings if you like. They serve both Turkey and Faux Turkey. Reservation info on their website.
71Above Restaurant Skylounge
633 West 5th Street, Los Angeles 90071
Have Thanksgiving Dinner in the dining room of 71Above, with 360-degree views , set in the heart of Downtown Los Angeles. The menu for this special meal reflects the best of the season, and includes choices for each course. Reservations, pricing, and more information on their website.
Thanksgiving Lunch and Dinner
Buca di Beppo
Several locations including
6333 W. 3rd. St., Los Angeles, CA 90036
Treat your family to a Buca di Beppo-style Thanksgiving meal. They will be open on Thanksgiving day beginning at 11:00 am so you can plan a Thanksgiving meal that best meets the needs of your family. If you're not familiar with Buca di Beppo, they are known for their generous portions, served family-style, which is perfect for this day of giving thanks. You'll find traditional favorites such as turkey, cranberry sauce, and pumpkin pie on the menu. Their regular menu "featuring authentic Italian cuisine" will also be available.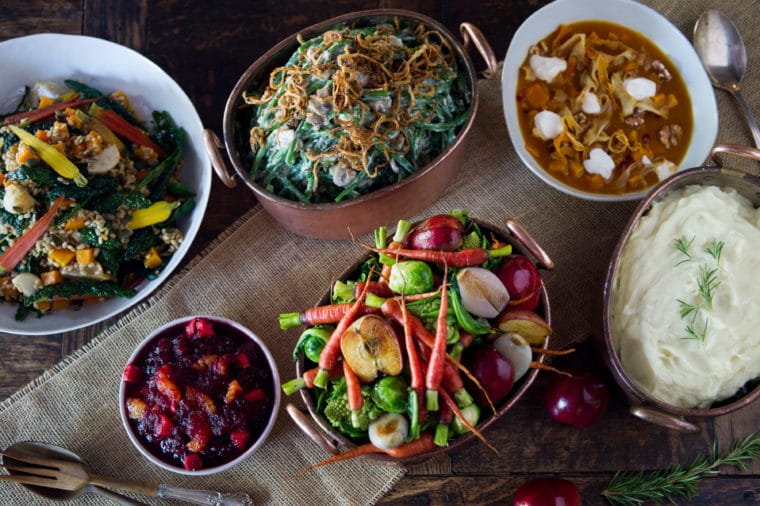 Nick & Stef's Steakhouse
330 S. Hope Street, Los Angeles, California 90071
Nick & Stef's Steakhouse is open for a traditional Thanksgiving dinner. "Enjoy a perfectly prepared turkey dinner in the Bunker Hill area of downtown LA." And, if you have family and friends that would prefer, diners may also opt for one of their signature dry-aged steaks. Check the website for reservation information.
The Bistro Garden at Coldwater
12950 Ventura Blvd., Studio City, CA 91604
The Bistro Garden at Coldwater invites you and your family to celebrate Thanksgiving with them. Thanksgiving meals will be served from 1:00 pm to 6:30 pm. A choice of three main entrees will be offered (including traditional roast turkey, grilled filet mignon, and sautéed Chilean sea bass). While you dine, you'll also enjoy live piano. Cost is $85 per person. Make your reservations by calling 818-501-0202.
Thanksgiving at Lunetta
2424 Pico Blvd, Santa Monica, CA 90405
The Thanksgiving Day menu at Lunetta will be three courses with a choice of starters, including cast iron Maine diver scallops or roasted chestnut soup. Mains include oven-roasted, all-natural Mary's heritage maple herb turkey with gruyere Yukon Gold mashed potatoes, rum pineapple candied yams, Tahitian vanilla bean cranberry sauce, country-bread stuffing with cranberry apple chicken sausage and white wine turkey gravy. For dessert, choose from pumpkin pie, chocolate cream pie, or french apple pie. The price is $78 per adult, $39 for kids 10 and under. Guests may choose to sit on the all-day side or in the dining room, depending on party size, or on the patio if weather permits.
Thanksgiving at Tavern
11648 San Vicente Blvd., Brentwood, CA 90049
The popular Tavern will also be serving Thanksgiving meals from 1:00 pm to 8:00 pm. Families will have a choice between an herb-roasted organic turkey breast and stuffed leg with several side dishes, or a "vegan Thanksgiving extravaganza." $95 per adult, $45 for children 10 and under, no charge for children 4 and under. Make your reservations by calling 310-806-6464.
Fleming's Prime Steakhouse and Wine Bar
Several locations including
2301 Rosecrans Ave. #1199, El Segundo, CA 90245
Flemings is serving a three-course turkey dinner beginning at 11:00 am. A special children's menu (for children 12 and under) is being offered as well. And, just in case you're family is not a turkey family, Flemings will also be offering their full menu as well.
Geoffrey's Malibu
27400 Pacific Coast Highway, Malibu, CA 90265
Geoffrey's Malibu is serving a three-course Thanksgiving meal in a beautiful, oceanside setting. Families may select from a variety of choices including roast turkey roulade, slow braised lamb shank, and miso braised tofu among others. ($82 for adults, $48 for children under the age of 12).
The Cat & Fiddle
742 N. Highland Ave., Los Angeles, CA 90038
Turkey & The Trimmings at the Cat & Fiddle is a three course meal filled with holiday favorites such as: Creamed Corn Soup, Turkey with Cornbread and Dried Fruit Stuffing, Stuffed Portobello Mushroom with Couscous, Almonds, and Dried Cranberries, Baked Sweet Potatoes with Meringue, our house Sautéed Spicy Brussels Sprouts, and Chips. The night ends on a sweet note with your choice of Maple Cheesecake or Pumpkin Walnut Pie. Vegan options available and Kid Friendly! $30 Adults $15 Children.
Playa Provisions
119 Culver Blvd., Playa del Rey, CA 90293
Playa Provisions is serving a traditional Thanksgiving plate which includes a choice of turkey or honey mustard crusted ham, chicory salad, and several side dishes (including cranberry sauce, green beans, and sweet sausage and chestnut stuffing). Adults plates are $38, kids' dinners are $20. (Also keep in mind, that you can order pies to pick up from Playa Provisions to enjoy at home).
A Gentle Thanksgiving 2019
The Gentle Barn
15825 Sierra Hwy, Santa Clarita, CA 91390
The Gentle Barn hosts its annual plant-based Thanksgiving dinner on Thursday, November 28th from 3:00 pm to 7:00 pm. This special event is a very special way to celebrate Thanksgiving. Children will have the chance to feed the resident turkeys and families will enjoy a "delicious, gourmet, vegan meal, and take part in a Native American drum circle." Reservations must be made ahead of time. See website for details.
The Queen Mary's Thanksgiving
1126 Queens Highway, Long Beach, CA 90802
The Queen Mary is hosting several different Thanksgiving meals. You can select the option that best fits the needs of your family. Both the Promenade Cafe and the Chelsea Chowder House welcome walk-ins. Or, opt to enjoy Thanksgiving brunch at Sir Winston's Restaurant (being served from 10:00 am to 7:00 pm). Check the website for details about all your dining options as well as reservation information and prices.
Bourbon Steak
Americana at Brand
237 S. Brand Blvd., Glendale, CA 91210
At Bourbon Steak, your family has many choices for their Thanksgiving meal. The special Thanksgiving menu features a choice of entrées including Roasted Heritage Turkey, pan seared sea scallops, American Angus filet, and more. Cost is $89 per person.
Le Petit Paris
418/420 S. Spring St., Los Angeles, CA 90013
Families are invited to celebrate Thanksgiving at Le Petit Paris. Their special Thanksgiving menu offers a range of choices (including stuffed turkey medallion, vegan spaghetti, and cod fish), so every member of the family is guaranteed to find something to meet their dietary needs. A children's menu is also available for children under 10. ($65 per person for adults; $25 per child).
One Pico
1 Pico Blvd., Santa Monica, CA 90405
One Pico will be serving a special Thanksgiving meal from 4:00 pm to 10:00 pm. Choose among appetizers (such as curry cauliflower soup), entrées (including organic heritage turkey and braised short ribs, among others), and desserts (including pumpkin cheesecake). $110 per person.
MOMSLA IS YOUR SOURCE FOR THINGS TO DO IN LOS ANGELES WITH KIDS.
Disclaimer: MomsLA has made every effort to confirm the information in this article; however, things can often change. Therefore, MomsLA makes no representations or warranties about the accuracy of the information published here. MomsLA strongly urges you to confirm any event details, like date, time, location, and admission, with the third party hosting the event. You assume the sole risk of relying on any of the information in our list. MomsLA is in no way responsible for any injuries or damages you sustain while attending any third party event posted on our website. Please read our Terms of Use which you have agreed to based on your continued use of this website. Some events have paid to be listed on MomsLA.