Updated for 2020
If you want to celebrate Thanksgiving 2020 in the comfort of your own home, without spending a great deal of time preparing and cooking, consider getting Thanksgiving to-go.
This is the year of contactless delivery in Los Angeles – so why not have turkey dinner arrive on your doorstep?
Several Los Angeles restaurants, markets, and speciality shops offer extensive Thanksgiving menus, allowing you to enjoy your ideal Thanksgiving feast — and all you have to do is heat and serve.
And be sure to order ahead!
Restaurants and Markets offering Thanksgiving Dinner Take-out Menus
101 North Eatery and Bar
The Shoppes at Westlake Village
30760 Russell Ranch Road, Westlake Village 91362
101 North Eatery & Bar's Thanksgiving specials To Go include starters of porcini mushroom soup and baby kale salad, Mary's free range Turkey, yams, gravy, haricot verts, sausage and wild rice stuffing, with pumpkin cheesecake for dessert. For 2 people ($99) or for 4 people ($195) Free delivery or contactless curbside pick-up. There's also a special cocktail kit you can order.
Beachside is offering 3 Menus to-go this year, depending on the size of your "pod." Starting at $175, each meal includes roast turkey and sides. Order ahead by calling (310) 439-3033 by November 19th.
Boston Market
Several locations including
2020 Atlantic Blvd., Monterey Park, CA 91754
Boston Market offers Thanksgiving meals designed for families of all sizes. They offer turkey or ham options. You can select from a complete holiday meal or create your own holiday meal, ordering a la carte from a large variety of appetizers, side dishes, and desserts. This year, they are also offering delivery of pre-cooked, complete Thanksgiving holiday meals. Check the website for details.
Bristol Farms
Several locations, including 606 Fair Oaks Ave.South Pasadena, CA 91030
Bristol Farms has an amazing program of pre-cooked holiday meals that can be picked up either on Thanksgiving Day or the day before. Everything's been cooked, just needs about 1-2 hours of re-heating. Organic Turkeys, Smoked Turkey, Slow Roasted Prime-Rib, Honey Glazed Ham, an extensive offering of delicious sides and more are all available.
The newest waterfront restaurant in L.A.'s Marina is offering Thanksgiving to-go and dine in. The special menu includes all traditional fixings and features a 24-Hour Beer-Brined Turkey, Confit Garlic Mashed Potato, Pretzel Bread Turkey Stuffing and Blue Lake Green Beans with Crispy Onion. Top it all off with traditional pumpkin pie for dessert. Order by calling 310-439-2908 Ext 5807.
Buca di Beppo
Several locations including
6333 W. 3rd. St., Los Angeles, CA 90036
The 2020 Menu for Traditional Thanksgiving from Buca is Sliced White Meat Turkey, Homestyle Gravy, Roasted Garlic Mashed Potatoes, Spicy Italian Sausage Stuffing, Green Beans, Cranberry Sauce, and Pumpkin Pie. Prices range from $68.99 to $399.99, depending on the number of servings.
You can choose from starters like Creamed Corn Soup, with both turkey and vegan entrée options, sides and dessert choices, too. Order ahead by 11/22 for delivery or pickup.
Chichen Itza Restaurant
3655 S. Grand Avenue, C6, Los Angeles, CA 90007
Famous for their Yucatan cuisine, Chichen Itza offers a Thanksgiving meal for 10 for $135, including a 15-lb achiote-marinated, oven-roasted turkey, baked pasta casserole, cold vegetable salad with potatoes, carrots beets and sour orange marinade, and Queso Napolitano Flan for dessert.
FIG Restaurant at Fairmont Miramar Hotel and Bungalows
The menu includes Molasses, Sage & Rosemary Brined Mary's Turkey » Flannery Dry Aged Prime Rib of Beef, with Au Jus & Horseradish » Buttermilk Crème Fraiche & Chive Whipped Potatoes » Charred Brussels Sprouts, Nduja Crumbs & Onion Cream » Roasted Sweet Potatoes, Winter Spiced Marshmallows & Almonds » Weiser's Carrots, Pickled Raisins & Carrot Tops, Preserved Kumquats & Golden Balsamic Vinaigrette » Fennel Sausage, Kale, Honeynut & Sage Dressing » Madeira Giblet Gravy » Cranberry-Citrus Sauce » Caramelized Onion, Gruyere & Chive Parker House Rolls » Whole Pumpking Pie » Whole Warm Apple Pie. Order to Go.
Fuego Restaurant
Hotel Maya, 700 Queensway Drive, Long Beach 90802
Fuego Thanksgiving Feast "ToGo" dinner for six includes all menu items listed together for $199.00, plus tax, or the Thanksgiving dinner menu items can be purchased individually, feeds up to 6 people and available at the a la carte price listed: Cocoa Roasted Turkey Breast with sliced cocoa and Latin spice rubbed breast of turkey, $72; Brioche Mushroom Stuffing, $48; Sage Gravy with natural au jus reduction, $15; Butter Brussels Sprouts, $36; Whipped Yukon Gold Potatoes, $36; Candied Yams with maple syrup and marshmallows, $36; and Cranberry Orange Compote with orange infused cranberry chutney, $24.
Gelson's
Several locations including
2725 Hyperion Ave., Los Angeles, CA 90027
Gelson's offers several Thanksgiving meal options so whether you're hosting a holiday meal for 2 or 12, you can find what you need on Gelson's Thanksgiving meal menu. And, you also have the option of ordering items a la carte, so if your family is bringing the side dishes and desserts, you can just order the turkey. Order online.
Greenleaf has put together a Thanksgiving feast menu starting with roasted turkey, whole grain stuffing, mashed potatoes, roasted "garlicky" broccolini, roasted cauliflower and wild arugula salad, biscuits with apple butter, and pumpkin pie. You can also order individual meals, or get the items a la carte.
HoneyBaked Ham
Several locations including
547 N. Glendale Ave., Glendale, CA 91206
You can either select a traditional turkey or go a different route and opt for a HoneyBaked ham. Holiday dinner options vary depending on how many you're planning on serving, if you prefer just the star of the show (the ham or the turkey), or if you're also needing the side dishes and dessert. Check the website for additional information.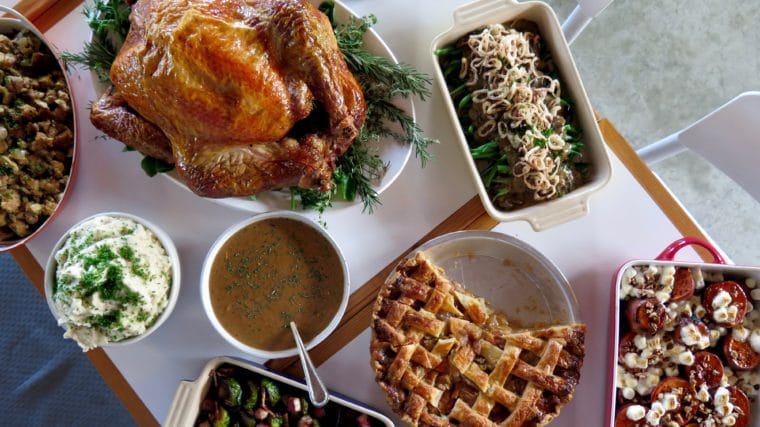 Huckleberry Cafe
1014 Wilshire Blvd., Santa Monica, CA 90401
Huckleberry Cafe in Santa Monica wants to help make Thanksgiving dinner easier for you and your family. They offer a large Thanksgiving menu including bread from Milo and Olive, organic turkey, braised brisket, Yukon gold smashed potatoes, garlic roasted broccoli, and an assortment of pies including gluten free. Plus their family of restaurants are all getting in on the fun, each with their own specialties.
Joan's On Third
Two locations: 12059 Ventura Place, Studio City, CA 91604 and
8350 W. 3rd St., Los Angeles, CA 90048
At Joan's On 3rd, you can pick and choose from their Thanksgiving menu so your family can get all their favorites. Choose from hors d'oeuvres, soup and salad, a large list of side dishes, oven roasted turkey, and desserts.
Lunetta
2420 Pico Blvd., Santa Monica, CA 90405
Lunetta is offering a Thanksgiving menu complete with a choice of starters, entrées, desserts, and sides, all made with their signature style. Order ahead and enjoy! Available for delivery or curbside pick-up.
Maple Block Meat Co.
3973 Sepulveda Blvd., Culver City, CA 90230
At Maple Block Meat Co. you'll find 100% wood-smoked Thanksgiving turkeys, "all-natural, free-range, antibiotic-free (ABF) turkeys." Select the turkey size you need for your family or you can skip the turkey and only select sides (such as Cornbread-Sausage Stuffing, Roasted Brussel Sprouts with Bacon, and Maple Block Buttermilk Biscuits with Whipped Honey Butter," desserts, and more. Available for delivery or curbside pick-up.
Norah
8279 Santa Monica Blvd., West Hollywood, CA 90046
This eclectic American restaurant located in the heart of West Hollywood is offering Thanksgiving Dinner for Pickup & Delivery – Menu: Cast Iron Cornbread: rosemary honey butter, Autumn Salad: gem lettuce, roasted squash, dried cherries, pumpkin seeds, ricotta salata , Roasted Brussel Sprouts: bacon, sherry vinegar glaze, rosemary, Bourbon Mashed Sweet Potatoes, Ready to Bake Turkey: seasoned breast crown & boneless turkey legs, Turkey Gravy & Fresh Cranberry Sauce. Price $350 for 4 people. Orders must be in by November 16th.
Noor To Go
300 E Colorado Blvd Suite 200, Pasadena, CA 91101
With all of the precautions being taken this year to stay safe, Noor To Go is offering Thanksgiving Dinner Delivered catering service. They've created 3 affordable Thanksgiving Dinner packages from $299-$499 that feed 8-10 people either for pick-up or free delivery within 10 miles of Pasadena. We can deliver further for an additional fee. Pre-orders are still available until 11-20-20.
Pitfire Pizza
Multiple locations around LA
This year more than ever, Thanksgiving celebrations will look a bit different. No matter how you plan to celebrate, the Warm-Up Kit from Pitfire Pizza makes life a bit easier! Available in three sizes that serve up groups up to 4 ($45), 8 ($85), and 12 guests ($120), the Pitfire Pizza Warm-Up kit includes Turkey Meatballs – No Thanksgiving would be complete without Turkey, Buffalo Wings – Great for all your gameday needs, Take and Bake Pumpkin Pizza – The flavors of fall.
Redbird
114 East 2nd Street, Los Angeles 90012
Redbird & Vibiana Chef/Owner Neal Fraser and team are offering up a heat & serve holiday feast for pickup or delivery on Thanksgiving Eve – Wednesday November 25th to enjoy on Thanksgiving Day. Plus bottled/flasked/canned cocktails by Bar Director Tobin Shea and Wine Director Josh Wibbenmeyer's "Turkey Day Wine Picks." Includes dinner for 4 @ $68 per person: Pumpkin quince soup, Sage rubbed turkey roulade, cranberry chestnut stuffing, black truffle turkey gravy, cranberry tangerine relish, Yukon Gold potato puree, green bean almondine, Brussels sprouts, with add-ons of prime rib roast, pecan pie, and apple pie. Order Pick-up here + Order delivery here.
Go to the Islands, at least in spirit, this Thanksgiving, and order your meal from Rutt's. Their holiday menu: Roast Turkey, Sweet Yams or Mashed Potatoes, Green Bean Casserole, Stuffing, Macaroni Salad, Gravy, Sweet Rolls, Cranberry Sauce, and Pumpkin Pie. Prices range from $160 – $525, depending on the number of servings.
Go gourmet with Thanksgiving Take Away from the chefs of Shutters on the Beach and Hotel Casa del Mar. The culinary family from the acclaimed Santa Monica properties have debuted Turkey day menus with something for everyone. Each three-course dinner is easily scalable for any size dinner party, or a party of one. $95 per person. Indulge in delicious slow roasted boneless Mary's Farm organic turkey with the choice of one appetizer and dessert. Menu highlights include Weiser Farms butternut squash soup, autumn greens with house smoked duck, pumpkin pecan cheesecake and flourless chocolate mousse cake.
Superba Food + Bread
Multiple locations around LA, including:
1900 S. Lincoln Blvd., Venice, CA 90291
Superba is serving traditional Thanksgiving feast for curbside pick-up, with Whole Roasted Mary's Young Turkey or a Glazed Beeler's Heritage Ham, choice of delicious sides (like two kinds of stuffing, veggies, potatoes), plus gravy and a selection of pies to choose from as well. See their website for all the details.
Tam O'Shanter
2980 Los Feliz Blvd., Los Angeles, CA 90039
The Tam will be offering Thanksgiving Take-out this year: a Half Turkey meal, which will include 1 whole breast, 1 thigh, 1qt stuffing, 1-pint cranberry relish, 1 qt mashed potatoes and 1-pint gravy for $95.
Terranea Resort invites guests to celebrate with its annual seaside Traditions, featuring festive offerings beginning with Thanksgiving and continuing through New Year's Day. In addition to its signature elements, the resort has also created new virtual experiences, digital gift options, holiday activity kits, gourmet meals to go, and more. These exclusive seasonal specialties are designed to promote a safe and memorable holiday for guests seeking an effortless and luxurious oceanside retreat, with 102-acres of Southern California sunshine, sparkling waves, and fresh ocean breezes. For pricing, package details, and reservations, please visit the website or call 866.261.5873.
The Thyme Café is offering a traditional Thanksgiving dinner to serve 6 for $200. There are no substitutions on the main menu, but you can add as many delightful-sounding appetizers, sides, desserts, and extras as you like. Or buy each item a la carte.
Ubuntu Café
335 Nieto Ave., Long Beach, CA 90814
Ubuntu Café celebrates the season of Thanksgiving by offering turkey and homestyle sides made with the freshest picks of herbs and produce. Enjoy free-range, organic Mary's turkey, organic candied yams with marshmallows, Brussels sprouts, vegan butternut squash soup, and more. Order online for curbside pickup.
Veggie Grill
Multiple Locations, including
The Village at Topanga, 6316 Topanga Canyon Blvd., Woodland Hills 91367
This Thanksgiving, many Americans will actually make plant-based food the highlight of their holiday feasts. The "Thanksgiving Pot Pie Feast" has a flexible a la carte selection of Thanksgiving sides, and will be available to order online and for pick-up the two days before Thanksgiving. The menu offering (serves 4) consists of: Individual 'turkey' and mushroom pot pies, Mashed Yukon Gold Potatoes & Gravy, Glazed Rainbow Carrots, Baby Spinach Salad with Cranberries, Candied Pecans, Balsamic Onions, and Feta Cheese, and Mini sharable pumpkin pies.
Whiskey Red's
13813 Fiji Way, Marina del Rey, CA 90292
Celebrate Thanksgiving Day with NEW: Thanksgiving To Go family-style meals will be available for pick-up by 5pm on Wednesday, Nov. 25th. More info coming soon!
Disclaimer: MomsLA has made every effort to confirm the information in this article; however, things can often change. Therefore, MomsLA makes no representations or warranties about the accuracy of the information published here. MomsLA strongly urges you to confirm any event details, like date, time, location, and admission, with the third party hosting the event. You assume the sole risk of relying on any of the information in our list. MomsLA is in no way responsible for any injuries or damages you sustain while attending any third party event posted on our website. Please read our Terms of Use which you have agreed to based on your continued use of this website. Some events have paid to be listed on MomsLA.