If you want to celebrate Thanksgiving in the comfort of your own home, without spending a great deal of time preparing and cooking, consider getting Thanksgiving to-go. Several restaurants, markets, and speciality shops offer extensive Thanksgiving menus, allowing you to enjoy your ideal Thanksgiving feast — and all you have to do is heat and serve.
MomsLA is your source for Things to do in Los Angeles With Kids
Maple Block Meat Co.
3973 Sepulveda Blvd., Culver City, CA 90230
At Maple Block Meat Co. you'll find 100% wood-smoked Thanksgiving turkeys, "all-natural, free-range, antibiotic-free (ABF) turkeys." Select the turkey size you need for your family or you can skip the turkey and only select sides (such as Cornbread-Sausage Stuffing, Roasted Brussel Sprouts with Bacon, and Maple Block Buttermilk Biscuits with Whipped Honey Butter," desserts, and more. Pick-up time will be on Thanksgiving Day, November 28th.
Gelson's
Several locations including
2725 Hyperion Ave., Los Angeles, CA 90027
Gelson's offers several Thanksgiving meal options so whether you're hosting a holiday meal for 2 or 12, you can find what you need on Gelson's Thanksgiving meal menu. And, you also have the option of ordering items a la carte, so if your family is bringing the side dishes and desserts, you can just order the turkey. Order online, up until November 26th.
Bristol Farms
Several locations, including 606 Fair Oaks Ave.South Pasadena, CA 91030
Bristol Farms has an amazing program of pre-cooked holiday meals that can be picked up either on Thanksgiving Day or the day before. Everything's been cooked, just needs about 1-2 hours of re-heating. Organic Turkeys, Smoked Turkey, Slow Roasted Prime-Rib, Honey Glazed Ham, an extensive offering of delicious sides and more are all available.
Joan's On Third
Two locations: 12059 Ventura Place, Studio City, CA 91604 and
8350 W. 3rd St., Los Angeles, CA 90048
At Joan's On 3rd, you can pick and choose from their Thanksgiving menu so your family can get all their favorites. Choose from hors d'oeuvres, soup and salad, a large list of side dishes, oven roasted turkey, and desserts.Order by 5:00 pm on Friday, November 22nd. Joan's will be closed on Thanksgiving Day (pick-up will be on Wednesday, November 27th).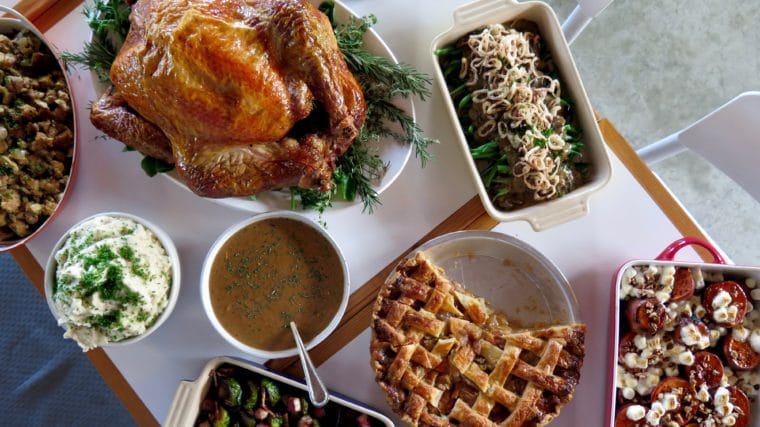 Huckleberry Cafe
1014 Wilshire Blvd., Santa Monica, CA 90401
Huckleberry Cafe in Santa Monica wants to help make Thanksgiving dinner easier for you and your family. They offer a large Thanksgiving menu including bread from Milo and Olive, organic turkey, braised brisket, Yukon gold smashed potatoes, garlic roasted broccoli, and an assortment of pies including gluten free. All catering orders must be placed by 5 pm on Friday, November 22nd and picked up between 9 am and noon on Thursday, November 28th.
Loreto's Fried Turkey
983 W. Compton Blvd., Compton, CA 90220
If, for your family, it's all about the turkey then you may want to try a popular fried turkey from Loreto's. Each turkey is "seasoned and then deep-fried whole in 100% peanut oil." They offer a 15-pound whole, fried turkey for $75. But don't delay in ordering; this spot gets busy!
Terranea Turkey Take-out
Terranea Resort, 100 Terranea Way, Rancho Palos Verdes, CA 90275
For a no-fuss Thanksgiving feast, sea beans at Terranea Resort offers two turkey packages serving groups of four or six. Offerings include roasted butternut squash soup, tangerine maple brined free-range turkey, apple sage brioche stuffing, oven roasted yams with cinnamon spiced pecan crumble, roasted vegetables, acorn squash, giblet gravy, and cranberry cassis compote. Dessert selection includes a choice of pumpkin or pecan pie. Reservations required by Monday, November 18 | Available for pick up Wednesday, November 27 & Thursday, November 28. Half turkey dinner $199, serves up to 4; full turkey dinner $270, serves up to 6. Available to order.
Boston Market
Several locations including
2020 Atlantic Blvd., Monterey Park, CA 91754
Boston Market offers Thanksgiving meals designed for families of all sizes. They offer turkey or ham options. You can select from a complete holiday meal or create your own holiday meal, ordering a la carte from a large variety of appetizers, side dishes, and desserts. This year, they are also offering delivery of pre-cooked, complete Thanksgiving holiday meals. (All you have to do is allow time to thaw, then just heat and serve.) Check the website for details.
HoneyBaked Ham
Several locations including
547 N. Glendale Ave., Glendale, CA 91206
You can either select a traditional turkey or go a different route and opt for a HoneyBaked ham. Holiday dinner options vary depending on how many you're planning on serving, if you prefer just the star of the show (the ham or the turkey), or if you're also needing the side dishes and dessert. Check the website for additional information.
Buca di Beppo
Several locations including
6333 W. 3rd. St., Los Angeles, CA 90036
Thanksgiving Dinner To Go is available from Buca di Beppo on November 27th and 28th, 2019 only. You can opt to order a Traditional Thanksgiving Feast or add-on one of their classic Italian dishes. Pick up at their location or have it delivered to your home. Check the website for details.
Thanksgiving To-Go
Tam O'Shanter
2980 Los Feliz Blvd., Los Angeles, CA 90039
The popular Tam O'Shanter gives families the choice of ordering a "full prime rib dinner or turkey dinner with all the traditional side dishes" or simply selecting a few of your favorite Tam side dishes. Orders must be placed by November 26th at 12:00 pm and may be picked up on Thanksgiving morning, November 28th, between 8:00 am and 11:00 am.
Yardbird Southern Table and Bar
8500 Beverly Blvd., Suite 112, Los Angeles 90048 (inside the Beverly Center)
Looking to enjoy Thanksgiving with all the comfort food aspects and without the cooking? This Thanksgiving take a break from the kitchen and leave all the preparations to Yardbird Southern Table & Bar. Yardbird Southern Table & Bar, located inside the Beverly Center, will be offering a Thanksgiving To-Go menu with 3 different Thanksgiving dinner packages to feed 2-4 people for $170, 6-8 people for $265, and 10-12 people for $370. The menu also consists of a la carte offerings for guests who prefer to pick and choose each dish, such as a 20 lb. turkey for $150 and individual side dishes starting at $10. Guests may order in advance until November 18, and dinners are available for pickup on Thursday, November 28, from 10 a.m. to 2 p.m.
MOMSLA IS YOUR SOURCE FOR THINGS TO DO IN LOS ANGELES WITH KIDS.
Disclaimer: MomsLA has made every effort to confirm the information in this article; however, things can often change. Therefore, MomsLA makes no representations or warranties about the accuracy of the information published here. MomsLA strongly urges you to confirm any event details, like date, time, location, and admission, with the third party hosting the event. You assume the sole risk of relying on any of the information in our list. MomsLA is in no way responsible for any injuries or damages you sustain while attending any third party event posted on our website. Please read our Terms of Use which you have agreed to based on your continued use of this website. Some events have paid to be listed on MomsLA.