South Bay Summer Camps
There are terrific Summer Camps all over Los Angeles, and parents in the South Bay communities of Redondo Beach, Manhattan Beach, Torrance, Hermosa Beach, El Segundo, Rolling Hills, Palos Verdes, and Hawthorne can check out this list when planning their kids' Summer.
There are all kinds of Summer Camps in the South Bay. You can choose a Beach Camp, Surf Camp, Sports Camp, Dance Camp, Arts Camp, or all-around Fun Summer Camp for your kids.
And be sure to check out our Summer Fun Camp Fair – South Bay – on Sunday, March 1st at the Bay Club El Segundo.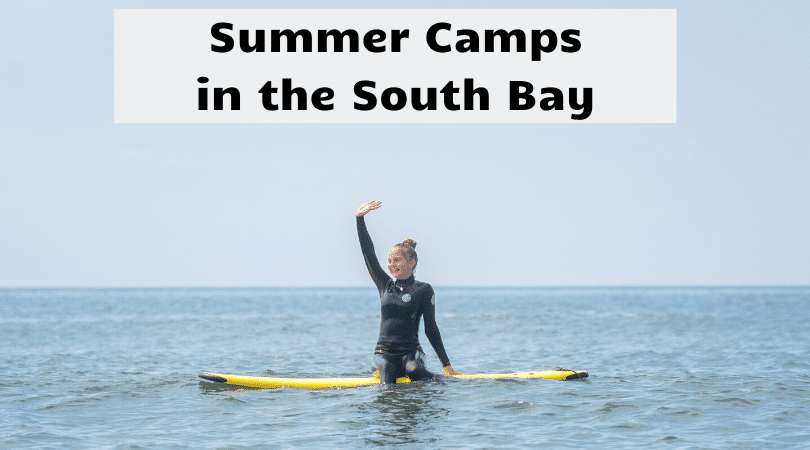 And if you're looking for Camps in other parts of SoCal, check out our giant list of over 500 Summer Camps in Los Angeles right here.
Featured South Bay Camps
The Little Gym Summer Quest Camps
21203A Hawthorne Blvd., Torrance, CA 90503
310-543-2333
[email protected]
Day camp at The Little Gym of Torrance is for 3-8 year olds and gives your kid the summer camp experience without the bug bites, poison ivy and week-long commitments. Combining fun physical activity including gymnastics, games, and arts & crafts, we'll help your child beat the summer heat by staying cool at The Little Gym. Half day and full day camp options are available.
---
Broadway Camps for Kids
Emerging Artists
3916 Sepulveda Blvd., Torrance, CA 90505
562-546-3119
[email protected]
These one and two week-long camps are all about the stage! Your child will enjoy learning musical theatre skills with the ability to showcase them at the end of camp in a mini musical performance for family and friends.
Week 1: June 22nd-26th 12:30pm-4:30pm Ages 3-7 years $160/child
Week 2: July 20th-24th 12:30pm-4:30pm Ages 3-7 years $160/child
Week 3 & 4: August 3rd-14th 8:30am-3:00pm *This is a two week camp, not including weekends **Installment payments and sibling discount available Ages 5-12 years $390/child
---
Summer Camps in the South Bay (Los Angeles) Alphabetical list
AdventureCamp at Adventure Plex
All around fun Camp for kids
Manhattan Beach
310-546-7708
All Girls Empowerment Summer Camp
Empowerment Camp for Girls
Redondo Beach and Culver City
[email protected]
(310) 854-9239
Aqua Surf School
Surfing camp
Redondo Beach and Manhattan Beach
[email protected]
310-902-7737
Art Zone Hermosa Beach
Art Camp
Hermosa Beach
[email protected]
Beach Sports Summer Camp
Sports Camp
Redondo Beach + Manhattan Beach + Hermosa Beach
[email protected]
Best Sports USA (Beginners Edge Sports Training)
Sports Camp
[email protected]
(714) 874-4737
Breakthrough Sports Summer Basketball Camps
Basketball Camp
[email protected]
Broadway Camp for kids
Performing Arts Camp
Torrance
[email protected]
(562) 546-3119
Camp Awesome
Beach Camp
[email protected]
Camp Gan Izzy South Bay
[email protected]
310-214-4999
Champ Camp
[email protected]
310-283-4509
Coast Music Summer camps
Hermosa Beach
[email protected]
Create Dance Company
Hermosa Beach
[email protected]
310-977-9165
Creation Station
Torrance
[email protected]
(310) 212-7699
Dance 1 Redondo
Redondo Beach
[email protected]
310.371.2141
Destination Science
Multiple locations, including El Segundo and Manhattan Beach
[email protected]
888-909-2822
Eco Kids Summer Camp
Redondo Beach
310-372-7484
Encore Entertainers
Rolling Hills Estates
[email protected]
310-896-6459
Flight school Gymnastics
Torrance
[email protected]
424-558-8171
Fly Studios Kids Aerial Arts
Redondo Beach
[email protected]
310-340-6045
Freedom Surf Camp
Manhattan Beach
(310) 770-4410
From Scratch Bakers
Torrance
[email protected]
Funky Divas and Dudes Popstar Camp
Multiple locations, including Manhattan Beach
[email protected]
310-838-8387
Galileo Innovation Camps
Multiple locations, including Manhattan Beach and Redondo Beach
[email protected]
(800) 854-3684
Hermosa Surf Camp
Hermosa Beach
[email protected]
310-291-4378
iD Tech Camps
Multiple locations, including Cal State Long Beach
[email protected]
888-709-8324
International City Theater
Long Beach
[email protected]
Jack Kramer Club
Rolling Hills Estates
[email protected]
Jumpin Gymkids
Palos Verdes
King Harbor Youth Foundation Sailing Camp
Redondo Beach
[email protected]
Learn to Surf LA
locations in Venice and Manhattan Beach
[email protected]
(310) 663-2479
Let's Give Them a Shot (formerly Coach Derek)
Manhattan Beach
[email protected]
Long Beach Marine Institute
Long Beach
[email protected]
562-431-7156
Music Rhapsody
Redondo Beach
[email protected]
Nike Junior Golf Camps
Multiple locations, including Palos Verdes
[email protected]
PCH Skate Camp
Redondo, Hermosa and Manhattan Beach
[email protected]
Pedalheads Bike Camps
Multiple locations, including Manhattan Beach
888-886-6464
Peninsula Sports
Palos Verdes
[email protected]
Perfect Day Surf Camp
Multiple locations, including Manhattan Beach
[email protected]
Performing Arts Workshop
Multiple locations, including Redondo Beach
[email protected]
Peter Weber Equestrian
Rolling Hills Estates
[email protected]
PlanetBravo Summer Camp
Multiple locations, including Manhattan Beach
[email protected]
Play-Well TEKnologies LEGO-inspired Engineering Camps
Multiple locations, including Torrance
[email protected]
PV Surf Camp
Palos Verdes
[email protected]
Raddish Kids Camp Raddish
Hermosa Beach
[email protected]
Rolling Robots
Multiple locations, including Palos Verdes
[email protected]
888-robot-08
School of Dance and Music
Multiple locations, including Hermosa Beach
[email protected]
Sinjin Smith Beach Volleyball Camps
Multiple locations, including Hermosa Beach
[email protected]
310-940-7166
Soccer for Tots
Rolling Hills Estates
[email protected]
South Bay Art Department
Redondo Beach
[email protected]
(310) 619-7204
South Bay Sailing
Redondo Beach
[email protected]
Steve & Kate's Camp
Multiple locations, including Manhattan Beach
[email protected]
Super Camp
Long Beach
[email protected]
TADA Stages Summer Camps
Manhattan Beach
[email protected]
Tall Ships Adventure Camp (LA Maritime Adventure Camp) TopSail
San Pedro
[email protected]
Tempest Free Running Academy
Hawthorne
[email protected]
TGA Premier Sports Camps
Multiple locations, including Torrance and El Segundo
[email protected]
The Lakes at El Segundo
El Segundo
[email protected]
The Little Gym Torrance
Torrance
[email protected]
Torrance Y
Torrance
[email protected]
USS Iowa Camp Battleship
San Pedro
[email protected]
Vistamar School Summer Camps
El Segundo
[email protected]
Wavehuggers Kids Surf Camps and Youth Programs
Hermosa Beach
[email protected]
310-910-9099
Woodcraft Rangers
Multiple locations, including South Gate
[email protected]
World Changer Camp
Torrance
[email protected]
Yak Academy
Redondo Beach
[email protected]
Zooga Yoga South Bay
Redondo Beach
[email protected]
Disclaimer: MomsLA has made every effort to confirm the information in this article; however, things can often change. Therefore, MomsLA makes no representations or warranties about the accuracy of the information published here. MomsLA strongly urges you to confirm any event details, like date, time, location, and admission, with the third party hosting the event. You assume the sole risk of relying on any of the information in our list. MomsLA is in no way responsible for any injuries or damages you sustain while attending any third party event posted on our website. Please read our Terms of Use which you have agreed to based on your continued use of this website. Some events have paid to be listed on MomsLA.
[social-bio]