There's no rule that says you have to spend Christmas Day inside. In fact, Christmas Day might be the perfect time to get out and explore. You'll generally find fewer crowds, less traffic, and more parking! Heck, you'll probably find FREE parking that day!
Here are some suggestions for what to do on Christmas Day in LA — some free, some not; some requiring tickets and reservations, some not. Have fun and Happy Holidays!
Things To Do on Christmas Day in Los Angeles (and SoCal)
1. Disney on Ice: Dream Big
Toyota Arena
4000 Ontario Center Parkway, Ontario, CA 91764
Dream Big is the Disney on Ice show that allows families the chance to "share every magical moment filled with breathtaking ice skating and beloved Disney stories!" You can make attending a show another gift for the family! There are two shows available on Christmas Day – one at 1:00 pm and another at 5:00 pm. Tickets are available online.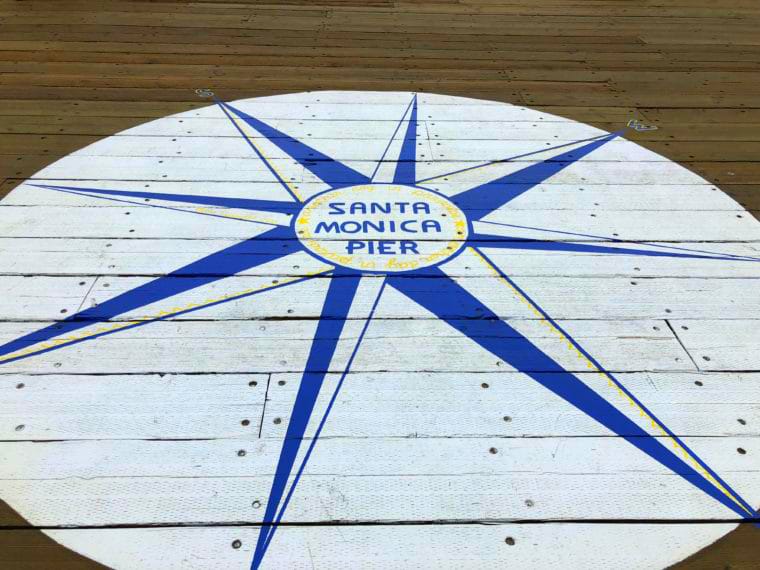 Pacific Park is open on Christmas Day from 11:00 am to 9:00 pm so get outside and enjoy the sights and sounds. Go for a ride on the Pacific Wheel, "the world's only solar-powered Ferris wheel," play some games, sit back and admire the ocean, and have a delicious meal. You won't run out of things to do!
If you haven't yet had a chance to check out the new Academy Museum, Christmas Day may be a great day to do it. The museum is open 7 days a week, 365 days a year! Be sure to take a look at our post Academy Museum of Motion Pictures Family Guide before your visit. Tickets are available online.
When was the last time you rented one of those iconic swan pedal boats in Echo Park? Guess what? They're open on Christmas Day. Reservations must be made in advance and are available online.
Related: Where to find the Best Tamales in Los Angeles.
5. Santa Barbara Zoo
500 Ninos Dr., Santa Barbara, CA 93103
Go for a drive — traffic will most likely be light — and head up to Santa Barbara because the Santa Barbara Zoo is open on Christmas Day! The Zoo Train and Giraffe Feeding Deck are both open, though some attractions do remain closed. Advance reservations are required and are available online. Zoo hours are 10:00 am to 3:30 pm on Christmas Day.
6. LaBrea Tar Pits
5801 Wilshire Blvd., Los Angeles, CA 90036
While the Museum is closed on Christmas, families are still able to stroll around the famous LaBrea Tar Pits. "Witness 'tar' bubbling to the surface, discover our iconic Lake Pit, and walk through this amazing natural phenomenon and active dig site."
Related: Restaurants Serving Christmas Dinner in Los Angeles
7. Christmas Night Skate Night
Moonlight Rollerway
5110 San Fernando Rd., Glendale, CA 91204
From 8:00 pm to 11:00 pm, families are invited to Moonlight Rollerway for Christmas Night Skate Night. All ages are welcome to participate. Skates are available to rent if you don't have your own. All details are available online.
Spend some time outside, enjoying the sights and sounds of our city. Depending on the age and abilities of your family members, you can plan a hike, a bike ride, or a leisurely stroll. Here in Southern California there are plenty of options. You can also check out our post LA County Hiking Trails for Outdoor Fun for even more ideas.
9. Sand Sledding
Dockweiler State Beach
12000 Vista Del Mar, Playa Del Rey, CA
Yes – that's how families in Southern California sled in the winter. At the beach! Sand berms are generally constructed in November and remain until February. A saucer or boogie board is all you need! (Other sand berm locations include Manhattan Beach, Hermosa Beach, Venice Beach, and Zuma Beach.)
10. Sunset Ranch Hollywood
3400 N. Beachwood Dr., Los Angeles, CA 90068
What better way to get a sense of our city than on horseback? And on Christmas Day, you'll enjoy a quieter, more relaxed L.A. Enjoy a tour into Griffith Park with "a great view of the Hollywood sign." Two tours are offered on Christmas Day — a one hour option and a two hour evening tour option. Rides are offered for all experience levels.(A few rules — Children must be 8 years old. Helmets are required. Maximum weight allowed is 240 pounds.) Reserve your spot online.
11. A Visit to Chinatown
LA Chinatown Central Plaza
943-951 N. Broadway, Los Angeles, CA 90012
When was the last time you played tourist in your own city? What about spending some time exploring Chinatown, "a neighborhood steeped in culture and history." You can find information about self-guided walking tours on the website. Be sure to bring your appetite. Eating Chinese food is a long-standing tradition for many families on Christmas Day. You could also try a restaurant in the San Gabriel valley.
Related: Get Christmas Dinner To Go in Los Angeles
12. Arlington Garden
275 Arlington Dr., Pasadena, CA 91105
Arlington Garden is a "climate-appropriate, habitat garden offering learning, inspiration, and enjoyment for all." This three-acre garden, on Caltrans-owned land, is Pasadena's only public garden. As you stroll through the garden, you'll enjoy the sights and smells of the Citrus Grove, the Pine Forest, the Olive Allee, and more. And don't forget to visit the Yoko Ono Wishing Trees! The Garden is open seven days a week. Admission is free and does not require a ticket.
13. Catalina Express
Three ports – Long Beach, Dana Point, San Pedro
Maybe you're looking to do something really different this Christmas. Why not spend the day in Catalina? Catalina Express operates daily ferry trips to and from Catalina Island every day of the year. They operate out of three mainland ports – Long Beach, Dana Point, and San Pedro. Reservations are available online.
Go for a drive and check out the amazing holiday light displays all around southern California. You can also go for a walk, venturing into some hotels and admiring their festively decorated lobbies. Or, you can make it easy and stay in your neighborhood, admiring both the simplicity and the lavishness you're sure to see.
Another fun way to play tourist. Park the car and get out and explore the Hollywood Walk of Fame. Take some pictures near your favorite stars' "stars," put your hands in their handprints in front of the TCL Chinese Theatre, visit the Hollywood Wax Museum (they're open on Christmas Day), and more!
Sure, we can all stream movies at home these days, but if you're up for it, why not head out to a movie theater and see a movie as a family? Get some popcorn, maybe try one of the fancy theaters with reclining seats, and have a ball! If you're not feeling like being indoors, try one of the cool Drive-in Movie Theaters in SoCal.
17. Spend the Day at a SoCal Theme Park
We are lucky in SoCal to have several fantastic theme parks to choose from on any given day, and most are open on Christmas Day. The Holidays at Disneyland is quite magical, so reserve tickets early because they have been known to sell out. Universal Studios Hollywood is super fun at the Holidays, and is a terrific way to spend the day with your family. Knott's Berry Farm is not usually open on Christmas, but double check in case they changed their minds!
Wendy Kennar is a mother, writer, and former teacher who has lived her entire life in the same Los Angeles zip code. You can read more from Wendy at her website WendyKennar.com where she writes about books, boys, and bodies (living with an invisible disability).
Disclaimer: MomsLA has made every effort to confirm the information in this article; however, things can often change. Therefore, MomsLA makes no representations or warranties about the accuracy of the information published here. MomsLA strongly urges you to confirm any event details, like date, time, location, and admission, with the third party hosting the event. You assume the sole risk of relying on any of the information in our list. MomsLA is in no way responsible for any injuries or damages you sustain while attending any third-party event posted on our website. Please read our Terms of Use which you have agreed to based on your continued use of this website. Some events have paid to be listed on MomsLA.